The only recipe you'll ever need for baked sweet potatoes.  Crispy on the outside, savory on the inside.  Top with butter and sea salt for pure perfection.  This recipe was sponsored by Barber Foods.  All opinions are my own.  #BarberNight
The Secret to Baked Sweet Potatoes
I don't know about you, but for me, there's nothing nicer than a knife-and-fork meal that's easy to prepare and brings everyone together at the dinner table.  I often rely on Barber Foods stuffed chicken breasts to make dinner special, pairing them with simple side dishes like these perfectly baked sweet potatoes.
The side dishes I have when I dine out often inspire me to try new side dishes at home.  When my dad and stepmom came to visit this winter, we ate a local restaurant that served baked sweet potatoes as a side dish.  I don't usually order a baked sweet potato as a side dish, but on a whim, I ordered one.
It was ethereal.  Perfectly dry, slightly crisp skin, and pure fluffiness within.  A little butter, a little salt, and a dab of sour cream completed the masterwork.
Later that week, I contacted the restaurant to ask for the recipe.  As it turned out, they added nothing to the sweet potatoes before cooking them in a large commercial convection oven at 350 F for 40 minutes.
I was stymied.  Not even a home convection oven can match the effect of cooking in a commercial convection oven.  And my otherwise fabulous conventional oven wouldn't be able to hold a candle to a commercial convection oven!
So, I resolved to find a workaround.  To discover exactly how to make good baked sweet potatoes at home, replicating (as closely as possible) the quality of the one I had enjoyed so much.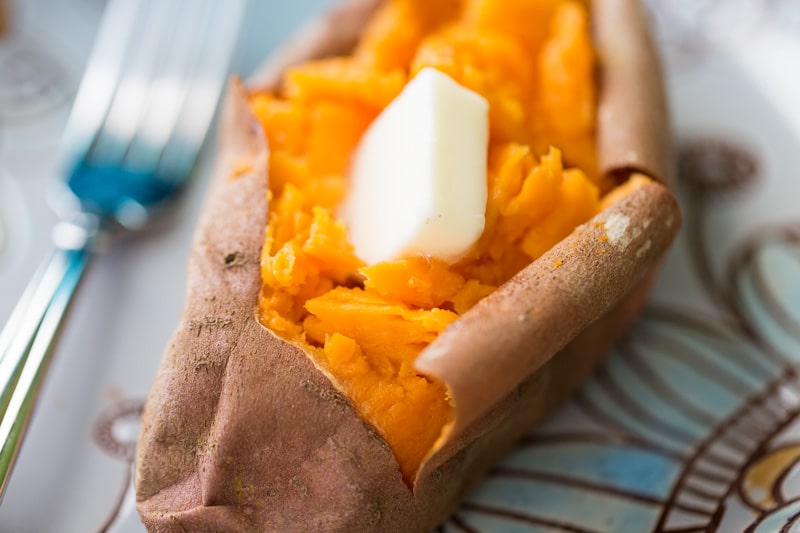 I spent more time than might be considered seemly researching baked sweet potatoes.  Some were blasted at high heat, up to 450 F. while others were cooked at a comparatively low 350 F.  Some cooks wrapped their sweet potatoes in foil, while others eschewed foil as a problematic coating leading to gumminess.
Many cooks were vehement about poking lots of holes in the potatoes first.
The only thing to do was test, test, test!  I bought a bushel of sweet potatoes and got to work.  While I was at the store, I also picked up some Barber Foods Broccoli & Cheese and Cordon Bleu Stuffed Chicken Breasts.
You can find them on the frozen food aisle with the frozen meats.
To make Barber Foods stuffed chicken breasts, simply preheat the oven to 375 F, remove the stuffed chicken breasts from the pouch, bake for 35 to 40 minutes, and cool slightly before serving.  Pair with one of these baked sweet potatoes, and voila!  You've made it a #BarberNight.
Use the handy product locator to find Barber Foods products near you and get a coupon to save on your purchase.
I tried both the Barber Foods Chicken Cordon Bleu and the Barber Foods Broccoli & Cheese stuffed chicken breasts.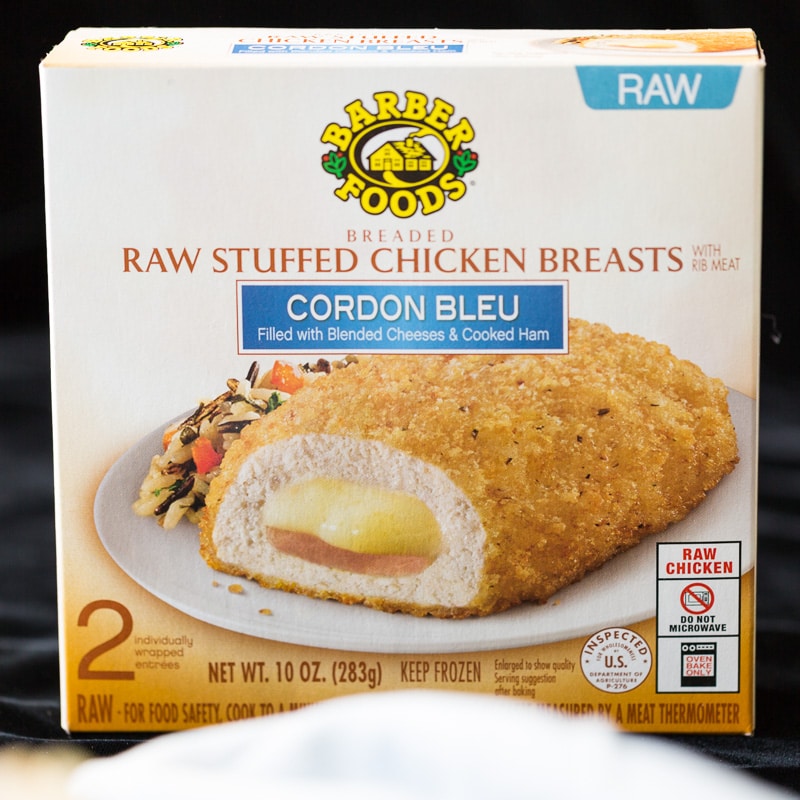 The savory meat and filling paired quite well with a baked sweet potato.  Since I had baked so many sweet potatoes ahead of time, all I had to do was pop a few in the oven to reheat as the stuffed chicken finished cooking.  I will also give you the secret for baking sweet potatoes at any temperature between 350 F and 450 F so that you can cook them alongside your main dish, so read on below!
So What's the Secret to Great Baked Sweet Potatoes?
It is key to select sweet potatoes that are roughly the same size and shape so that they cook at the same rate.  Otherwise, some will get done before the others.
You can poke holes in them… but in my tests, it honestly didn't seem to make a difference.
Don't wrap them in foil; it traps steam and leads to gumminess.  Also, when they're done, you must cut them open immediately after removing them from the oven—even if you're not going to eat them right away.  Be careful!  They will be very hot.  Cutting them open really does let the steam escape.
There's no need to bake them on a bed of salt or do anything fancy (yes, I tried it).  Toss them on the oven rack, or on a pan if you're worried about a mess.
Temperature is flexible.  That's right!  I successfully baked sweet potatoes at temperatures between 350 and 450 F.  And they came out exactly the same.  That means you can bake your sweet potatoes at the same time as your main dish, as long as you start them at the right time to finish together.
The key secret is that baked sweet potatoes are done when an instant read thermometer inserted in the thickest part reads 205 to 210 F.  That's all!  You can bake them at any temperature from 350 to 450 F and get the same result as long as you reach 205 F.
After that, just throw some salt and butter on there, and if you're feeling decadent, a little sour cream.  Then line it up next to your Barber Foods stuffed chicken breast and enjoy!
The Secret to Baked Sweet Potatoes
The only recipe you'll ever need for baked sweet potatoes. Crispy on the outside, savory on the inside. Top with butter and sea salt!
Total Time
1
hour
5
minutes
Instructions
Preheat the oven to 400 F (see note about temperature variations).

Place the sweet potatoes directly on the oven rack, or, if you prefer, on a baking sheet. Bake for about 1 hour, or until an instant read thermometer reads between 205 and 210 F. You can also tell if they are done by piercing the flesh with a fork. If it slides in very easily, they're done.
Recipe Notes
If you are cooking a main dish in the oven at the same time, you can bake the sweet potatoes at any temperature between 350 and 450 F.  At 350 F, they will take approximately 1 hour and 15 minutes.  At 450 F, they will take approximately 45 minutes.  Actual time may vary depending on how much food is being cooked in the oven. Use the doneness tests in the instructions to be sure the sweet potatoes are done.
Nutrition Facts
The Secret to Baked Sweet Potatoes
Amount Per Serving (200 g)
Calories 180
% Daily Value*
Sodium 72mg 3%
Total Carbohydrates 41g 14%
Protein 4g 8%
* Percent Daily Values are based on a 2000 calorie diet.
Make it a #BarberNight!  
Find Barber Foods products and get a printable coupon.