This is a sponsored post written by me on behalf of Marzetti® Brand for IZEA.  All opinions are 100% mine.

How to Steam Broccoli Without a Steamer Basket
Once upon a time, I was a young adult with a meager collection of kitchen equipment.  I desperately wanted to make a broccoli casserole just like my mother's, but I had no steamer basket with which to steam broccoli.
I did what any young person should do in those circumstances.  I called Mom and asked for help.
She said that she never used a steamer basket either, and gave me simple instructions on how to steam broccoli without one.
So, thanks to my lovely mom—and my clueless younger self—I'm sharing this easy technique with you today.  All you need is a pot with a lid for cooking and a colander for draining.
(And if you want to pick up a steamer basket for next time, this stainless steel steamer basket is a steal at just $5.) 
Once you've steamed your broccoli, you can serve it as a side dish by punching up the flavor with Marzetti® Veggie Drizzle™ finishing sauce.
Marzetti® Veggie Drizzle™ finishing sauces come in several robust flavors: Garlic Parm, Thai Chili, Lemon Basil, and Honey Balsamic. It's a new way to season your finished vegetables! Just splash a zig-zag or swirl of finishing sauce on your warm, cooked vegetables, and you're ready to serve.  No need to add any other salt, spices, oils, or seasonings; a shot of Marzetti® Veggie Drizzle™ and you're good to go.
You can even place it on the table for your family to choose a flavor and dollop on as needed.  Plus, all Marzetti® Veggie Drizzle™ products range between 20-45 calories, which makes them a great seasoning choice for giving a final flavor finesse to all your favorite vegetables.
You can find Marzetti® Veggie Drizzle™ finishing sauces in the refrigerated section of the produce department, near the pre-cut veggies, then coordinate your flavor choice with some of these recommended vegetable pairings.
I tried both Thai Chili and Garlic Parm with my steamed broccoli.  The Thai Chili added a sweet heat, while the Garlic Parm added a creamy, savory flavor.
Cooking Tips for Steaming Broccoli without a Steamer Basket
If you don't have a lid for your pot, you may follow the same recipe, but stir the broccoli once every minute while cooking in order for it to cook evenly.
Use your sense of taste, rather than the clock, to decide when to stop cooking the broccoli.  It's like pasta; if you taste it and it's neither too chewy nor too soft, then it's done correctly.
If you have a different sized pot, you may need to adjust a little.  If it's a smaller pot (such as a 2 quart), you'll need to stir the broccoli every minute or so to ensure even cooking.  If it's a larger pot (such as a Dutch oven), you'll want to stay close by to make sure the water doesn't boil away.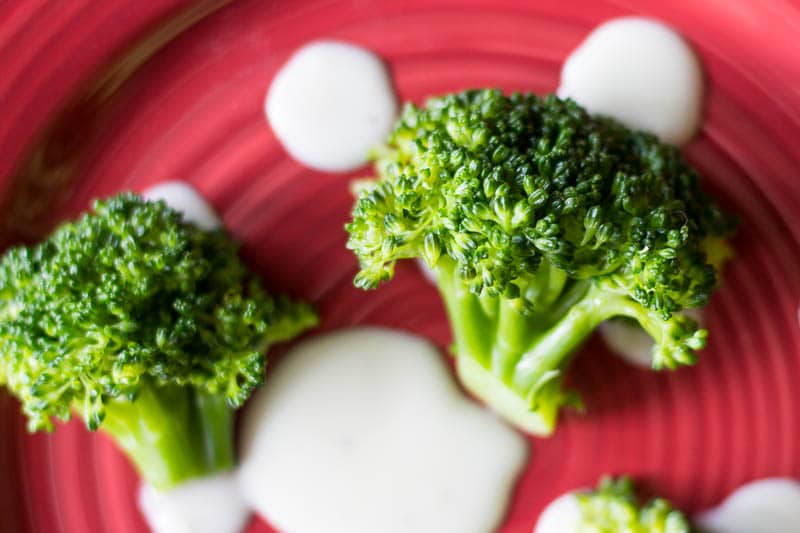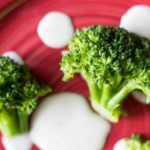 How to Steam Broccoli Without a Steamer Basket
Ingredients
1

bunch

fresh broccoli

1 1/2

cups

water
Instructions
Wash the broccoli. Chop the florets off the stalk, then discard the stalk. Cut down any large florets to match the size of the others.

In a 3.5 quart pot (with a lid), add the water and the broccoli florets. Cover with the lid and bring to a boil over high heat. Once the water boils vigorously, reduce the heat to medium.

Cook for 5 to 6 minutes, or until the broccoli florets are easily pierced with a fork but not limp.

Drain into a colander.
Check out all the Marzetti® Veggie Drizzle™ finishing sauces!