These baked quesadillas are filled with real Mexican melting cheese for delicious authentic flavor.  Just pop them in the oven for a fast and easy meal!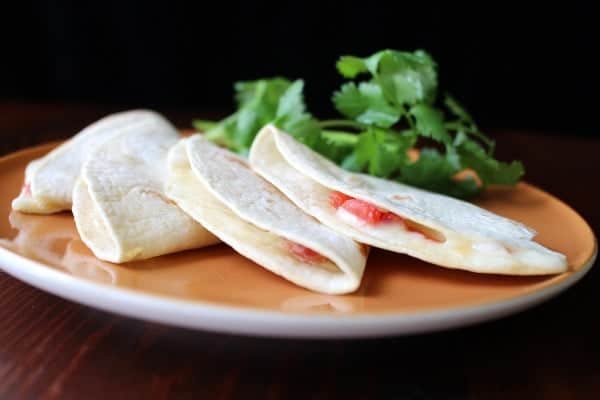 I love quesadillas.  There's nothing better than making a couple of fresh quesadillas in a skillet then sitting down to enjoy.  However, when making quesadillas for a crowd, the skillet method is cumbersome and time-consuming.  It's as slow as making pancakes!
Therefore, if you'd like to make enough quesadillas to feed a crowd without having to stand over a skillet for half an hour, I've got a new method for you to try.  With oven baked quesadillas, you can make a large quantity of quesadillas all at one time that are hot and ready to serve at once.
Personally, I'm hooked on using authentic Mexican varieties of cheese for quesadillas.  I often use queso fresco, which is a firm, fresh cheese that can be broken into crumbles that resemble feta.  Unlike feta, it has a very mild flavor.
It's not as melty as, say, Monterey Jack or cheddar, but the authentic Mexican flavor and firmer texture has won me over.  For today, however, I've chosen a more melty variety:  Mexican melting cheese.  You may also find it called "quesadilla cheese."  It's the absolute best cheese for baked quesadillas.
It's typically formed in a round shape, and is a creamy white color. To punch up the flavor even more, I added some RO*TEL when filling the quesadillas.   There are several levels of heat to choose from, so pick the one that suits your palate.  When serving a crowd, I often choose Mild RO*TEL because many people don't like things as spicy as I do.
If you like this kind of flavor, you'll probably like my hearty chili recipe, too.  And maybe make some Chocolate Applesauce Cake for dessert, too!
Baked Quesadillas with Authentic Mexican Cheese
These baked quesadillas are filled with real Mexican melting cheese for delicious authentic flavor. Just pop them in the oven for a fast and easy meal!
Ingredients
For the Quesadillas
12

small flour tortillas

You may substitute corn tortillas if you prefer.

12

oz

Mexican melting cheese

shredded (You may substitute your favorite melting cheese if you prefer.)

1

cup

chopped tomatoes with chilies

optional
For the Dip (Optional)
1

cup

sour cream

1 - 3

in

chipotle peppers adobo sauce

Find these in a can in your Hispanic foods section.

Fresh cilantro

chopped, to garnish
Instructions
For the Dip (Optional)
In a bowl, combine sour cream with 1, 2, or 3 chipotle peppers in adobo sauce, depending on how spicy you'd like it.

Stir until the peppers break up completely.

If they don't break up, use a knife and fork to cut them up, then stir until mixture is well combined.

Refrigerate until ready to serve. Immediately before serving, garnish with fresh chopped cilantro.
For the Quesadillas
Preheat the oven to 400 degrees and line a large baking sheet with foil or parchment paper. Line a bowl with several layers of paper towels.

Place the tomatoes and chilies into the lined bowl to soak away extra liquid.

Spritz the lined baking sheet with cooking spray.

Lay one tortilla on the baking sheet.

Fill one side with a sprinkle of cheese, then a sprinkle of RO*TEL, then another sprinkle of cheese.

Repeat with additional tortillas until the baking sheet is full. Bake for 10 minutes, or until the edges of each quesadilla are just starting to brown and the cheese is very melted.

Remove from oven, then use a pizza cutter or large chef's knife to cut each folded over quesadilla in half. Serve immediately.