Creamy, dreamy vanilla bean ice cream, made the right way with a simple custard base and real vanilla.  Say hello to your new favorite flavor!  This recipe is sponsored by Panna.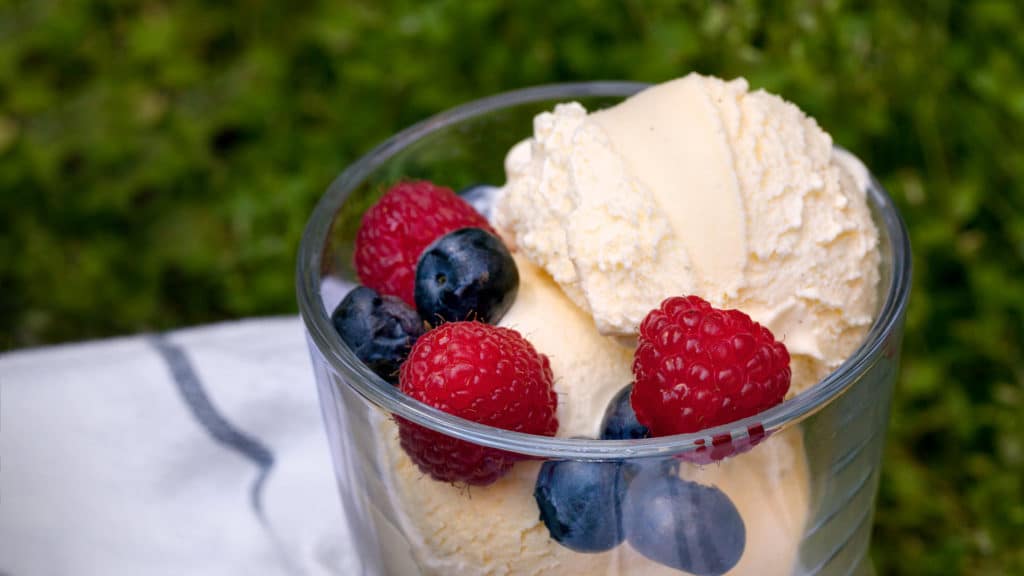 Vanilla Bean Ice Cream
A big part of what I do here at Recipe for Perfection is to create recipes that actually work, saving you hours of searching through random recipes on the internet in hopes of finding a good one.  I take recipes very seriously.  Why?  Because a failed recipe is a waste of valuable time (not to mention valuable ingredients).
That's why I'm really enjoying Panna, a new cooking site featuring videos and recipes for the home cook who wants to cook like a chef.  I'm finding a lot of inspiration in Panna's library of recipes and how-to videos.
Today, I get to share with you one of Panna's featured dessert recipes, a dreamy vanilla bean ice cream created by acclaimed chef and cookbook author Jerry Traunfeld.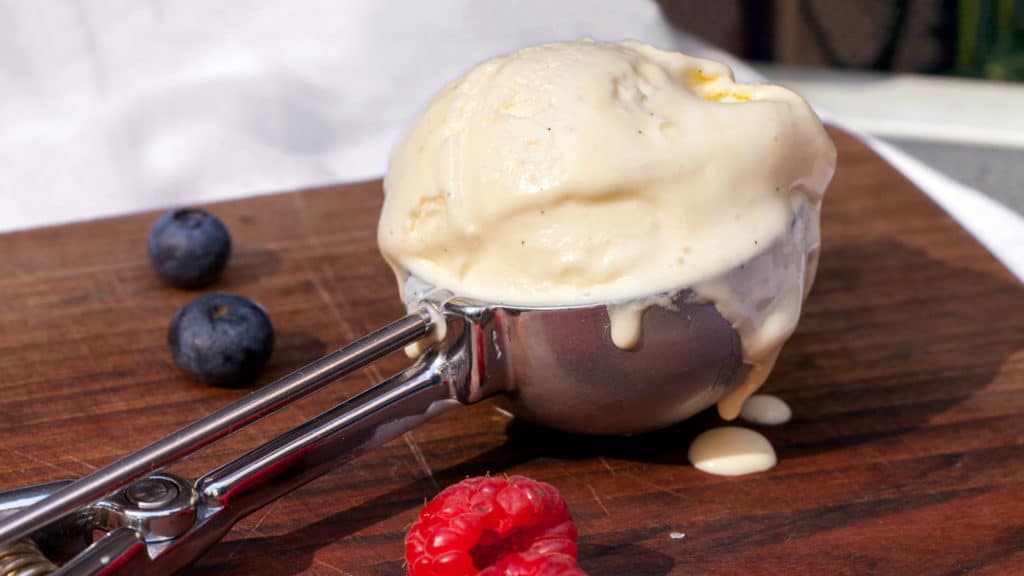 One thing that I like about this vanilla bean ice cream recipe is that it uses a real, honest-to-goodness vanilla bean.  Don't get me wrong; I love vanilla extract, but for ice cream, a genuine vanilla bean elevates the flavor.
The video also walks you through the creation of a simple custard base.  Many people are intimidated by custard, but with this video, you will find it simple to accomplish and a valuable addition to your cooking skill repertoire.  You can watch a preview of the video right here, then head over to Panna for a 30 day free trial which will give you access to the entire library of step-by-step videos like this one!
Panna's accessible recipes and smart techniques make it a must-have for home cooks looking to up their kitchen game.  Learn from the best, from the comfort of home!
Tips for Making Perfect Vanilla Bean Ice Cream
Remember to pick up a real vanilla bean.  If you can't find a vanilla bean in your grocery store, look for vanilla bean paste.  Vanilla bean paste will also give you those pretty little black specks in your vanilla bean ice cream.
For perfectly cooked custard, you'll need an instant read thermometer to tell you when the temperature of the custard reaches 170 to 180 F.
Remember to chill your ice cream base in the fridge before processing it in your ice cream maker.
After the ice cream is made, let it "temper" in the freezer for one to two hours so that it's firm enough to scoop.
I hope you enjoy this vanilla bean ice cream as much as I did.  I can't wait to break it out on a hot day and take a nice, big bowl out to the back porch.  Happy ice cream dreams!  Check out Panna and get your free 30 day trial!
Vanilla Bean Ice Cream
Creamy, dreamy vanilla bean ice cream, made the right way with a simple custard base and real vanilla. Say hello to your new favorite flavor!
Prep Time
2
hours
30
minutes
Ingredients
2 1/2

cups

whole milk

1 1/2

cups

heavy cream

1

cup

sugar

8

large egg yolks

Pinch salt

1

Vanilla bean

split and scraped

Blueberries

for serving

Raspberries

for serving
Instructions
Prepare the custard base: Pour the milk, cream, and sugar (1 C + 2 tbsp) into a medium saucepan and bring to a boil over medium-high heat. While it's heating, add the egg yolks to a bowl and place it over a larger bowl filled with hot water. Whisk the yolks as the hot water heats them. They should feel warm to the touch. Set aside.

Infuse the custard: As the milk mixture continues to heat add a pinch of salt. Split the vanilla bean by cutting it lengthwise to open it up. Then, run a knife lengthwise and scrape the vanilla beans onto the knife. Scrape the beans back onto the vanilla pod and add the pod with beans to the milk mixture. The instant the cream comes to a rolling boil and rises in the pot, lift it off the heat. With the whisk in one hand and the saucepan in the other, pour the boiling cream into the egg yolks as you whisk constantly but gently. Don't whisk rapidly or you will cool the custard before the yolks have a chance to set. At this point the custard should be fully cooked. An instant-read thermometer set in the custard should register 170 F to 180 F and it will coat a teaspoon (if for some reason it did not get hot enough, you can pour it back in the pot and very slowly heat it up, stirring with a rubber spatula). Cool the ice cream mixture by placing the bowl into a larger bowl filled with ice or chill in the refrigerator for 1-2 hours.

Make the ice cream: When the ice cream mixture has chilled, strain it through a chinois using a ladle to get all of the custard through. Pour into a well frozen ice cream maker (use according to the manufacturer's directions) and churn until it's ice cream, about 20 minutes. Place the ice cream into a container and freeze for 1-2 hours. (This is called tempering so the ice cream is scoopable.) Then, scoop and serve. Garnish with blueberries and raspberries.
Nutrition Facts
Vanilla Bean Ice Cream
Amount Per Serving (188 g)
Calories 361
Calories from Fat 184
% Daily Value*
Total Fat 20.4g 31%
Cholesterol 331mg 110%
Sodium 160mg 7%
Potassium 193mg 6%
Total Carbohydrates 39.6g 13%
Protein 7.5g 15%
* Percent Daily Values are based on a 2000 calorie diet.
Get a free 30 day trial of Panna!