Thank you to Ronald McDonald House Charities of Central Florida for inviting me to preview the menu for Appetite for the Arches!
Appetite for the Arches Sneak Preview
Appetite for the Arches is coming on Saturday, March 5, 2016!
This spectacular gala fundraiser brings together top Central Florida restaurants and chefs to create imaginative dishes using McDonalds ingredients.  And it's all for a good cause: the Ronald McDonald House Charities of Central Florida.
Each Ronald McDonald House provides a home-away-from-home for the families of sick children who are being treated in local hospitals.  No one is ever turned away due to inability to pay.
If that doesn't convince you to buy a ticket to help this great cause, then this video certainly will.
Buying a ticket to Appetite for the Arches not only benefits a great charity, but gives you entrance to this one-of-a-kind dining event held at the Orlando World Center Marriott.
During a sneak preview held at participating restaurant Cask & Larder, I got to sample some of the dishes that have been created by some of Orlando's best chefs.
First up from the kitchen was Chicken Tortilla Soup with Savory Biscuit Bread Pudding by Chef Kevin Fonzo of K Restaurant.
That savory biscuit bread pudding is a recipe I'd like to figure out how to duplicate at home!
Next was Red Devil Stuffed Eggs with Bacon Brittle and Oven-Dried Tomatoes by Chef Kathleen Blake of The Rusty Spoon.  I'm a Southern girl, so I grew up eating deviled eggs, but this took the concept to a whole new level.  I loved it.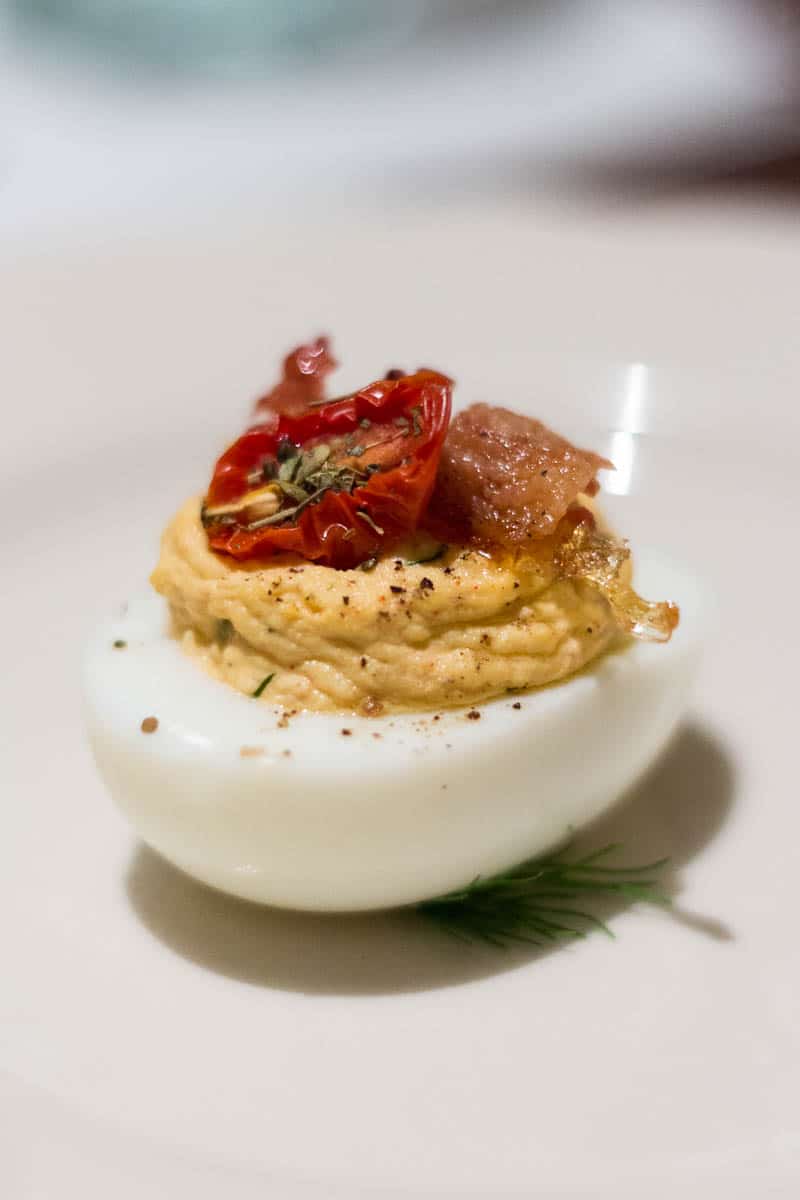 Third on the tasting menu was Kale Gnocchi Carbonara by Chef Rhy Gawlak of the host restaurant, Cask & Larder. Made with actual McDonald's french fries, this was probably the most surprising dish of the night!  It was absolutely delicious.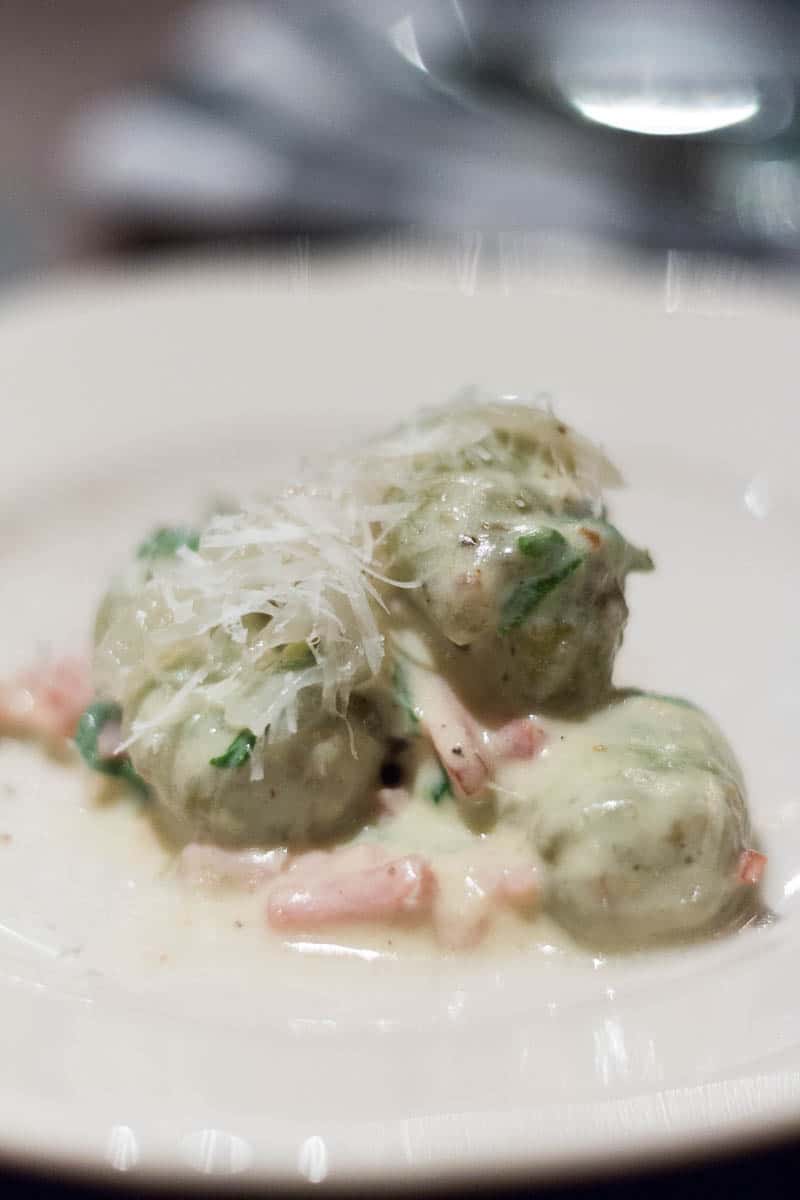 For the final savory taste, Chef Clayton Miller of DoveCote presented a Smoked Beef Tongue Reuben with Crispy Potato and Big Mac Sauce.  I'll be honest: I'd never tried beef tongue before and wasn't sure what to expect.  I needn't have worried.  This beef tongue was prepared similar to pastrami, and had a corned beef flavor with a roast beef texture.  If I hadn't known ahead of time that it was tongue, I never would have guessed.  It made a tasty stack sitting atop a crispy hashbrown.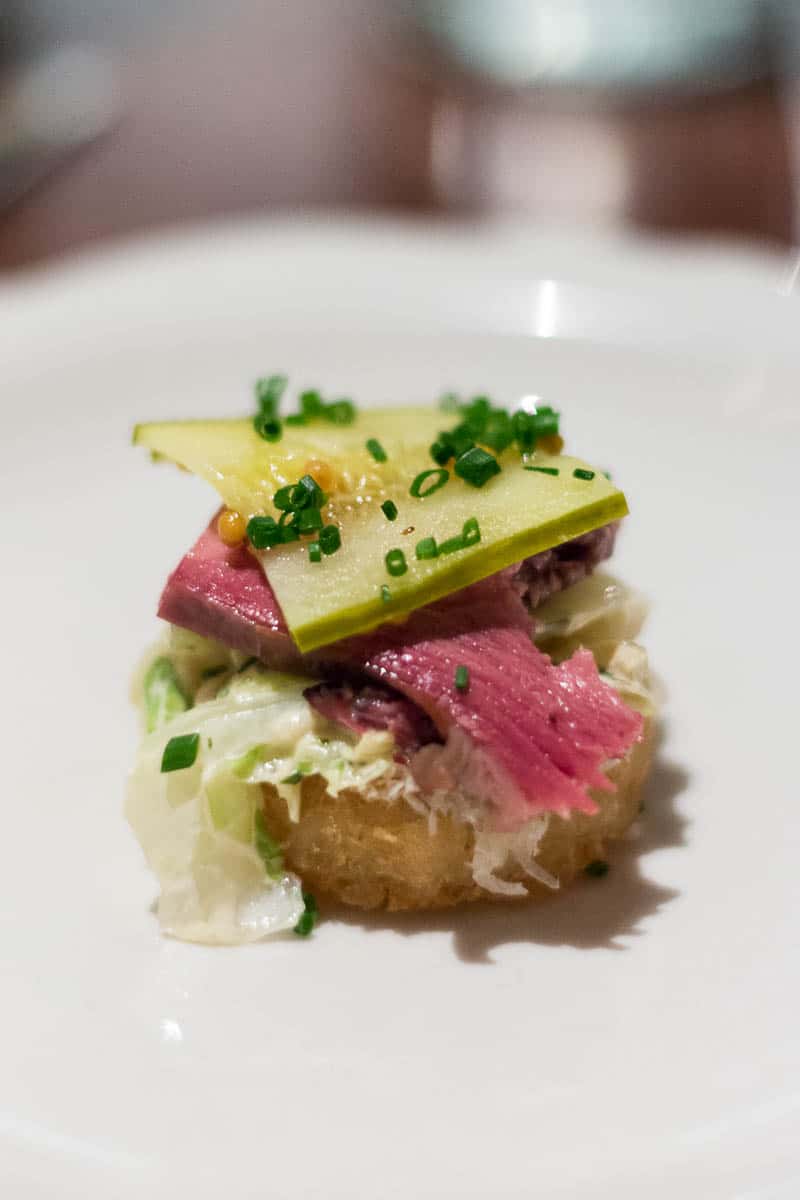 The dessert course was presented by Chef Julie Petrakis, one of the co-owners of Cask & Larder, and consisted of Cheesecake with Espresso Crumble and Strawberry-Frangelico Sauce.  The strawberry-Frangelico sauce also made my list of menu items to attempt to duplicate at home.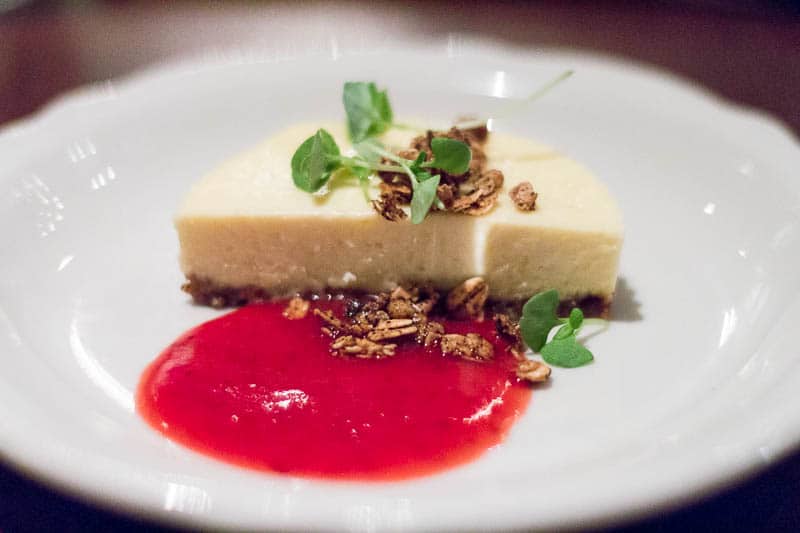 To wash it all down, I relied upon a glass of Russian Standard Vodka Cucumber Lemonade Soda, which is one of the most refreshing cocktails I've ever had.
Are you hungry (and thirsty) yet?
Then go buy your Appetite for the Arches tickets now!  Tickets are just $150 per person until February 4, 2016; then, the price goes up to $200 per person.
Mark your calendar for March 5, 2016, from 7:00 pm to 10:00 pm at the Orlando World Center Marriott, and I'll see you there.