This post contains affiliate links for Amazon shopping. When you shop through them, a small commission supports this site at no cost to you. Thanks!
Can there even be such a thing as the best brownie recipe in the world, or is it all a matter of personal taste? Here are some of the contenders for the best brownie recipe in the world!
The "Baked" Brownie
Produced by the Baked bakery in Brooklyn and featured as one of Oprah's favorite things, this brownie recipe is notable for several things:
Brown sugar contributes a distinctive note of molasses.
A large amount of melted chocolate means a strong chocolate flavor.
Cocoa powder adds even more flavor notes.
I've made these, and I can say that they are very good, especially if you like brown sugar. They have a quality that makes you want to eat more of them; I think it's because the texture is just a bit lighter than fudgy. This recipe is also featured in the beautiful cookbook Baked: New Frontiers in Baking
.
The Fat Witch Brownie
Another famous bakery produces another famous brownie; but this time, it's not without controversy. Some reviewers claim that the Fat Witch brownie recipe from Fat Witch Brownies: Brownies, Blondies, and Bars from New York's Legendary Fat Witch Bakery
bears no resemblance to the brownie sold at the actual bakery. Since I haven't ever been to the Fat Witch bakery, I can't solve this brownie mystery.
Baker's One Bowl Brownies
This recipe appears on the back of every box of Baker's Unsweetened Chocolate. If you've eaten brownies from scratch in your life, chances are that at some time you've eaten Baker's One Bowl Brownies. They're on the fudgy side, with a level of chocolate flavor that's right in the middle: not very strong, not too mild. They are a classic melt, dump, stir, and bake recipe that's very easy even for a novice baker to produce.
Ultimate Deep Dish Brownies
It's very possible that I'm biased about this one. Once you've tried my Ultimate Deep Dish Brownies, you'll never go back to regular brownies, let alone a box mix, ever again!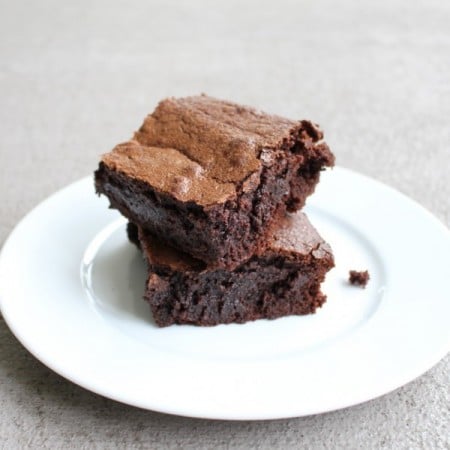 What do you think is the best brownie recipe in the world?