My husband and I were the guests of BRAVO! Cucina Italiana in Orlando, FL, to sample the new menu. All opinions are my own.
I spent a long time thinking about how to describe BRAVO! Cucina Italiana to someone who's never been there. From the outside of the restaurant, or even from the website itself, you might think that this is just another casual Italian chain restaurant. Before I walked in, I wasn't quite sure what to expect.
One look at the dining room, and I was pleasantly surprised. The dining room was framed by large white columns and support beams that were artfully broken in places. In between these architectural elements hung large semi-spherical lamps that glowed with a warm yellow light. The brick oven fire in the open kitchen gave the room an energy elevating it above your average casual Italian restaurant.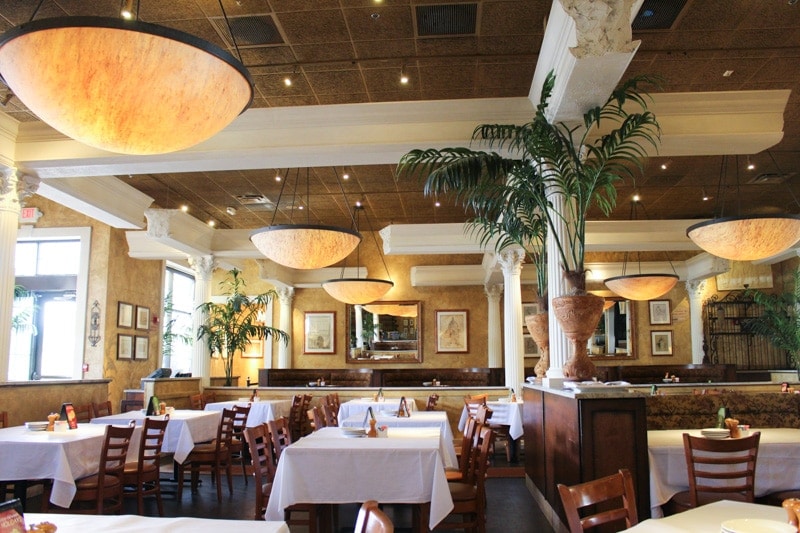 Outside the rear doors of the dining room was a second floor patio surrounded by palm trees. The bar was set between the two spaces and opened to both.
We took our seats at one of the square dining room tables overlaid with a white tablecloth and covered by a sheet of clean white paper. Our excellent server, Dan, answered some of my menu questions, and then we started on a well-paced meal of new dishes and classic favorites.
First up was Calamari Fritti, served with a creamy horseradish sauce and a pomodoro sauce. This calamari was mostly rings, with a few tentacles on top.
Next up were Mini Calzones, a new item on the happy hour menu. After ordering what I thought would be miniature traditional calzones, I was surprised to see that these were actually more like crispy empanadas filled with sausage, ricotta, and pepperoni. With their crispy exteriors and warm filling, these calzones were one of the surprise hits of the meal and would make an excellent appetizer or happy hour snack.
After a bit of a break, the entrees appeared. I'd chosen Steak Diavolo (another new menu item), while my husband selected the Sausage Tortelloni.
The Steak Diavolo, a 6 ounce steak topped with horseradish aioli, was served with crispy potatoes and a vegetable medley accompanied by a spicy tomato cream sauce. Apparently, this new dish is one of the most popular menu items, and deservedly so. The steak was cooked and seasoned perfectly. The crispy potatoes were an excellent accompaniment, and the horseradish aioli accented the flavors of the steak and potatoes rather than covering them up.
Along with my entree, I sampled a smaller version of the Sangria Rosa, a wine cocktail made with with freshly muddled strawberries and pineapples, simple syrup, lime juice, Sobieski Raspberry, and Fizz 56 (a sweet, sparkling red wine), then finished with a splash of soda water. I love sangria, and enjoyed the addition of pineapple in this version.
The Sausage Tortelloni was a classic Italian comfort food dish. The pasta was tender but not too soft, and the combination of sweet Italian sausage, bits of fresh mozzarella, and basil shreds gave it a fresh flavor while preserving its comfortable familiarity.
We decided to share the Dessert Trio as a final course.
The Dessert Trio included Cannoli Crumble, Creme Brulee, and a Warm Chocolate Peanut Butter Brownie. My husband's favorite was the Warm Chocolate Peanut Butter Brownie, which was topped with a thick layer of peanut butter frosting and a dollop of whipped cream.
My favorite was the Cannoli Crumble. I'm not always a cannoli fan, so I was surprised by how much I enjoyed this deconstructed version. The cannoli cream had a smooth texture with just the right of sweetness, and the crunchy bits of crumble were accented with just enough cinnamon to make them interesting. I'd definitely order this again next time.
Overall, we were both very pleased with BRAVO! Cucina Italiana. We agreed that BRAVO! would work as well for a date night as it would for a convivial supper with the family. It's just casual enough to make you feel comfortable, yet elegant enough to make your dining experience feel special.
Special thanks to Chef Matt Grimes and his kitchen team for making wonderful food, and thanks to Dan, our server, and Nicole, the manager, for making us feel very welcome.
Check out my review of BRAVO!'s sister restaurant, BRIO Tuscan Grille.