Thank you to Christner's Orlando for inviting us to experience dinner.
Christner's Orlando: Grand Old School Steakhouse
Nostalgia is a powerful force.  For a few moments, it can immerse you in the memory of times and places gone by.
I'd never been to Christner's before, but when I was a child, I had been to similar restaurants.  If you've been to one, you'll recognize exactly what I'm about to describe.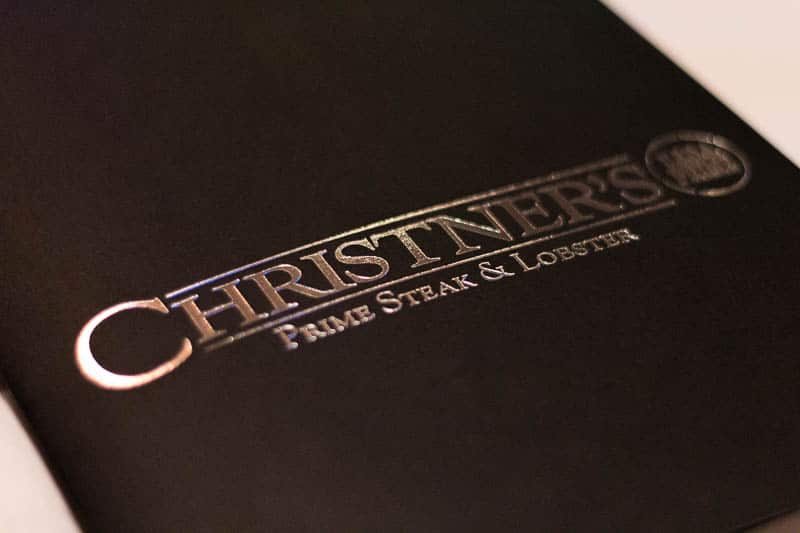 Imagine an unassuming, windowless building.  Unsure of what to expect inside, you enter through the front doors and and are surrounded by richly polished wood, leather banquettes, brick accents, plush carpet, and soft yellow light.
On the walls are reproductions of classic paintings.  The waiters are dressed in tuxedo shirts, vests, and bowties.  Yet the atmosphere is warm and welcoming, as if all the trappings of elegant decor were simply meant to honor you as a guest.
You feel at home.
I have fondly remembered steakhouses like this, but I didn't know that any like them still existed around here.  Most restaurants evolved away from this style by the end of the 1990s, opening up the windows and lightening up the furniture- not to mention lightening up the recipes, which (in my book) is a crying shame.
Not so at Christner's.  Christner's Orlando carries on this venerable steakhouse tradition proudly.  This is the kind of restaurant where the "new" waiter is the one who has only been there ten years.
We slid into our cozy leather booth facing out into one of the many dining areas.  Our waitress for the evening brought a freshly baked, whole, unsliced loaf of bread and a crock of soft butter, and told us that it was tradition to tear the bread rather than slice it.
We tore into it with gusto.
Our chosen appetizer, Fried Calamari Shanghai Style, arrived shortly.  We were astounded by the size of the dish, which could have easily served four, if not six.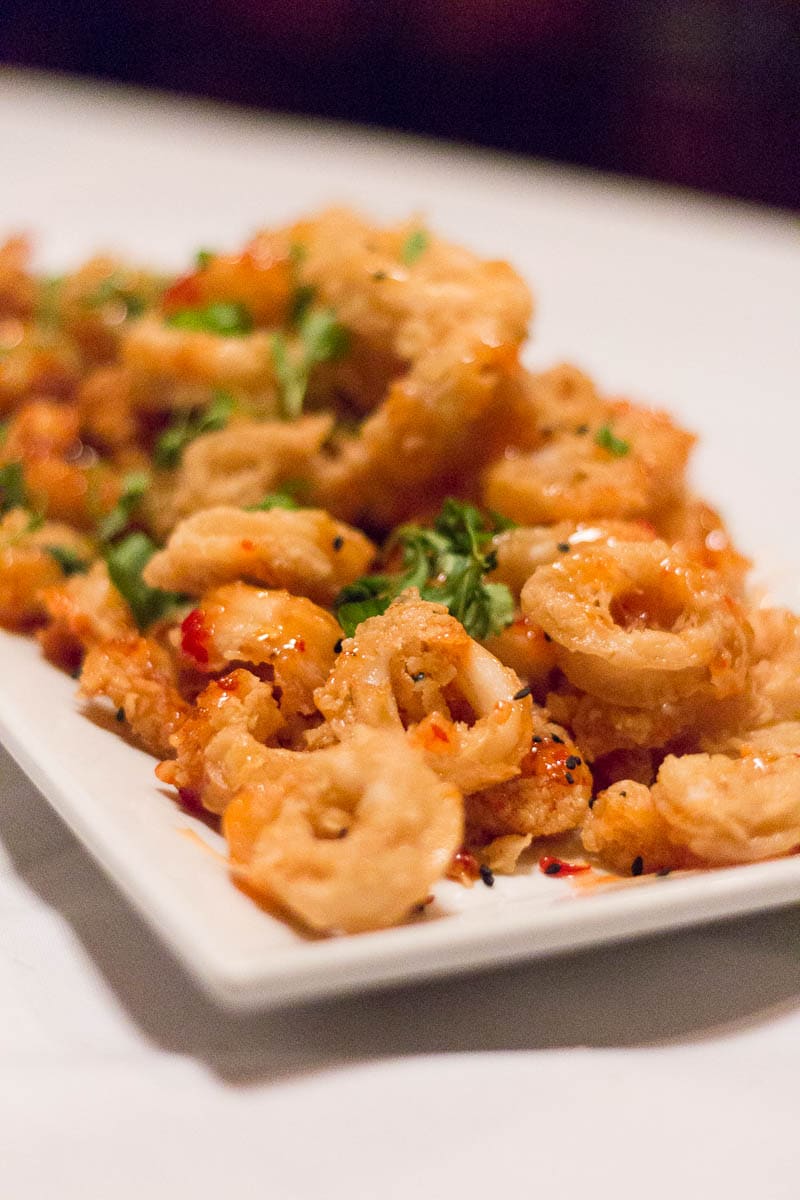 Each bite was crispy, tender, and was drizzled with sweet chili sauce with just the right amount of spiciness.
We ate lightly from the salad and soup course, sampling a bit of classic Caesar salad with housemade dressing alongside some lobster bisque, knowing that there was much more to come.
Our steak entrees arrived on sizzling hot plates.  My husband chose one of their USDA Prime cuts, a 16 oz NY strip steak (pictured below), while I tucked into an 8 oz filet mignon.  Both were cooked exactly as requested: a perfect medium.  We also learned that Christner's steaks come in whole from Nebraska, and are cut and aged on the premises.
The side dishes were also generously sized.  We shared both the potatoes au gratin and the lobster mac & cheese (pictured below).
What I enjoyed most about the side dishes is how wonderfully homemade they tasted.  It was as if you stopped by your favorite relative's house and they had just pulled these deliciously cheesy side dishes out of the oven.  Pure heaven.
Finally, we were presented with our desserts, which continued the theme of abundant portions suitable for sharing.  My husband sampled a dense and sweet bread pudding with Jack Daniels sauce, while I selected their signature dessert of orange cake with vanilla ice cream.  All desserts are made fresh in house.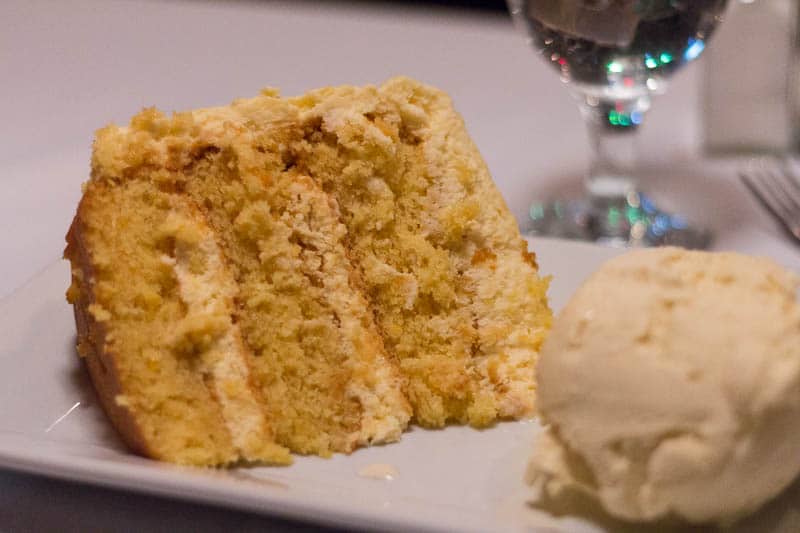 You may not be able to tell from the photo that the ice cream was the size of a softball and that the cake slice would (in other circumstances) constitute a quarter of a cake.  Dessert also had the pleasing quality of a homemade touch.  It reminded me of the larger-than-life cakes I'd enjoyed long ago at special occasions like family reunions and church suppers.
We had the chance to speak with one of the owners, David Christner, who shared with us the story of how the former Del Frisco's became Christner's, and talked about their philosophy of preserving the restaurant traditions and recipes just as they've always been.  His pride was evident (and well deserved).
As you can imagine, we had quite the stack of leftovers to take home.  The magic of the evening lingered in the memories of the cozy atmosphere and happy, clinking sounds of dishware as we made our way out into the night.
We'll be sure to return to experience the Christner's tradition again.
Visit the Christner's Orlando website for menus, location, and more.