This post about coffee brownies is sponsored by Single Edition Media on behalf of KitchenAid.  All opinions are my own.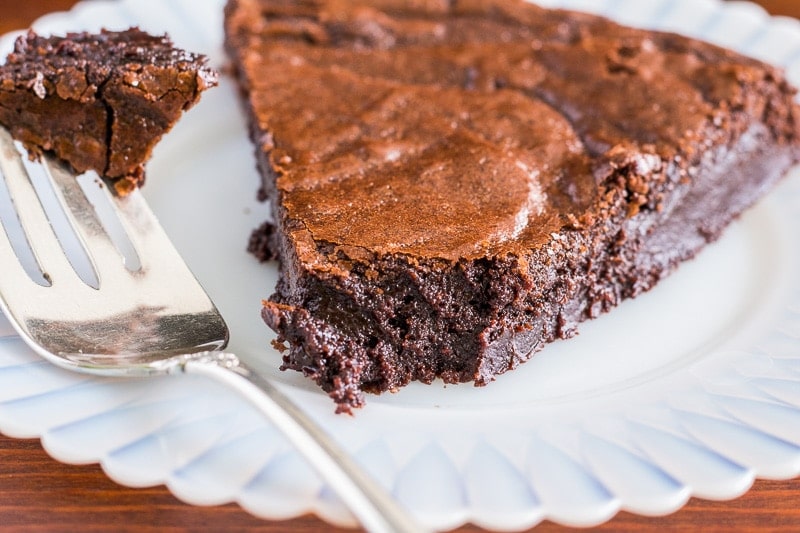 Coffee Brownies Made with Real Coffee!
I say if you're going to put coffee in brownies, don't be shy about it.  Don't try to hide a bit of coffee in there to "heighten the chocolate."  Nonsense.  That's not heightening the chocolate.  That's just adding a little coffee.
Am I coming off as opinionated?  Probably.  But that's OK, because this is my blog and I get to do what I like with it.
When it comes to my brownies, it's either no coffee, or lots of coffee.  And although other coffee brownie recipes may use instant coffee granules or extracts to add a coffee flavor, I'm not going to do that.  I'm going to use real coffee in these coffee brownies.
The trick is to add coffee without adding too much water (too much water makes brownies cake-like).  To do that, I'm going to use a method I've employed once before to make fresh mint infused brownies.  It's a way of infusing the butter with the flavor before incorporating the butter into the brownie batter.
As you can see, I've been on a real coffee kick lately.  Since you're probably going to have some coffee handy after making these brownies, you might want to check out one of the new craft coffee brewers from KitchenAid.

Personally, I'm intrigued by the KitchenAid Pour Over Coffee Brewer, which imitates the temperature and pouring methods of professional baristas.
It's this particular model that inspired the infusion of coffee into butter in this recipe, because both require a particular time and temperature to come out just right.  Here's how KitchenAid describes this coffee brewer:
Unlike drip coffee makers that continuously flood the brew basket, the new KitchenAid Pour Over Coffee Brewer precisely heats and pulses the flow of water, steeping in the same manner as the manual pour over process, allowing the grounds to "bloom." The result is bright, clean and full flavored coffee without diluting due to over-soaking.
That's exactly the kind of pour I'd love to have at home: a pour that's just like the one I'd normally have to drive to a high-end coffeeshop to get.  If you combine the KitchenAid Pour Over Coffee Brewer with the KitchenAid Burr Grinder, which can grind coffee to 15 different grind sizes, you're practically a fully equipped barista.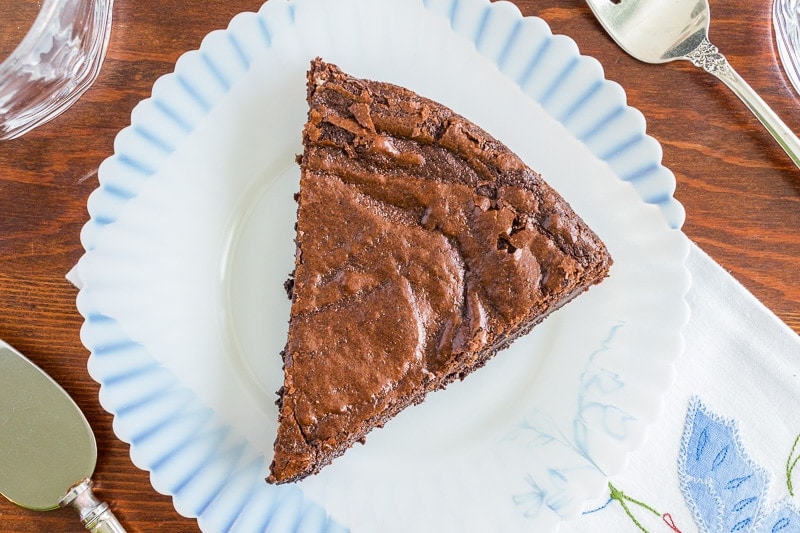 Now that we're all set for coffee in every possible way, let's make some coffee brownies!
Coffee Brownies Made with Real Coffee!
These coffee brownies are brilliantly made with real coffee infused into the batter. No instant coffee or extracts! Just pure, delicious java!
Ingredients
12

tablespoons

unsalted butter

plus extra for the pan

1/2

cup

ground coffee

1 1/2

cup

granulated sugar

1/2

teaspoon

vanilla extract

1/4

teaspoon

sea salt

2

large eggs

1

egg yolk

1

cup

cocoa powder

1/3

cup

all purpose flour
Instructions
Preheat the oven to 350, then rub butter all over the inside of a 9 inch cake pan. Line the bottom of the pan with parchment. (If you don't have parchment, butter the inside of the cake pan very generously to prevent sticking.)

In a small sauce pan, melt the butter over medium heat until it is very hot but not bubbling. Add the ground coffee, stir in, and remove from heat. Let sit for five minutes.

Strain the butter through a very fine mesh sieve into a large mixing bowl. Press down on the butter soaked coffee to extract as much butter as possible. Once it is strained, you'll notice that the melted butter is brown and has very tiny particles of coffee in it.

Add the sugar, vanilla, sea salt, and eggs plus yolk to the butter, then whisk thoroughly to combine. Add the cocoa powder and flour, then stir until just combined. The batter will be very thick.

Scrape the batter into the prepared pan and smooth the top. Bake for 20 to 25 minutes or until a toothpick inserted in the middle comes out with moist crumbs but no wet batter. Let cool to room temperature on a rack, then slice and serve.
Nutrition Facts
Coffee Brownies Made with Real Coffee!
Amount Per Serving
Calories 362
Calories from Fat 180
% Daily Value*
Fat 20g31%
Cholesterol 110mg37%
Sodium 94mg4%
Potassium 189mg5%
Carbohydrates 47g16%
Protein 4g8%
Vitamin A 615IU12%
Calcium 28mg3%
Iron 2mg11%
* Percent Daily Values are based on a 2000 calorie diet.
How do you like your your coffee?