Last weekend, the 2015 Southern Exposure produce convention was held at the Caribe Royale Hotel in Orlando, FL. Having never been to a food-oriented convention before, I decided to drop in on the exposition portion of the convention to see what it was all about. I had read the Southern Exposure website and learned that growers, packers, and brands reserved booths to showcase their products and services to retailers. Retailers would view these booths and make decisions about who to work with and what to carry in their stores.
It would have been fun to stay for the whole weekend, but although I was visiting on a complimentary press pass, I was footing the bill for my own travel expenses. Although that limited me to a day trip, I was still excited.
Plus, I figured there might be free samples.
After slogging through relentless traffic and rain on the highway, I finally arrived. I stuffed my notebook and my camera under my jacket and ran through the rain to get to the convention center doors. After passing through the archway listing all the event sponsors, I picked up my name badge and wander around freely.
I was immediately confronted by a goat and a large cow. I was relieved to discover that they were not, in fact, real animals housed inside a convention center hallway. There were just part of the agricultural theme, which included county-fair style games as well.
The enormity of this business didn't hit me until I left the hallway and entered a large ballroom, which was easily the size of a football field, filled with hundreds of booths and hundreds of serious businesspeople. I was almost, but not quite, overwhelmed. Here's what saved me from feeling intimidated:
Yes, the presence of lovely food definitely put me at ease in an unfamiliar environment. My first stop (pictured above and below) was Wish Farms, which had some beautiful berries on display. Of course, the chocolate-covered strawberry samples pulled me right in.
The humble Brussels Sprout was the star of Queen Victoria's display, which featured an intact Brussels Sprout stalk. I never knew that's how they grew!

In addition to the county fair theme in the hallway, the convention had a 1950s theme, including a booth decorating contest and a costume contest. One themed booth really caught my eye, with its giant guitar made of fruit.
Others weren't themed, but were no less eye-catching. Philips Mushrooms had an awesome mushroom assortment laid out on their table.
Not to be outdone, another mushroom company called Country Fresh had a similar array of mushrooms, but they also had cookies shaped like mushrooms, which were dipped in chocolate and served from a bed of cookie "dirt." Talk about brilliant!
I met some local farmers from Whitworth Farms (located in Boynton Beach) who had some colorful vegetables to display. They were giving away t-shirts and a chance to win an iPad mini. From what I could see, all the people in the booths were clearly working hard to gain the attention and business of the convention visitors.

I was stopped in my tracks soon after when I saw this tabletop display by Cottle Farms, which included berries and blueberry fudge, too.
They were very friendly, and they also let me sample some of their tasty Juvn8 juices made with whole muscadine grapes.

Having neglected the vegetable side of things, I wandered over to a table piled high with sweet potatoes, which had a large bottle of vodka nestled incongruously nearby. When I chatted with the Burch Farms representatives, I found out that not only did they grow sweet potatoes, but they also made vodka from sweet potatoes! I wasn't expecting to find vodka at a produce convention- but then, when you think about it, it only makes sense that alcohol can be distilled from many things, including produce.
Feeling a little bit munchy, I looked around for another sample. It was a good thing that I did, because I happened to stumble upon my new favorite flavor combination. It was at the Sun Date table, where a nice young man gave me a date, cut in half with the seed removed, and smeared with a large dollop of cheesecake. I am absolutely going to make it for myself and photograph it for a recipe post. Yes, it was that good.
Another date vendor called Caramel Naturel had chewy little date bars to try.
Switching back to savory, I stopped by the House Foods table, which was filled with noodle and tofu packages. The noodles turned out to be Shirataki noodles, a type of noodle made from soy. They even had a mock chorizo sausage called a "soyrizo." What will they think of next?
Another booth by Concord Foods had a protein powder mix that could be added to fresh produce to make a nutritious Kale and Apple Smoothie.
Cigar City Smoked Salsas had a booth with their signature smoky salsas. I love salsas of all kinds, and the smoky twist was surprisingly addictive.
Fresh Gourmet had bowls of salad toppings to sample. The gentleman in the booth gave me a bag of Asiago crisps to take home, which my husband pronounced to be absolutely delicious.

The California Sun-Dry booth's sample was an elegant presentation of cream cheese, nuts, and sun-dried tomatoes.
One of my favorite finds of the day was Frieda's Produce. They had beautiful exotic fruits and vegetables on display, all of which I wanted to take home in a large basket to try out.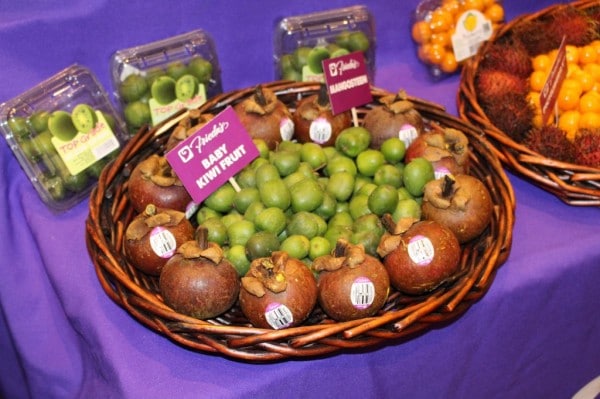 Believe it or not, after exploring the ballroom for over an hour, I found out that there was another part of the exposition located in a large tent outside. I decided to drop a few things off in my car before proceeding to the tent. On my way back, I was offered some Dole juice refreshment by some ladies who were all dressed up with little green feathered headdresses.
After that, I headed over to the tent. As if I hadn't consumed enough sugar already, when I stopped to take a photograph of the Dave's Blueberries booth, the booth attendants were kind enough to make up a new batch of ice cream sodas (which fit the 1950s theme very well).
The scent of fresh cut onions led me to Gill's Onions, which had an eye-watering display of onions plus a stack of jarred onions as well.
On my way out, I saw the Chelan Fresh booth, which was filled with cute little miniature apples called Rockits stacked up in clear plastic sleeves. It looked like a clever way to sell apples as a snack food outside the produce section.
My last stop was the booth of a local Orlando area company called Produce for Kids, which helps families find new and easy ways to eat more produce. They also raise funds for charities. Sounds like a positive program!
Finally, after having walked for several hours, I was done. I had a blister on my toe, a notebook full of pamphlets, and a bag full of samples. I was ready to head home after a productive day. It was very insightful to get an up close look at the business of produce, and I really enjoyed chatting with some of the folks who actually produce the food we eat. If you ever get a chance to go to Southern Exposure or another food-oriented trade show, I highly recommend it.
To see what I usually do with the produce I buy, check out this Blueberry Sour Cream Pound Cake recipe, and this Easy Blackberry Crumble Recipe.
What would you have liked to sample or learn about at Southern Exposure?