This simple apple crumble recipe is made with rolled oats for a delicious crunchy topping.  Includes recipe tips to help you select the best apples!  This post contains affiliate links.  When you shop through them, a small commission helps support this site.  Thanks!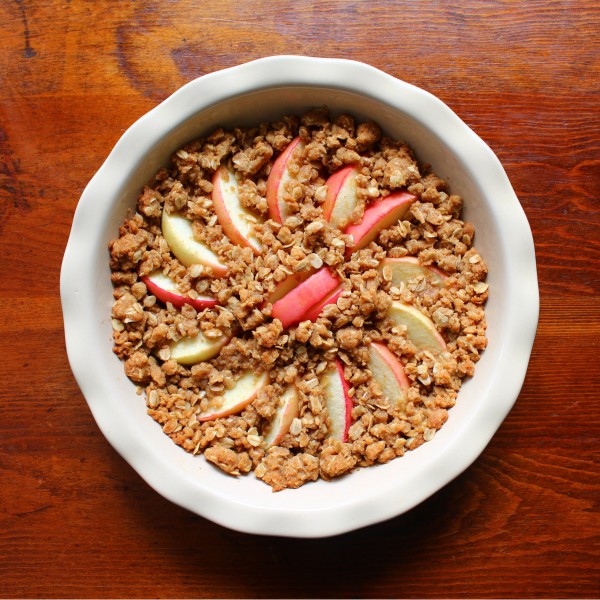 Welcome to my favorite apple crumble recipe.
It's like a handful of cinnamon oatmeal cookies snuggled up with some baked apples.  And, believe it or not, it's actually pretty good for you!
How did I come up with it?  Let's just say that I have been making a lot of apple crumble lately.  Correction:  I have been making a LOT of apple crumble lately.
I have a more or less continuous sweet tooth and I like to make dessert every day if possible.  However, I know that some desserts (like this deep dish brownie recipe) are not really suitable for eating every day because they're too rich and none of us wants to gain 50 pounds a year.
So, I needed to come up with a dessert that I could have on most days that would be sweet and satisfying, yet would not leave me feeling as though I'd overindulged.
I started from an easy blackberry crumble recipe and worked on streamlining it for easy prep, adjusting for the change from blackberries to apples, and also reducing the total amount of sugar.
To improve the overall nutritional value (and because I like the taste of apple skins), I tested seven varieties of apples to see which apples stayed firm and flavorful when baked with the skins left on.
Which Apples Stay Firm & Flavorful When Baked with Skins On?
Good options:
Honeycrisp was the clear winner.  The flavor was unparalleled and the liqueur produced by the cooked apples was sublime.
Pink Lady / Cripps Pink was very firm with good flavor.  A solid runner-up.
Granny Smith, precut and bagged had a classic apple flavor but a softer texture.
Sonya had a mild, pearlike flavor and soft texture.  Although this was softer, some people may like its very mild taste.
Not so good options:
Kanzi had mushy flesh.
Granny Smith, cut from whole apples basically turned into applesauce.  My own reading suggests that apples held in storage for a long time after harvest can become mushier when baked.  The ascorbic acid wash given to the precut and bagged variety helps retain firmness, or so I was told by a CrunchPak rep at the Southern Exposure produce convention I visited.
Pinata had tough, chewy skins and mushy flesh.  It was the worst apple for baking with skins on.
Helpful Apple Crumble Baking Tips
Buy the freshest apples.  The fresher the apple, the more juice to produce that yummy liqueur that collects in the bottom of the pan and soaks into the crumble topping.  Look for "new crop" signs in your grocery store.
Use an apple slicer for easy cutting.
Don't bake in ceramic.  Ceramic dishes are pretty (that's why you'll see them in my photos), but if you bake apples in them, much of the juice will evaporate because of how ceramic retains heat.  I recommend a light colored aluminum cake pan if you have one- it's quick to heat up and quick to cool down.
Salt is good.  A dash of salt makes the flavors pop.
Let it cool completely.  As tempting as it may be, don't serve hot out of the oven.  Baked apples benefit from a rest.  You're better off letting it cool to room temperature, then warming it slightly in the oven or microwave.  Believe it or not, it tastes even better the second day!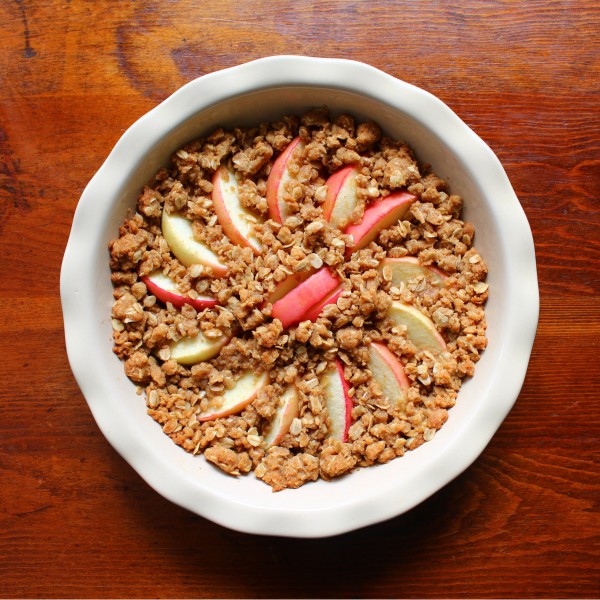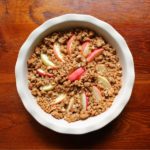 Easy Apple Crumble Recipe with Oats
This simple apple crumble recipe is made with rolled oats for a delicious crunchy topping. Includes recipe tips to help you select the best apples!
Ingredients
1/2

cup

white whole wheat flour

you may substitute all purpose flour if you prefer

1/2

cup

old fashioned oats

1/3

cup

light brown sugar

firmly packed

1

teaspoon

light brown sugar

firmly packed

1/2

teaspoon

cinnamon

1

pinch

sea salt

6

tablespoons

butter

melted and divided

1

pound

baking apples

cored and sliced into eighths (I recommend Honeycrisp or Pink Lady / Cripps Pink)
Instructions
Preheat the oven to 375.

Place the apple slices into a pan. Drizzle 1 teaspoon of melted butter over the apples and reserve the rest of the butter. Sprinkle 1 teaspoon of brown sugar over the apples. Toss or stir in the pan to coat the apples.

Place the flour, oats, cinnamon, salt, and 1/3 cup of brown sugar in a bowl. Stir to combine. Pour in the remaining melted butter and stir until well combined.

Spoon the mixture evenly over the apples, allowing it to remain somewhat clumped as you do so.

Bake for 25 to 30 minutes, or until the top is golden brown and the apples are easily pierced with a fork. Let cool almost to room temperature before serving.
Nutrition Facts
Easy Apple Crumble Recipe with Oats
Amount Per Serving
Calories 247
Calories from Fat 108
% Daily Value*
Fat 12g18%
Cholesterol 30mg10%
Sodium 111mg5%
Potassium 132mg4%
Carbohydrates 34g11%
Protein 2g4%
Vitamin A 390IU8%
Vitamin C 3.5mg4%
Calcium 28mg3%
Iron 0.7mg4%
* Percent Daily Values are based on a 2000 calorie diet.
How do you like your crumbles?  Do you leave apple skins on or off?  What's your favorite fruit to use in a crumble?