My flourless Mexican brownies are thick, rich, and flavored with real Mexican vanilla, Ceylon cinnamon, and a subtle hint of spiciness.
This post is part of a social shopper marketing insight campaign with Pollinate Media Group®  and The J.M. Smucker Company, but all my opinions are my own. #pmedia #DunkinDonutsPublix http://my-disclosur.es/OBsstV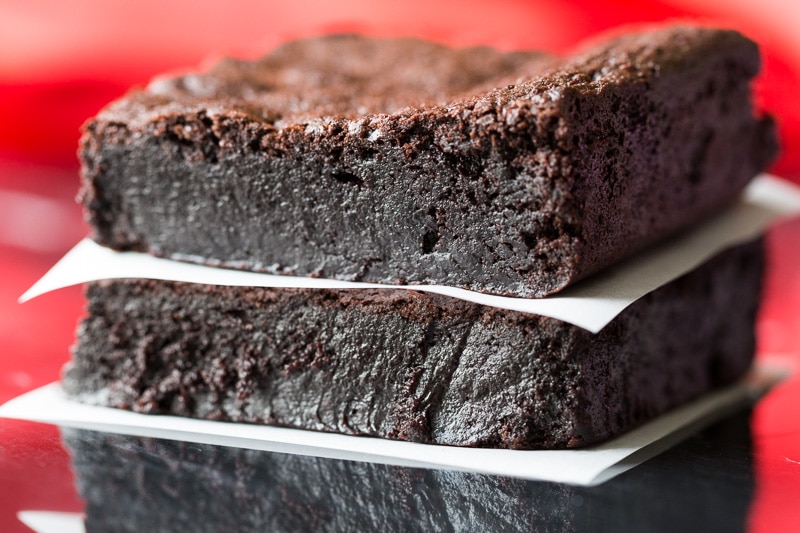 Brownies mean a lot to me.
When I first began this food blog, I titled it "The Perfect Brownie," in honor of my search for the perfect brownie recipe.  I must have tried dozens of brownie recipes back in those days!
Even after my cooking skills improved enough to branch out to all kinds of recipes, I still come back to baking brownies.  It's like chocolate-flavored meditation.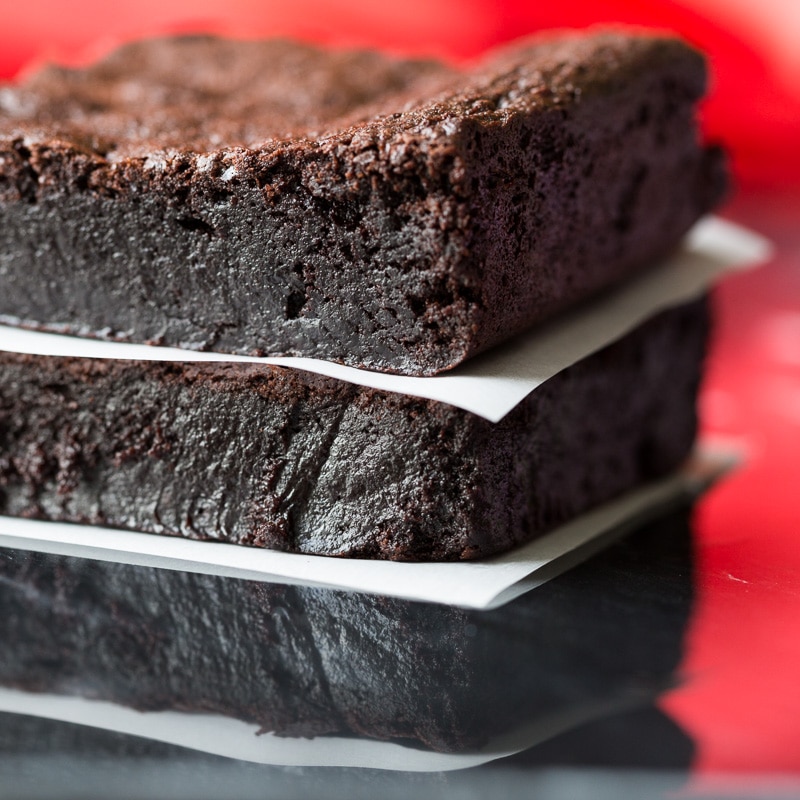 I start out by brainstorming.  For me, brainstorming works best with a cup of coffee.  All those happy flavors get my mind into gear.  Previous to this brainstorming session, I picked up a bag of Dunkin' Donuts® coffee at my local Publix.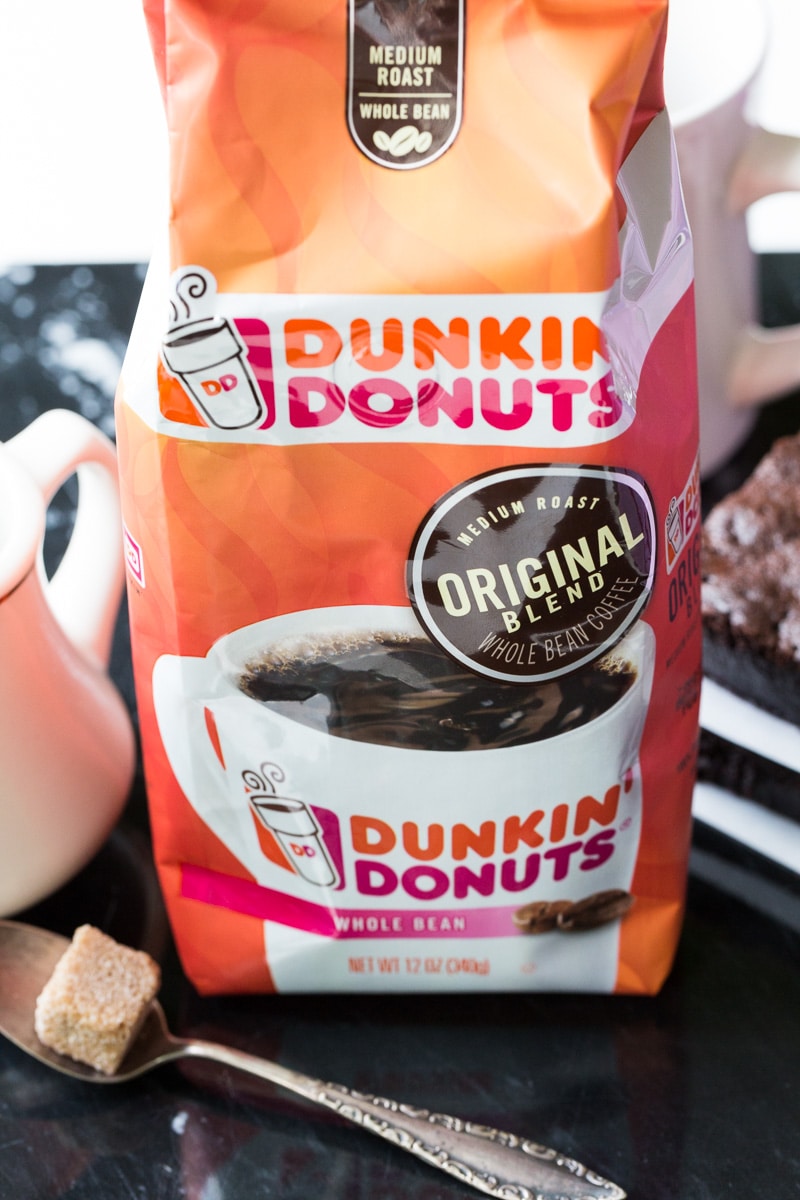 I like to buy whole bean coffee so that I can grind it to my liking at home, but Dunkin' Donuts coffee also comes pre-ground and in K-Cups if you prefer it that way.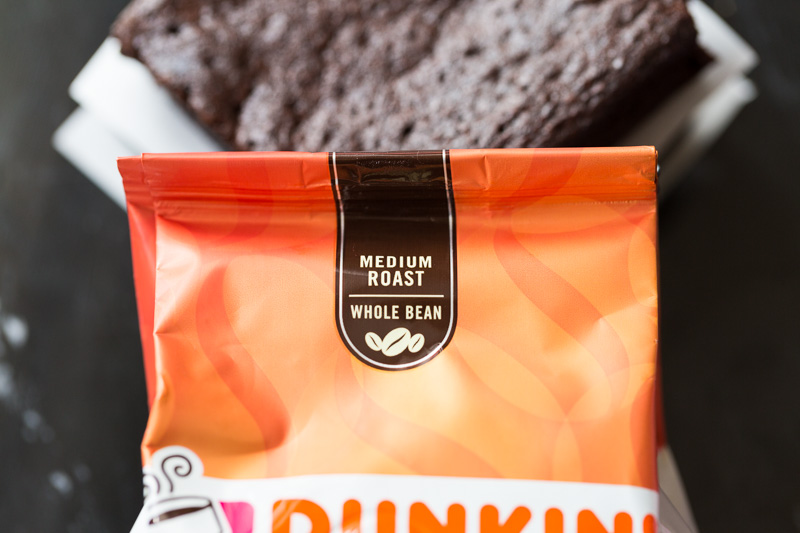 The classic "Original" flavor is my favorite.  You can also find Dunkin' Donuts coffee in different roasts (everything from Decaf to Dark), wild flavors (like Blueberry Muffin or Vanilla Cupcake), and even seasonal flavors like Coconut or S'mores!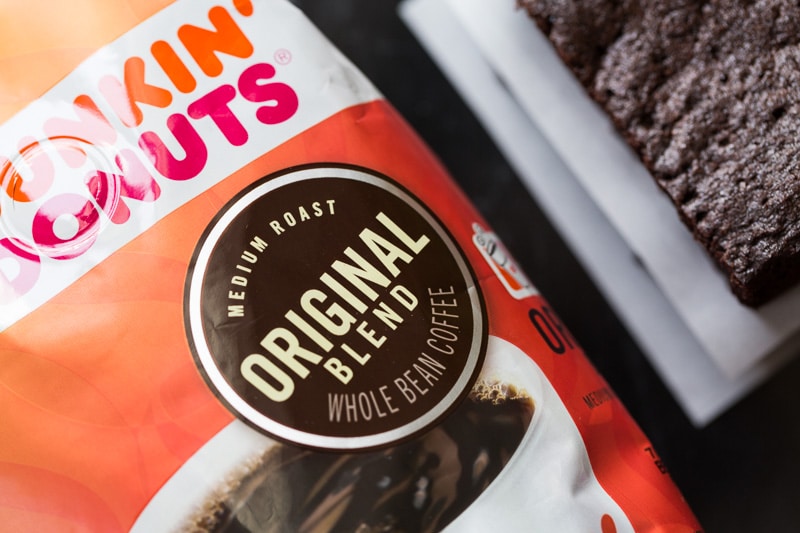 Once I have my cup of coffee, I sit down with my little yellow notepad.  Yes, a real paper notepad!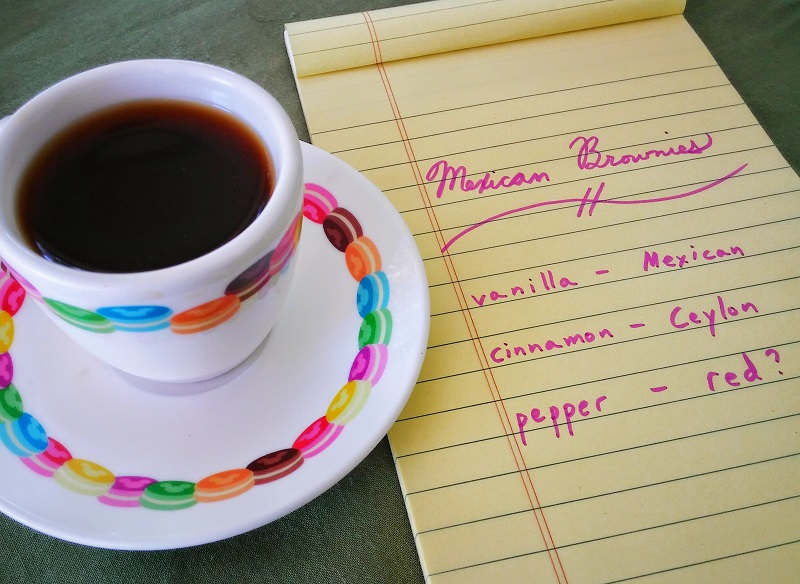 I'm a big believer in jotting things down by hand.
First, I take a few quick notes on my recipe goals.  This might include flavors or methods that I want to use.
If I need guidance, I'll have another sip of coffee and do a little research on my laptop.  Since I wanted to incorporate the ancient flavors of Mexican chocolate into a brownie recipe, I needed to get accurate information.
I found out that the ancient Aztecs (who lived in what is now called Mexico) had many different recipes for chocolate.  These chocolate recipes included an assortment of medicinal herbs and spices that you might not necessarily associate with chocolate.
I managed to narrow down my potential ingredient list to some of the most common additions:
A spice that is a relative of the black pepper plant
A particular type of cinnamon
Flavoring from the vanilla bean pod
A type of red pepper
These days, Mexican chocolate is also sweetened with cane sugar or brown sugar.
With one last, delicious sip of Dunkin' Donuts coffee, I decided to cherry pick the best of the old and the new by combining real Mexican vanilla, canela (Ceylon cinnamon), brown sugar, and a tiny hint of of red pepper to create these Mexican brownies.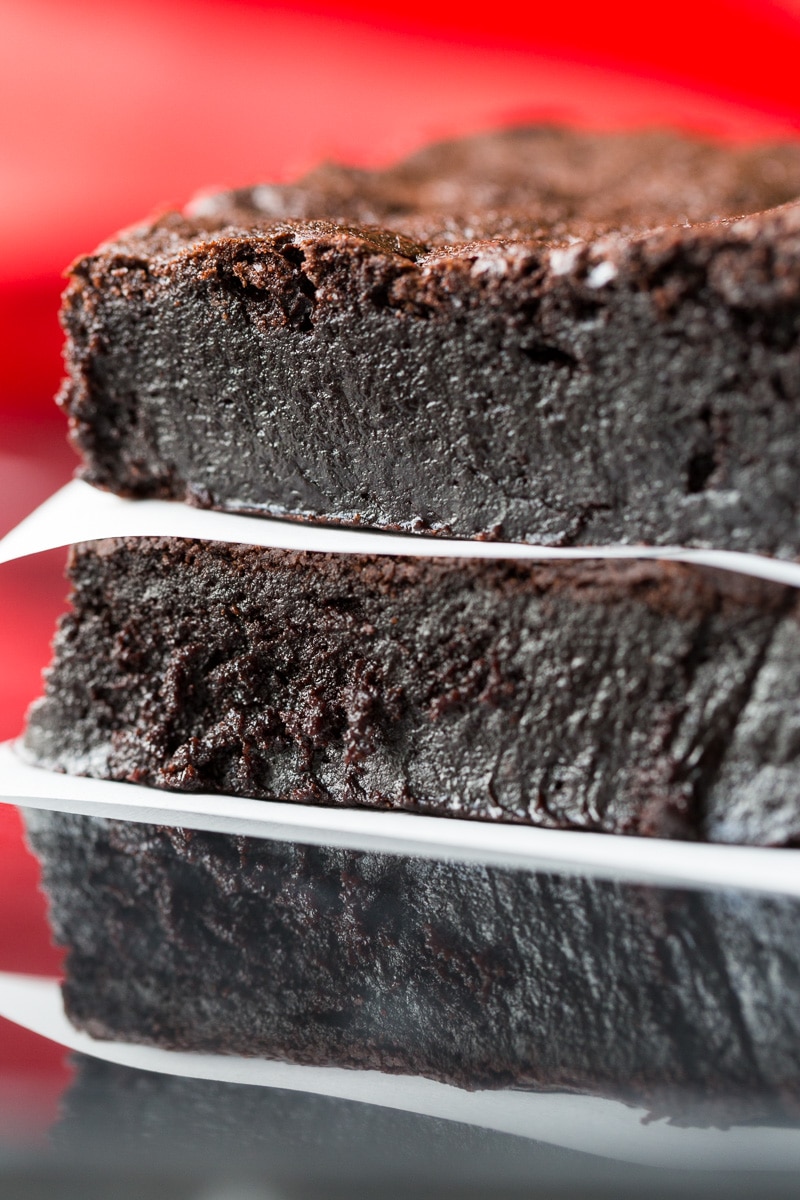 Fueled by coffee, it was a snap to throw together these Mexican brownies.  By the time they had cooled, I was even ready for a second cup.  Blissed out by the baking process and invigorated by the coffee, it was lovely to just relax and enjoy these rich brownies with powerful cocoa kick and a touch of spice.
Now that you have my flourless Mexican brownies recipe, you can take advantage of $1.00 off any ONE (1) Dunkin' Donuts varieties now through 5/6/17 at your local Publix, while supplies last.  Get your own coffee and pair it with these brownies for a real treat!
Who knows what brainstorm it will inspire?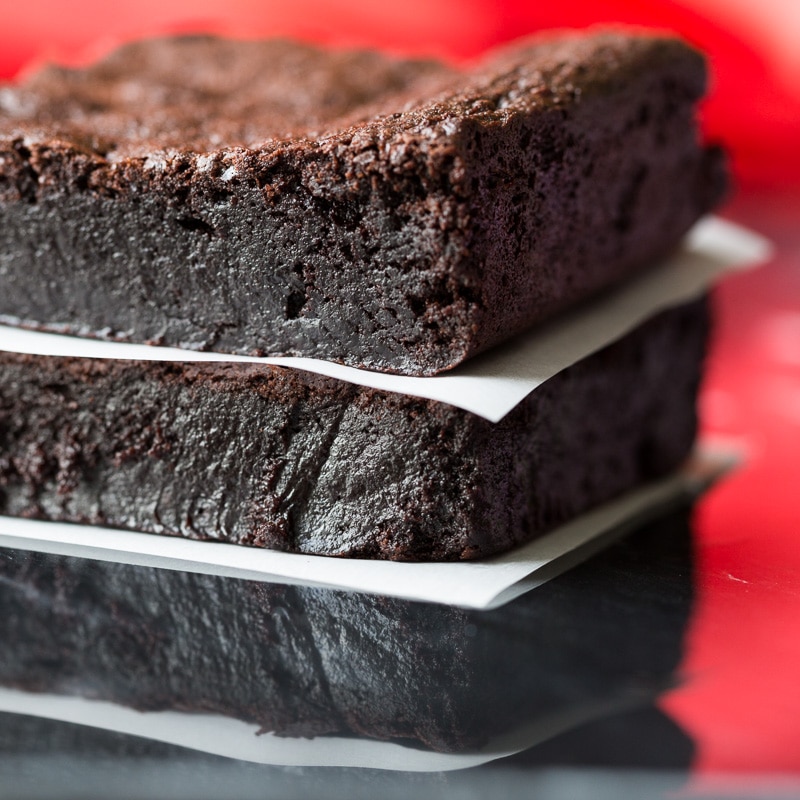 Flourless Mexican Brownies
My flourless Mexican brownies are thick, rich, and flavored with real Mexican vanilla, Ceylon cinnamon, and a subtle hint of spiciness.
Ingredients
1 1/3

cups

unsweetened cocoa powder

natural or Dutch process

1/2

teaspoon

Ceylon cinnamon

if you use regular cinnamon, reduce amount to 1/4 teaspoon

1

pinch

ground red pepper

12

tablespoons

unsalted butter

melted

1 1/4

cups

granulated sugar

1/2

cup

brown sugar

3

large eggs

1/4

teaspoon

salt

1

teaspoon

vanilla extract

Mexican vanilla is ideal if you can find it
Instructions
Preheat the oven to 350 and prepare an 8 inch square pan by lining it with parchment paper or foil.

In a small bowl, whisk together the cocoa powder, cinnamon, and red pepper. Set aside.

Place the sugar and the melted butter in a large mixing bowl and whisk together until combined. Add the eggs one at a time, whisking after each addition. Stir in the salt and the vanilla extract, then set aside the whisk.

Add the cocoa powder and spice mixture, then stir in gently with a spoon or spatula, making sure to scrape down the bowl as you go so that the mixture is fully incorporated.

Scrape the batter into the prepared pan and smooth out the top. Bake for 25-30 minutes, or until a toothpick inserted in the middle comes out with moist crumbs but no wet batter attached. Let cool in the pan for 15 minutes on a rack, then use the liner to lift out the brownies and set them on the rack to finish cooling.
Nutrition Facts
Flourless Mexican Brownies
Amount Per Serving
Calories 340
Calories from Fat 162
% Daily Value*
Fat 18g28%
Cholesterol 94mg31%
Sodium 30mg1%
Potassium 235mg7%
Carbohydrates 47g16%
Protein 4g8%
Vitamin A 545IU11%
Calcium 39mg4%
Iron 2.1mg12%
* Percent Daily Values are based on a 2000 calorie diet.