Fourth of July Drink Recipe – The Red and Blue Sparkler
The Fourth of July is coming!  Are you ready?  With this lovely drink in your hand, you definitely will be.  Everyone needs a little refreshment to cool you off as the heat radiates from your grill.  Then, as the sun goes down, the fireworks go up- and I've come up with a sweet "firework" of my own that you can share at your Fourth of July party.  I call it the "Red and Blue Sparkler" because of the fruit laden swizzle stick that adorns it!
This nonalcoholic beverage is made with Kraft brand Crystal Light Pure plus some strawberries and blueberries.
And here's where I found the strawberries and blueberries in the "Fresh Produce" section.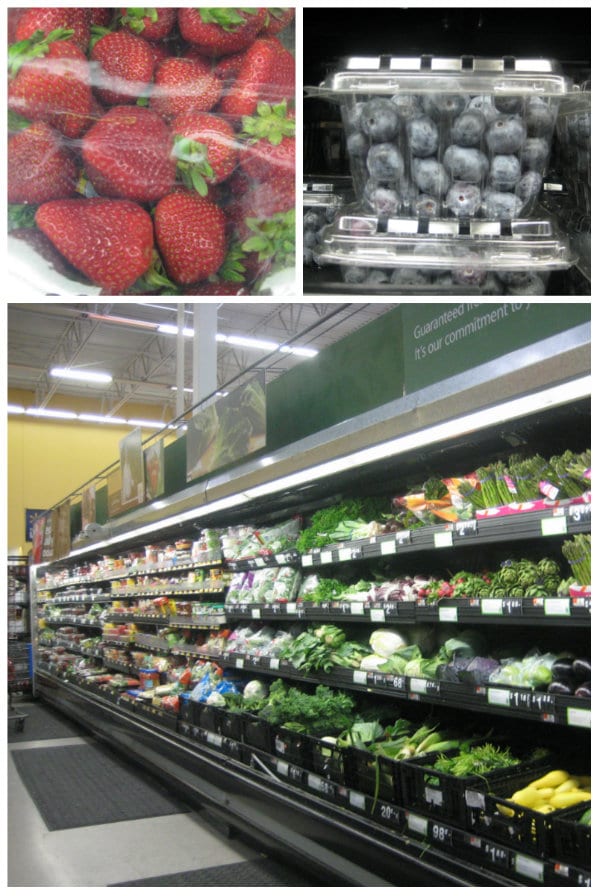 The recipe is simplicity itself.
Fourth of July Drink Recipe - The Red and Blue Sparkler
This Fourth of July drink recipe is one of the prettiest you'll ever see. Decorated with a colorful swizzle stick covered in strawberries and blueberries!
Ingredients
4

wooden skewers

trimmed to be a few inches longer than the glass

1

pint

of fresh blueberries

8

oz

fresh strawberries

1

package of Crystal Light Pure drink mix

any flavor

2

cups

chilled drinking water

2

cups

chilled seltzer water

fruit flavored if you like
Instructions
Make four decorative swizzle sticks by pushing blueberries and strawberries on to the wooden skewers, ending with a strawberry on the bottom. Place the skewers in glasses.

In a pitcher, combine two of the Crystal Light Pure packets with two cups of cold water. Stir until fully dissolved. Add two cups of seltzer water and stir once, gently. Pour into glasses and serve immediately.
What's your favorite Fourth of July recipe?