Our trip to Tampa was provided in part by Visit Tampa Bay. All opinions are my own.
With a rapidly growing gluten free scene that has lots of restaurants to choose from, gluten free Tampa dining is better than ever. Recently, we stayed downtown in the Channel District, near the south end of the Tampa Riverwalk, at the newly renovated Home2 Suites by Hilton. Our Home2 Suite had a lovely kitchenette with real refrigerator, a powerful microwave, a sink, and assorted dishware that helped us enjoy gluten free food while spending time in our room.
The restaurants below are all within convenient driving distance, and two of them (Columbia Cafe at the Tampa Bay History Center and Soho Juice Company at Heights Public Market) are on the Riverwalk itself.
Gluten Free Tampa Dining
Columbia Cafe at Tampa Bay History Center
This bustling, multi-level restaurant is attached to the Tampa Bay History Center and offers both indoor and covered outdoor seating. As part of the family of Columbia restaurants (including the original in Ybor City), this Columbia Cafe shares much in common with the flagship, having a similar menu and decor touches.
There is a gluten free menu available, but (as always) I recommend you speak to the chef. Our chef asked what I was interested in, and then he explained the prep process so we could avoid any cross-contamination issues. I enjoyed their signature yellow rice and chicken very much.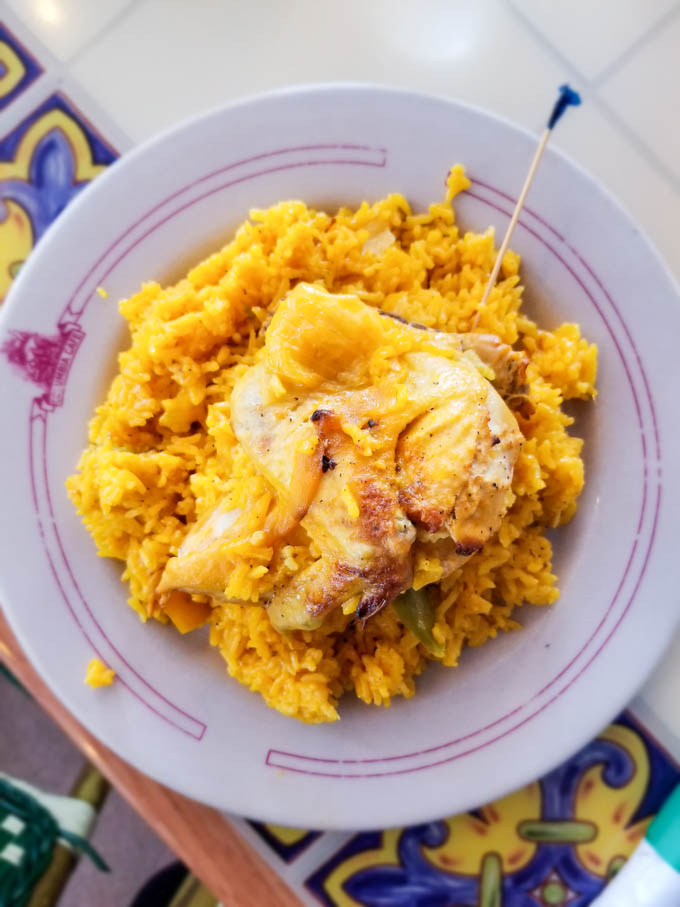 Oxford Exchange
When I heard that Oxford Exchange was once of the most Instagrammable restaurants in the country, I was a little intimidated. I thought perhaps I wouldn't be hip enough to fit in. Turns out I had no need to worry. Exquisitely beautiful with a warm and welcoming atmosphere, Oxford Exchange isn't just a gorgeous restaurant. It's a fully restored historic setting complete with lovely shops, a coffee bar, and a tea bar.
The menus usually have gluten free items marked, but when you go, I recommend that you ask to see a chef. The chef I spoke to was able to explain very knowledgeably about cross-contamination, and he helpfully steered me toward what would be safe. I started my day with a savory egg scramble with ham, cheese, and spinach, along with freshly squeezed local orange juice and an oat milk cappuccino.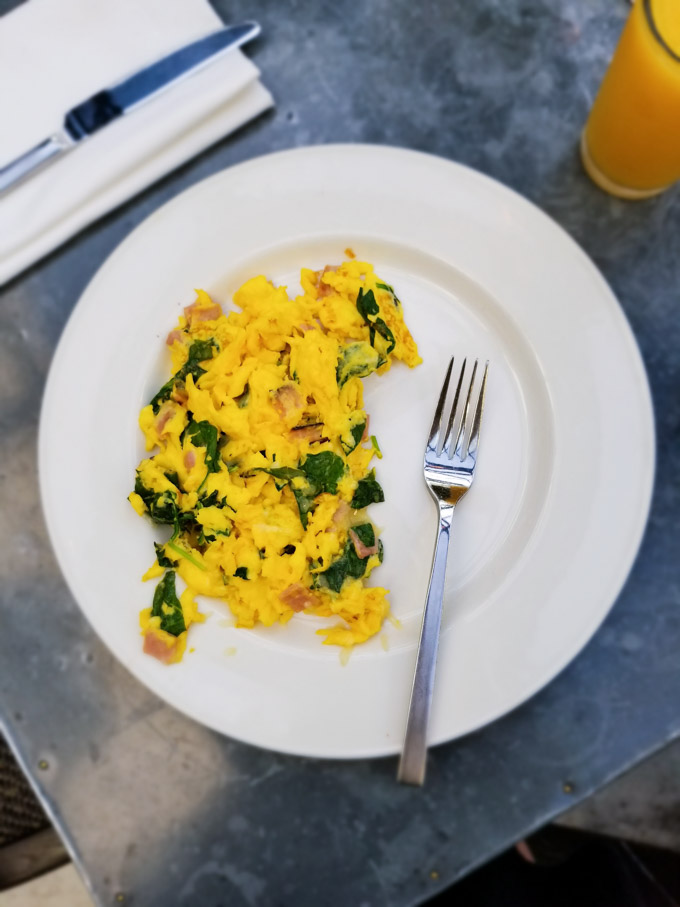 Soho Juice Company
Soho Juice Company, which is entirely gluten free, has two Tampa locations where you can fill up on healthy smoothies, acai bowls, and housemade juice blends. They also carry donuts and cupcakes from Hale Life, a local gluten free bakery, so it's well worth a stop for both the healthy and the indulgent treats.
We went to the Soho Juice Company inside Heights Public Market at Armature Works, a dining hall inside a beautifully restored historic building at the north end of the Tampa Riverwalk.
In addition to Soho Juice Company, save room for an out-of-this-world oat milk cappuccino from Union by Commune + Co.
Poke Rose
Everything at fast-casual Poke Rose is gluten free, including poke bowls, BBQ sliders, nachos, shrimp dip, and more. The Tampa location is inside a new dining hall called The Hall at Franklin, where you can order from different restaurants and have all the food delivered to your table. It's great for dining out when different members of the party have different ideas on where they want to eat.
Burger 21
When the Orlando Burger 21 closed, I nearly cried. So it was with great joy that we found multiple Tampa locations, where I proceeded to order my usual "Cheesy" burger and a basket of fries from the dedicated fryer. Burger 21 has become one of our go-to spots because of its careful handling of gluten free orders.
Fresh Kitchen
This 100% gluten free fast-casual restaurant has several Tampa locations. Fresh Kitchen offers deliciously healthy bowls made with your choice of bases (like rice, noodles, grains, or greens), proteins, veggies, and toppings. My favorite is steak with cauliflower mashed potatoes and mushrooms. Or maybe it's the barbecue chicken with rice and sweet potatoes. Really, I can't decide—because they're all so good.
California Pizza Kitchen
With an assortment of menu items that are Certified Gluten Free, California Pizza Kitchen is one of the restaurants I trust when I'm on the road. Plus, you can't beat their gluten free mushroom, sausage, and pepperoni pizza.
---
The Tampa's Table cookbook made a great souvenir from our trip. Even though it's not a gluten free cookbook, it contains recipes from four of the recommended restaurants—Fresh Kitchen, Oxford Exchange, Poke Rose, and the Columbia Cafe—and most of the recipes that aren't already gluten free can easily be adapted to be gluten free.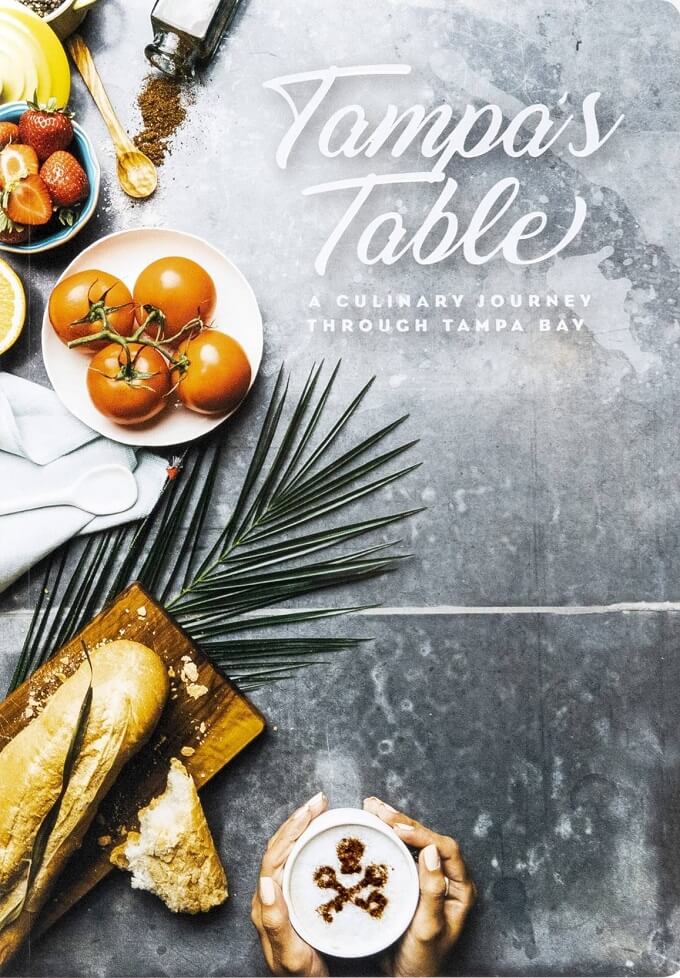 For more info on gluten free Tampa dining, I recommend downloading the Find Me Gluten Free app and joining the Gluten Free Tampa Friends group on Facebook. Check out the rest of my Florida travels here. Bon appetit!