Travel the world, one recipe at a time, with the Gluten Free World Tour Cookbook.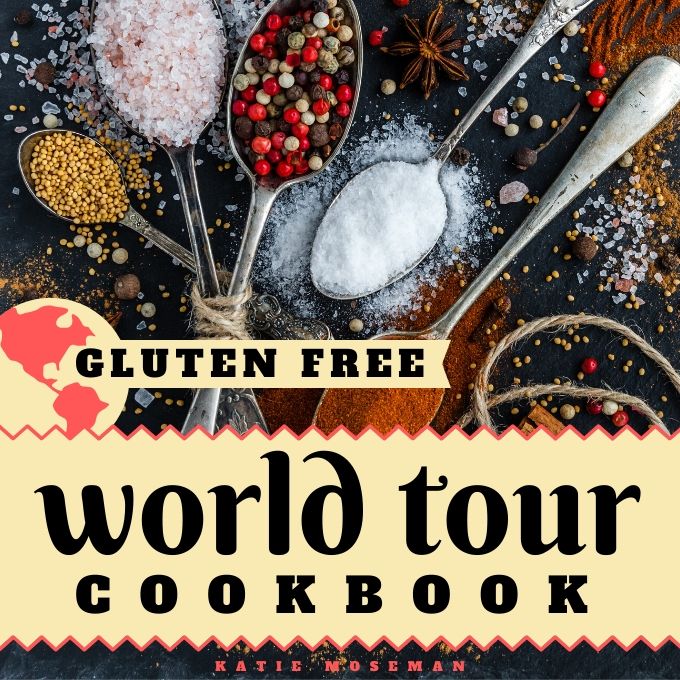 The Story
When I found out from my doctor that I would never be able to eat gluten again, I was devastated.
I loved bread and pizza. I rejoiced in treating myself to a cupcake or a slice of apple pie. Finding out that I could never let even a crumb of those precious favorites slip past my lips just about stopped my world from spinning.
One of the first things I mourned was the ability to travel easily and enjoy foods from every restaurant, taco truck, and ice cream stand in town. My diagnosis instantly curtailed the carefree exploration that I had previously indulged at every culinary opportunity.
It might sound silly, but it was hard not to slip into sadness.
Tentatively, I started attempting to make gluten free versions of all my favorite recipes. I also searched hungrily for new recipes that would help me recapture that sense of adventure I felt when looking for a new restaurant hot spot to try. That search is what inspired my newest cookbook release, the Gluten Free World Tour Cookbook.
Within its pages, you'll find a culinary trip around the world that takes you from one fabulous gluten free recipe to another. I'm excited to help other gluten free cooks find happiness in the kitchen!
The Recipes
Here's the full list of what's included.
Starters and Sides – Mexican Grilled Corn, Cauliflower Falafel, Garlic Mushrooms, Nigerian Fried Plantains, Popped Sorghum, Sriracha Spiced Peanuts, Maple Glazed Cashews, Hummus with Jalapeno Cilantro Relish, Pimento Cheese, Herbes de Provence Dip, Chipotle Dip, Caprese Salad with Balsamic Reduction, Herb and Citrus Marinated Olives, French Green Lentil Salad, Greek Salad with Fresh Herb Vinaigrette, Buttermilk Cornbread, Naan
Main Dishes – Cuban Sandwich Sliders, Grilled Pork Lettuce Cups, Carne Asada Burgers, Meatball Subs, Buffalo Chicken Lettuce Wraps, Chipotle Pinto Bean Tacos with Creamy Avocado Sauce, Portobello Mushrooms and Tofu Ciabatta Sandwich, Salsa Verde Quesadillas, Beef Stifado, Red Curry Shrimp Zoodles, Grilled Chimichurri Skirt Steak, Beef Stroganoff, Three Cheese Pastitsio, Moroccan Rice, Kasspatzle, Italian Frittata, Oat Flour Pancakes
Desserts – Rice Cream with Cherry Sauce, Dragon Fruit Sherbet, Butter Pecan Applesauce Cake, Lemon Givre, Raspberry Clafoutis, Zabaglione, Shortbread Cookies, Ginger Matcha Ice Cream, Mexican Spiced Brownies, Apple Crumble, Oven Baked S'mores, Carrot Halva, Pineapple Tarts, Apple Parfait, Raw Hamantaschen with Chocolate Filling, Vietnamese Coffee, Chai Hot Cocoa
The Bonuses
I couldn't stop with just recipes, so I also included special sidebars that explain some of the ingredients you might not be familiar with, and also some ways to enhance or change-up each recipe to keep it interesting. Plus, there's a section of carefully chosen book recommendations to help you on your journey to gluten free perfection.
Final Thoughts
So, if all those things sound good to you, pop over to Amazon and pick up your copy in paperback or Kindle eBook today. You'll be supporting a woman-owned small business (that's me!) and upping your kitchen game all at the same time.
Thanks, and happy travels!
Katie