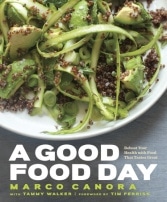 With the right arsenal of recipes, a healthy diet can coexist with delicious food. That's a good food day.

– A Good Food Day
Recently, I received a copy of A Good Food Day: Reboot Your Health with Food That Tastes Great
by Marco Canora as part of the Blogging for Books program. I love to read cookbooks, and I thought you might like to hear about this one in case it's the kind of cookbook you would like.
So what's this one all about? Well, at first I was a little unsure. At first glance, there were a lot of references to vegetables and freekeh. You might say that I was mildly put off, but determined to keep an open mind.
And it's a good thing I did. Although I'm not really a diet cookbook kind of gal, this collection of healthy recipes was refreshingly different. This cookbook focuses on bold, uncomplicated flavors that can be achieved with a minimum of time and fuss in the kitchen.
The more I read through the recipes, the more this cookbook spoke to me. One of the things I liked best about it was the way Canora's natural voice came through not only in the introduction but in the recipe instructions as well. Another plus was that the recipes were truly simple and most were quick to prepare. I also appreciated that many of the ingredients were in common between recipes, so that if you bought 2 lemons and some Parmesan cheese for one recipe, chances were that you could use one or the other in several other recipes as well.
A couple of drawbacks were the occasionally questionable health tip, such as that bitter foods are detoxifying (whatever "detoxifying" means), and a unfortunately breezy attitude toward buying expensive organic meats. The overall message was, "Well, gee, folks, if you're not rich, you should still buy organic meat- just buy less of it!"
Small quibbles aside, I read this cookbook right before heading out to the grocery store. I was able to quickly jot down two meal plans with multiple ingredients in common. I chose two variations on Flavor-Pounded Chicken, the Roasted Asparagus and Lemon with Chunky Pesto, and the Roasted Broccoli with Hazelnuts and Pecorino. None of these recipes required more than one or two items than I normally keep stocked in the house, so it was a nice and short shopping list.
All the recipes were a smash hit. I was really impressed by how much I enjoyed the asparagus. Considering that I have an on-again, off-again relationship with vegetables, this was quite a feat.
The Bottom Line
You'll like this cookbook if you're looking for quick, simple, and healthy recipes with lots of bold flavors. You won't like this cookbook if reading recipe titles like "Amaranth Polenta with Tuscan Kale" makes you instinctively reach for the butter and sugar so you can bake something decadent. But even then, you might be surprised by what you find to enjoy in A Good Food Day
.
So what do you think? Is this the kind of cookbook you'd be interested in? What kinds of cookbooks would you like to see me review in the future? I'd love to hear your suggestions.
Disclosure: The links in this article are Amazon affiliate links, and if you visit them and make a purchase, I get a small commission. Who knows? Someday I might be able to pay off my camera. If I do, it'll be thanks to you!