This is a sponsored conversation written by me on behalf of De'Longhi. The opinions and text are all mine.
Making a home coffee bar is easier than you think! Here's how to set up a beautiful home coffee station so you can enjoy coffeehouse-style drinks in the comfort of your own home.
How to Set Up a Home Coffee Bar
Admit it.  There are some mornings when you can't be bothered to get dressed before having your daily cup of coffee.  Java in your jammies, to coin a phrase.
Just because I'm willing to relax my sartorial standards doesn't mean I would ever do the same for my standards of coffee, though.  I'm a firm believer in the have-your-cake-and-eat-it-too school of thought.
The idea for this home coffee bar came to me as I was musing over Mother's Day gift ideas.  What better way to show the mom (or stepmom, or auntie, or grandma, etc.) in your life some love than to let her relax in the mornings with her own lovely home coffee station?  That way, she can enjoy barista-style coffee at home, anytime.
It all came together when I got a chance to try out the De'Longhi Lattissima One.  It's so easy to use, and versatile, too.  The Lattissima uses Nespresso capsules, so all it requires is one capsule and one touch to make a flawless espresso, cappuccino, or latte right at home.  A 19-bar high pressure pump ensures fast heat-up, while the Nespresso system provides easy insertion, automatic piercing and brewing of capsules.
I was particularly impressed by De'Longhi Lattissima One's clever fresh milk system.  You simply fill the container to the desired level, snap it on, and the De'Longhi Lattissima One does the rest.  An automatic frother creates rich, long-lasting foam creamy foam.  When it's time to clean up, the milk system easily disassembles and is top rack dishwasher safe.
Ready to get brewing?  Here's how to set up a home coffee bar for Mother's Day and all year round.
---
The Home Coffee Bar
---
Prepare Your Space
First, decide which countertop, tabletop, or bar top area to use.  A space about 24 to 36 inches wide is ideal.  Decide if you will use the countertop as is, or place a tray to contain all the elements of the home coffee station.  Make sure there is a power outlet within reach.
Add the Coffeemaker
Plug in the coffeemaker.  If you have a De'Longhi Lattissima One, you can take a moment to admire how its sleek Italian craftsmanship and compact design fits easily and attractively into a home coffee station.  I'll wait.
Display the Coffee
I use a simple white dish, filling it with the complimentary welcome set of Nespresso capsules that comes with the Lattissima.  Did you know that each capsule has a unique aromatic profile?  There are decaf varieties, too.
Arrange the Drinking Vessels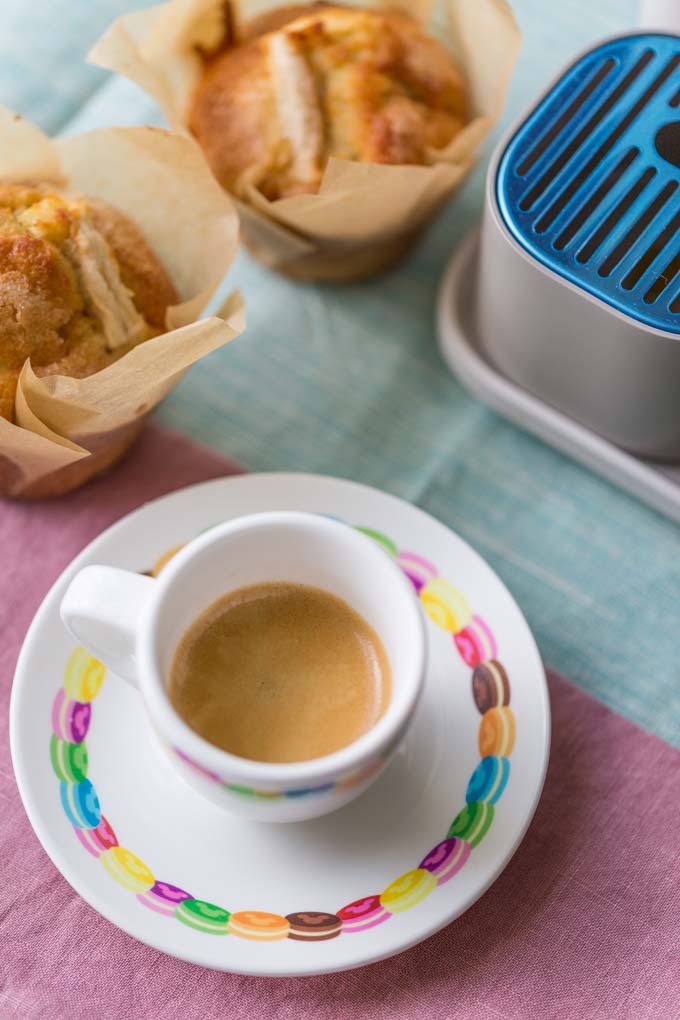 Add your choice of cups, mugs, cups, and glasses; the Lattissima's sliding drip tray can accommodate a wide range of sizes.  With a array of vessels, you'll be ready for every type of coffee your machine can make.  You can even use your brewed espresso to make an affogato!
Position the Garnishes
Think barista-style!  A bowl of demerara sugar cubes plus shakers of cinnamon and cocoa add flair and flavor.  Feel free to include flavor syrups and extracts, if desired.
Set Out the Snacks
What's a coffee bar without goodies?  Include an assortment of baked goods, like muffins, or even some fresh fruit.
Finish with Flowers
Even just a single flower in a bud vase will set off the whole arrangement to perfection.  Now that you know how to make a home coffee bar, you can make this Mother's Day the best one ever when you save 25% on all Nespresso/Lattissima products from 5/4/2018 through 5/14/2018.  Be sure to check out the De'Longhi Lattissima One while this limited time offer is available!
This is a sponsored conversation written by me on behalf of De'Longhi. The opinions and text are all mine.