Want to make your own pasta?  Pasta expert Manuela Zangara shares her pasta-making secrets in the new cookbook Homemade Pasta Made Simple.
The Secrets of Homemade Pasta Revealed
I spent some time over the weekend reading through Manuela Zangara's new pasta-making cookbook, and I loved it.
Homemade Pasta Made Simple covers all the bases for anyone who's ever wanted to make pasta from scratch.
There are individual chapters just to cover ingredients & equipment, the dough itself, and the specific skills you need in order to get started.  Once you've familiarized yourself with the basics, you'll be ready to jump into the recipe section.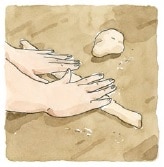 Each chapter has helpful illustrations for tricky steps that might not be clear from words alone.  These illustrations are key in making the steps easy to replicate for the novice pasta-maker.
---
Chapters include:
Ingredients & Equipment
The Dough
The Skills
Hand-Shaped Pasta
Stuffed Pasta
Gnocchi and Gnudi
Sauces
---
With so many recipes from which to choose, you'll have enough to keep you in fabulous pasta dishes for months, even if you cooked a new recipe every single day.
Plus, there's a gluten free pasta recipe variation so that even those living gluten free can indulge!
I'm looking forward to trying the Goat's Cheese and Chive Cuori, or maybe a classic Cacio e Pepe sauce, as soon as possible.  Pick up your own copy of Homemade Pasta Made Simple right here.