This post was sponsored by Nature Nate's Honey Co. All opinions are my own. My honey granola recipe will bee your new favorite! It's crispy, crunchy, and can be customized in all sorts of exciting ways.
Honey Granola Recipe
If you've followed my recipes for any length of time, you'll know that I'm a near-fanatical fan of honey—especially raw honey. So when I decided to make the best dang granola recipe ever in the history of breakfast cereal, you knew it would have to have honey in it.
I'm using Nature Nate's Honey for this recipe. Nature Nate's Honey Co. is the number-one branded honey company in the U.S. and producer of 100% pure, raw, and unfiltered honey. This premium honey has a truly complex and balanced flavor that's perfect for granola.
Speaking of sweetness, what's even sweeter is that Nature Nate's works to support families and helping communities across the US and beyond through their Honey Gives Hope program. You can learn about Nature Nate's mission to give here.
Why This Honey Granola Recipe Works
I'll be honest. There are a lot of granola recipes out there that simply don't work. They don't work for several reasons.
The temperature is too high. The granola scorches before it cooks through, and often becomes chewy rather than crispy. Or just burnt.
The cooking time is too short. The granola will be chewy rather than crispy.
There's no soaking step. The oats don't get to release the starch that helps make the granola crispy.
The balance of sweetener and liquid is off. Not enough sweetener = too little browning. Too much liquid = browning before it crisps.
It took many rounds of recipe testing to get this recipe perfect, but I did it!
The steps for making this granola are very simple.
First, you make a liquid mix by dissolving the sweetener in the liquids.
Then you add the oats and let them soak. This releases the starch in the oats and forms a coat that will crisp as the granola cooks.
After that, you put the soaked oats on the parchment paper-lined baking pans. Parchment makes it easy to turn and mix the oats periodically.
Then you rotate the pans and toss the granola while cooking as needed for even browning.
After the granola cools, you'll add mix-ins or toppings like spices, fruit, and nuts.
Granola Mix-in and Topping Ideas
Dried fruit: cranberries, blueberries, raspberries, raisins, chopped apricots
Nuts: sliced or slivered almonds, pecans, walnuts, peanuts, pistachios, pepitas, shredded coconut, cashews
Spices: cinnamon, Ceylon cinnamon (my favorite!), pumpkin or apple pie spice
Treats: chocolate chips, chopped white chocolate, toffee, cocoa powder
Fresh fruit: sliced strawberries, raspberries, blueberries, sliced peaches, blackberries
Layer with yogurt for a parfait.
Serve with berries and ice cream for a simple fruit crumble.
Why not add spices before baking? Because baking removes some of the flavor. By waiting until the granola cools, you get better flavor from the spices.
I'm very conscientious about making the best of simple ingredients. That's one of the reasons why I appreciate how Nature Nate's has a purity guarantee supported by strict testing standards to ensure every bottle is as simple & pure as it is straight from the hive.
Tips for Making Perfect Granola
You must give the granola time to soak. This is essential for producing granola that's nice and crispy-crunchy. It allows the starches to be released and coat the outside of the grain.
Do not be tempted to cook at a higher temperature. Think low and slow! Otherwise, the granola will burn instead of crisp.
On that note, true perfection takes a little attention. I almost always cook my granola on my day off, when I have time to check the pans and toss the granola as frequently as needed, and I don't get distracted by other things.
Parchment paper is the most brilliant cooking tool ever invented, especially if you love to cook sticky stuff. Do yourself a massive favor and line your baking pans with parchment.
You can ensure this granola is gluten free by using gluten free oats and ingredients. (I use purity protocol oats for my gluten free granola.)
Got leftover honey? Check out Nature Nate's recipe and honey pairing ideas!
Need more honey? Look for the orange bottle or ask for Nature Nate's at your favorite retailer. It even comes in individual honey packets perfect for taking honey on the go!

Learn about Nature Nate's Honey Co.: https://www.naturenates.com/
Find out more about Nature Nate's Purity Guarantee: https://www.naturenates.com/purity-guarantee/
Enter this sweepstakes by 11/4: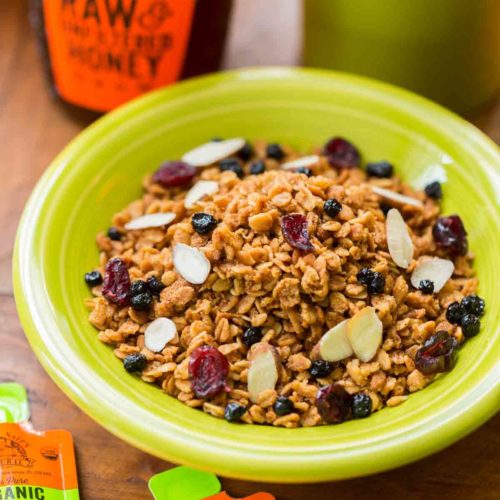 Honey Granola Recipe
My honey granola recipe will bee your new favorite!  It's crispy, crunchy, and can be customized in all sorts of exciting ways.
Ingredients
4

ounces

unsalted butter

1

cup

buttermilk

see note for additional options

1/2

teaspoon

pure vanilla extract

1/4

teaspoon

salt

1/4

cup

honey

3/4

cup

sugar

3 1/2

cups

old-fashioned rolled oats

see note for gluten free version
Instructions
In a large pot or Dutch oven, melt the butter over low heat. Add the buttermilk, vanilla, salt, honey, and sugar. Stir until the honey and sugar dissolve. Remove from heat.

Add the oats and stir thoroughly to coat. Cover and let the mixture sit for 1 hour, stirring once halfway through.

After sitting for one hour, the mixture should be thick and sticky. Preheat the oven to 300°F and line a sheet pan (I use one that's 15.5 by 10.5 inches, the most common size) with parchment paper.

Stir the oat mixture one more time, then spread the mixture in an even layer on the parchment paper. Place the baking sheet in the oven.

After 30 minutes, remove the pan from the oven. Use a turner to thoroughly flip and mix the oats. This will help the granola brown evenly. Return the pan to the oven. Repeat after 30 more minutes, then 20 minutes, then another 20 minutes. After that point, check at 10 minute intervals; the browning happens at a faster rate later in the cooking process. The granola is done when it is deep golden brown all over; this can take around 2 hours total, but will vary.

Toss again, then let it cool completely on the paper, tossing occasionally to help moisture evaporate, before storing in an airtight container.
Recipe Notes
Make your own buttermilk by adding 1 tablespoon vinegar to a 1 cup measure, then filling the rest of the way with milk.  Make nondairy buttermilk by using refrigerated coconut milk beverage instead of dairy milk.
Make this granola completely gluten free by double-checking your ingredients and by using gluten free oats.  I use purity protocol oats for my gluten free granola.
This recipe makes 8 servings of 1/2 cup each.  You can double the recipe by doubling the ingredients and using 2 baking sheets instead of one.  Swap the position of the pans each time you remove the pans from the oven to stir the granola.
Nutrition Facts
Honey Granola Recipe
Amount Per Serving
Calories 360
Calories from Fat 135
% Daily Value*
Fat 15g23%
Cholesterol 34mg11%
Sodium 108mg5%
Potassium 174mg5%
Carbohydrates 53g18%
Protein 6g12%
Vitamin A 404IU8%
Calcium 56mg6%
Iron 2mg11%
* Percent Daily Values are based on a 2000 calorie diet.