Better than the rest! This hot spinach artichoke dip is creamy, cheesy, fast, and delicious, perfect for parties and absolutely simple to make.
Hot Spinach Artichoke Dip
This dip has been an obsession.
Back in the 90s, spinach artichoke dip was a family restaurant menu staple, served boiling hot in a shallow ceramic dish surrounded by tortilla or pita chips for dipping.
It's one of those slightly uncool appetizers that nonetheless disappears whenever it's served.
I confess to having an disproportionate nostalgia for it, alongside other 90s restaurant appetizers like jalapeno poppers, quesadillas, and fried mozzarella sticks with marinara sauce.
If I were to visit my own version of The Good Place, there's no doubt there would be a restaurant with a slightly absurd name waiting for me—perhaps TGI Afterlife, or Heavenly Tuesday—and a table groaning with hot appetizers.
Come to think of it, that's the ending they should have used for the show. But I digress.
Anyway, I tested this recipe at least a dozen times, making slight alterations until it was the perfect dip I'd imagined. The exact combination of spinach, artichokes, seasonings, and cheesiness.
Let's get into the details.
Ingredient Breakdown
I started with the most popular recipe, by Alton Brown, which—as is often the case with Alton's recipes—utterly disappointed.
I fail to understand why some of his recipes are so popular when in fact they're not very good at all. Why the mayo, Alton? Why the sour cream? You don't need them. Ugh.
The trick with the ingredients is maximizing flavor while minimizing excess liquid. Frozen spinach is not particularly tasty. I use fresh baby spinach.
Canned artichokes, on the other hand, work just fine. They're a good compromise because the alternative is too daunting. Who has time to cook artichokes from scratch? Not me, sister.
Cream cheese is in just about every variation on this dip, and I concur that it's absolutely necessary. Simple as that.
I worked hard on getting the right balance of additional cheeses, concluding that a half cup of really good white cheddar (I swear by Kerrygold Dubliner) and a mere tablespoon of parmesan are all that's required to get the dip where it needs to be.
You do not need to get weird or fancy with seasonings. In fact, you only need three: garlic powder, red pepper flakes, and a bit of salt. Shocking, I know!
Method Breakdown
Water, water, water. It's a bad thing. You don't want it. Spinach and artichokes are full of it. So what do you do?
This is going to sound picky and/or bossy, but if you do what I say, I promise it will work.
Do not—I repeat—do not cook the spinach in a pot! It will catch the water and keep it. Very bad. Leads to yucky, watery dip. And simply trying to drain it away later won't work well enough.
Instead, use a large, open, nonstick skillet. It will allow the water to evaporate as the spinach cooks. Yay!
Second, after you drain the liquid from the canned artichokes, you're going to press them between paper towels. Twice. I mean it.
When I say twice, I don't mean once.
Serving Ideas for Hot Spinach Artichoke Dip
There are obvious choices for serving this hot dip: tortilla chips, pita chips, potato chips.
There are also some not-so-obvious choices. For example, you could use the dip to top grilled chicken over pasta. It's equally good as a topping for main courses as it is an appetizer dish.
Since the dip can be made completely gluten free (always check your ingredient labels), it can be served alongside gluten free chips of any kind to make a 100% gluten free appetizer.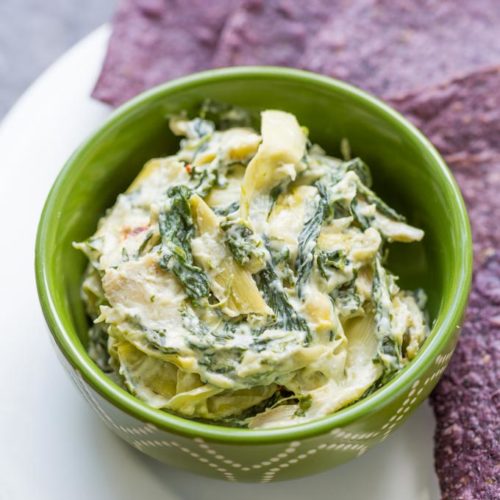 Hot Spinach Artichoke Dip
Better than the rest!  This hot spinach artichoke dip is creamy, cheesy, fast, and delicious, perfect for parties and absolutely simple to make.
Ingredients
5

ounces

baby spinach

fresh, equivalent to about 5 cups

8.5

ounces

quartered artichoke hearts

equivalent to one 14 ounce can, drained

4

ounces

cream cheese

1/2

cup

shredded Dubliner cheese

or good quality white cheddar

1

tablespoon

grated Parmesan cheese

1

pinch

salt

1/4

teaspoon

garlic powder

1/4

teaspoon

red pepper flakes
Instructions
Cook the baby spinach in a large nonstick skillet over low heat until completely wilted.

Drain the can of quartered artichoke hearts. Press the artichokes between a layer of paper towels. Remove soaked paper towels and repeat with another round of dry paper towels.

Add the artichokes to the skillet. Add the cream cheese. Stir until the cream cheese melts completely, breaking up the artichokes as you go. Add the shredded Dubliner cheese and stir until it melts completely. Add the Parmesan and stir. Sprinkle the salt, garlic powders, and red pepper flakes evenly over the dip, then stir until incorporated.

Serve hot. Store leftovers covered in the refrigerator. Reheat in the microwave, stirring as needed.
Nutrition Facts
Hot Spinach Artichoke Dip
Amount Per Serving
Calories 235
Calories from Fat 180
% Daily Value*
Fat 20g31%
Cholesterol 47mg16%
Sodium 467mg20%
Potassium 251mg7%
Carbohydrates 6g2%
Protein 7g14%
Vitamin A 4485IU90%
Vitamin C 23mg28%
Calcium 191mg19%
Iron 2mg11%
* Percent Daily Values are based on a 2000 calorie diet.
Like dip? Don't miss this two ingredient dip that will change your life!