This tutorial of how to buy coffee online was sponsored by Camano Island Coffee Roasters.
How to Buy Coffee Online
Ever since I became a coffee fanatic, I've spent hours online, reading everything I possibly can about coffee.
I've learned a lot.
Knowing about what you're purchasing really helps.  I've been able to buy some fantastically superior coffee online.  In fact, many of the best coffees I've ever had have been purchased online and prepared in my own kitchen.
Once you know how to buy coffee online, a whole new world will open up to you.  No longer will you have to stick to the dreary selections in your understocked grocery store.  No more tasteless coffee.
You'll be able to confidently select quality coffee that's exactly to your taste.
In addition to doing my own research, I got the expert scoop from Camano Island Coffee Roasters.
Founder Jeff Ericson started out roasting coffee at home, and then expanded when the lines for his freshly roasted fair trade coffee stretched out the barn door and beyond.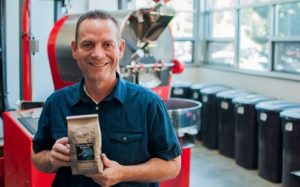 Camano Island Coffee Roasters has also committed to donating a minimum of 4% of their Coffee Lovers Club sales to their nonprofit partners, such as the Agros Foundation in Guatemala, which helps farmers by providing land ownership loans, and also WorldVision and Food4Farmers.
It's great coffee and a great story, so be sure to try a free pound of coffee for yourself!
Let's talk about what you should looking for when shopping for coffee online.
1. Buy 100% Arabica Beans
The two most common types of coffee are Arabica and Robusta.
Many canned, instant, and inexpensive coffees use Robusta.
Robusta is cheaper, more bitter, and more acidic.
Arabica beans have a richer, smoother flavor that is far superior to Robusta beans.
2. Make Sure Your Coffee Is Freshly Roasted
Most supermarket coffees were roasted months ago.  Coffee, like bread, should always be purchased fresh.
Ensure you're getting freshly roasted coffee by asking for the date of roasting.  Excellent coffee purveyors will only sell you coffee that's been roasted within just a few days of your order.
3. Need Decaf?  Choose Swiss Water Processed
The majority of decaf coffees are processed with powerful chemicals to remove the caffeine.
On the other hand, the Swiss water process removes 99% of the caffeine using water, not chemicals.
4.  For A Smooth Cup, Look for Shade-Grown Coffee
Coffee was traditionally grown in the shade.
Modern agriculture began to grow coffee in direct sun to increase yields.
Coffee grown in the direct sun is more acidic and bitter than shade-grown coffee.
5.  Pay Attention to the Price Per Ounce
Coffee may be sold in 10, 12, or 16 ounce bags, depending on the vendor and the type of coffee.
Compare the price per ounce by dividing the bag price by the number of ounces.  For example, if a 12 ounce bag of coffee costs $18, $18 divided by 12 equals $1.50 per ounce.
Watch out for shipping costs.  They can add to your price per ounce.
6.  Look for Organic Coffee
Pesticides are commonly used in the countries where coffee is grown.  Organic coffee is grown without the use of pesticides.
By choosing to buy organic coffee, you're not only avoiding pesticides for yourself; you are also helping coffee farmers avoid exposure to pesticides.
I also suggest trying a variety of different coffees from around the world so that you can discover what coffee you like best.  Coffees from different regions have flavor profiles ranging from fruity to chocolatey, and the more coffee you taste, the more you'll be able to pick out those nuances.
I sampled the Papua New Guinea medium roast from Camano Island Coffee Roasters, and truly enjoyed its rich flavor profile.  They also have a Coffee Lovers Club that allows you to try a variety, so be sure to grab your free pound of coffee today.
Now that you know how to buy coffee online, I'd love to know how you like your coffee!  Be sure to check out how to set up your own coffee bar at home, too.