I dined gluten free at the LakeHouse restaurant located at the Hyatt Regency Grand Cypress hotel. Check out the gluten free menu options!
LakeHouse Restaurant at Hyatt Grand Cypress: Gluten Free Menu
Several times a year, our family makes a pilgrimage to one of our favorite hotels, the Hyatt Regency Grand Cypress in Lake Buena Vista, FL, just outside of Walt Disney World.
We go for the elaborate swimming pool—complete with waterfalls, caves, a slide, and a splash pad—and for the exceptional care they take of gluten free guests at LakeHouse.
In fact, my favorite salad in the entire world comes from LakeHouse.  The last time we went there, I certainly couldn't pass it up.  So while the rest of the family enjoyed a gluten-filled brunch buffet, I tucked into the magnificent Cobb Salad (which is gluten free).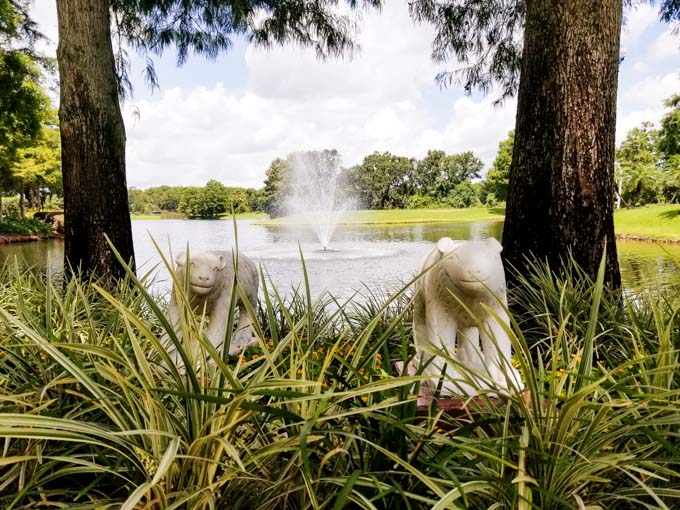 One of the best things about LakeHouse is that the menu is already marked with gluten free choices.  That makes it easy to narrow things down, if you'd like to narrow things down.  If you don't like to narrow your choices, you'll be pleasantly surprised by the chef's ability to be flexible.  Many of the menu items can be modified to be gluten free.  Ask about a dedicated fryer; the chef was able to use one when I was there, but it's always best to check before ordering.
I've had LakeHouse chefs offer to make all kinds of things for me, and although I usually pick a gluten free menu item (or something that can be modified), I've always appreciated the gesture.  On several visits, the chef prepared my chosen item personally to make sure it was safe.
There are even members of the waitstaff who are already familiar with food allergies on a personal level.  One waiter had a shellfish allergy; another had a father who had celiac disease.  So they knew what it was like to deal with difficult food issues.
You can see the gluten free menu I ordered from here.  Check the LakeHouse website for the most up to date version.  While you're at LakeHouse, enjoy the beautiful view of the lake, the gardens, and the elegant statuary.  It's been a positive experience every time, and I look forward to returning soon.
Be sure to check out my gluten free reviews of Confisco Grille and Mythos!