As a huge fan of Michael Ruhlman's book Ratio: The Simple Codes Behind the Craft of Everyday Cooking
, I couldn't wait to try out this brownie recipe from his new book, Egg: A Culinary Exploration of the World's Most Versatile Ingredient
.  Similar to the recipe that I tried a few weeks ago, Fudgy Brownie Cake, this recipe relies on cocoa powder for its central chocolate flavor.  While I enjoyed the Fudgy Brownie Cake brownies, they were a bit too cakelike for my taste.  Another difference between the two recipes is that these brownies include chocolate chips for an extra boost of chocolate.
These Make-Ahead Brownies are in the middle of the cakey/fudgy continuum, a type of brownie I like to describe as truffle-like.  They are not dense and heavy enough to be called fudgy, and they don't have those large, chewable crumbs present in a cakey brownie.  Instead, the small crumbs melt away in your mouth like a truffle.
This was the first time I have ever used a natural (as opposed to Dutch-processed) cocoa powder.  I used Ghirardelli Chocolate Unsweetened Cocoa Pouch, 8 Ounce
and was very pleased with the chocolate flavor- it was strong and not as mild-mannered as a Dutch-processed cocoa.  The chocolate chips that I used were also new to me: SunSpire Organic Fair Trade 42% Cacao Semi-Sweet Baking Chips, 9 Ounce Bag
.  These chocolate chips have a savory roasted coffee note that makes them a bit different than your average chocolate chip.
The original recipe was for an entire half sheet of brownies (the equivalent of two 13 by 9 inch pans), so I've scaled it down by half to bake one 13 by 9 pan of brownies.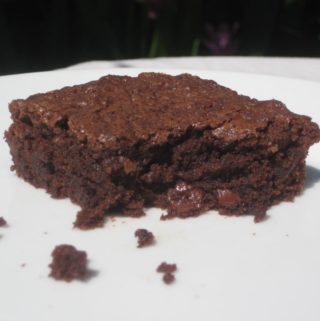 Make Ahead Brownies
A cocoa-based brownie great for making ahead and freezing, or delicious warm right out of the pan.
Ingredients
1

cup

flour

1

cup

unsweetened cocoa powder

2

cups

sugar

1

tsp

baking powder

1/2

tsp

salt

4

large eggs

2

tsp

vanilla extract

1

cup

unsalted butter

melted and slightly cooled

1

cup

chocolate chips
Instructions
Preheat oven to 350. Line a 13 by 9 inch pan with parchment paper.

Sift together flour, cocoa, and baking powder in a bowl. Add salt.

In another bowl, combine eggs, sugar, and vanilla and whisk till well creamed, then pour in melted butter in a thin stream, whisking continuously.

Combine the wet and the dry ingredients and stir or whisk to incorporate. Stir in chocolate chips.

Pour batter in prepared pan, smooth out evenly, and bake until just set, 20 to 25 minutes.

Cool, turn out on cutting board, and cut brownies to desired size. Wrap each brownie individually in plastic and store in the freezer.