I was asked by Carusele to participate in the #LaurasLean campaign, sponsored by Laura's Lean. Although I have been compensated, all opinions are my own.
A meatza is a pizza with a crust made of ground beef instead of bread. Top this meatza recipe with any of your favorite pizza toppings!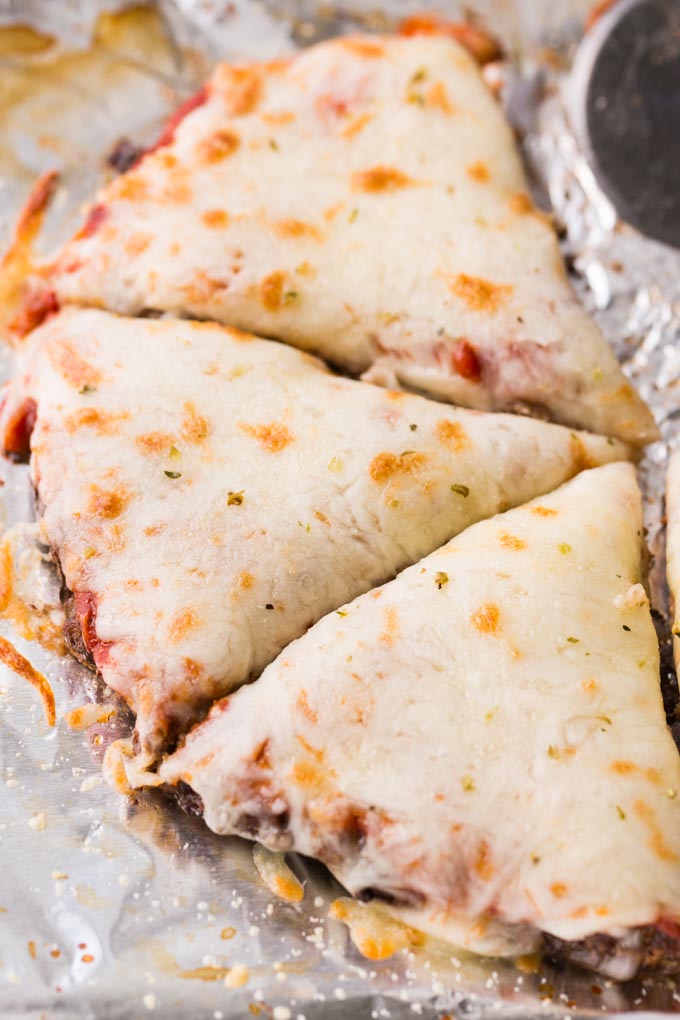 Meatza
You've heard of pizza, but have you heard of meatza? I hadn't, but when I saw one on my Facebook feed, I had to bite. (Pun intended.)
A meatza is made by forming ground beef into a large round patty and baking it to create a deliciously savory crust for tomato sauce, mozzarella cheese, and all the pizza toppings you can imagine.
Since the ground beef is such a big part of the flavor, it's important to make a smart choice when grocery shopping. Choosing a high quality ground beef makes all the difference.
For this meatza, I chose a ground beef sourced from suppliers that raise their cattle without ever using added hormones or antibiotics and are always vegetarian fed. That's what makes Laura's Lean different from other brands of ground beef. You can find it in the meat department of your favorite grocery store.
All products carrying Laura's Lean claim must meet strict USDA standards to qualify as lean. That means that each 4 ounce serving of Laura's Lean must contain less than 10 grams of fat, 4.5 grams or less of saturated fat, and less than 95 milligrams of cholesterol per 100 gram serving. Just pop a package in your shopping cart, and you'll be on your way!
I chose premium, better-for-you Laura's Lean 92% Ground Beef for this recipe. 96% ground beef would also work just as well, so feel free to choose the balance of taste and nutrition that suits you and your family. (As a matter of fact, Laura's Lean 96% Ground Beef is certified through the American Heart Association heart check program and meets USDA standards for "Extra Lean.")
Then just grab some mozzarella cheese, pizza sauce, Italian seasoning, and parmesan cheese.
Mix up the ground beef crust, then pat it down on a baking sheet with a rim.
The ground beef crust gets baked, then topped with pizza sauce and cheese before a quick broil to melt and brown the cheese.
When it's done, meatza can be sliced with a pizza cutter just like a pizza. It also makes the most delicious leftover sandwiches… if you have any leftovers, that is!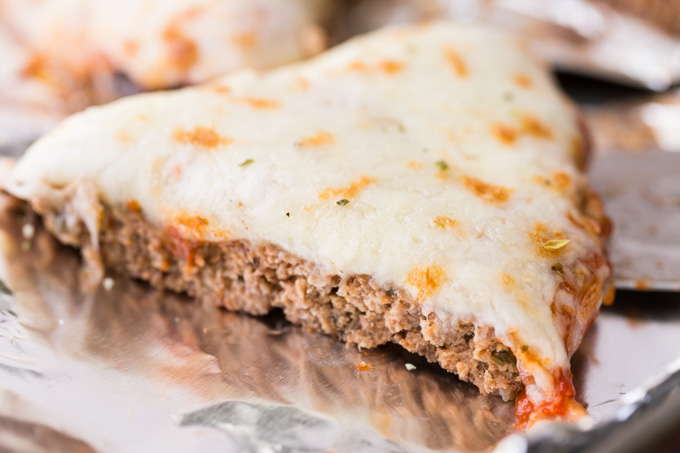 Visit Laura's Lean website and use their store locator to shop for Laura's Lean at retailers nationwide.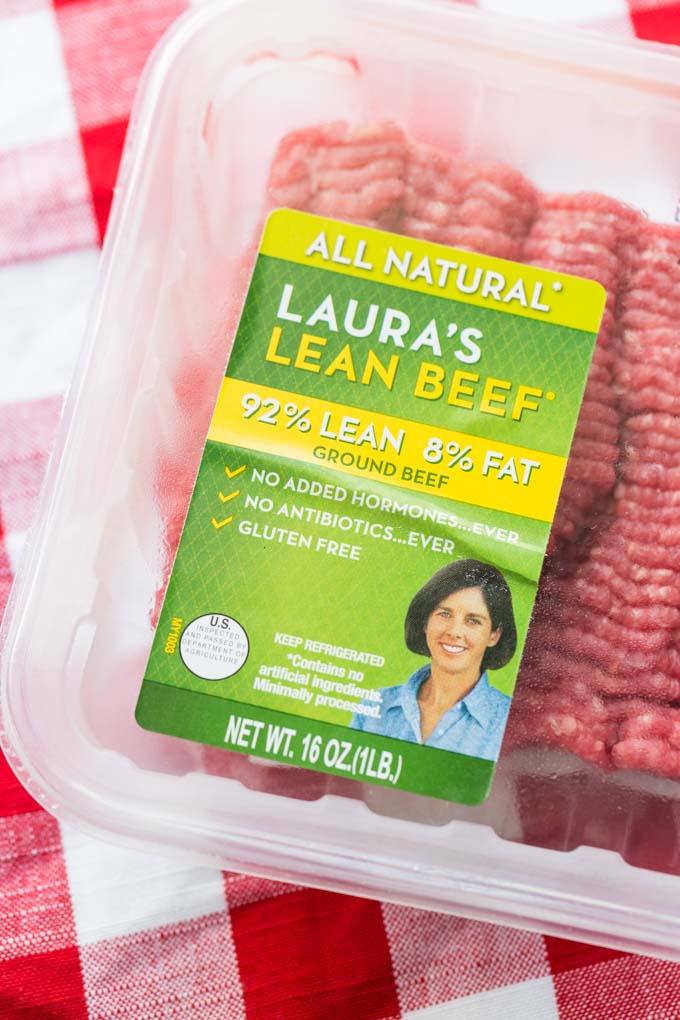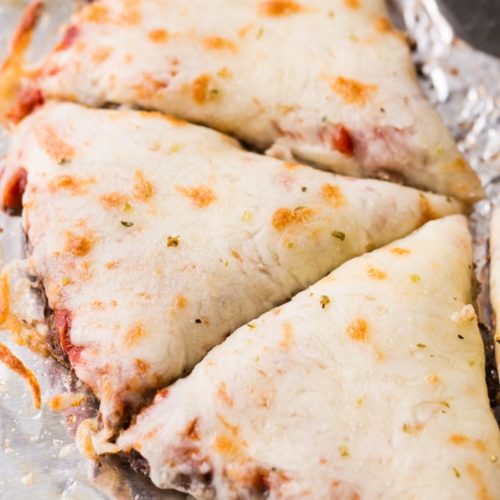 Meatza
What's a meatza?  A meatza is a pizza with ground beef instead of bread for the crust.  Top this meatza recipe with any of your favorite pizza toppings!
Ingredients
3/4

cup

pizza sauce

divided

2

tablespoons

grated parmesan cheese

divided

1

tablespoon

Italian seasoning

1

pound

lean ground beef

Laura's Lean recommended

1 1/2

cups

shredded low moisture part-skim mozzarella cheese
Instructions
Place one oven rack in the middle of the oven, and the other oven rack 6 inches from the broiler element (it's easier than moving an oven rack later, when they're hot). Preheat the oven to bake at 375°F.

In a large mixing bowl, mix together 1/4 cup pizza sauce, 1 tablespoon grated parmesan cheese, and Italian seasoning. Add the ground beef and mix until thoroughly combined.

Place the mixture in the center of a deep dish pizza pan (do not use the type of pizza pan that has holes) or a rimmed baking sheet. Pat down the ground beef mixture until it forms a flat circle about 11 inches in diameter.

Place the baking sheet in the oven on the middle rack. Bake for 30 minutes.

Remove the baking sheet from the oven. Turn off the bake function and turn the broiler to high. If there is a great deal of liquid around the cooked beef (this will vary by brand and composition of the beef), gently dab it away with a few paper towels so there are no puddles.

Evenly coat the top of the meat with the remaining 1/2 cup pizza sauce all the way to the very edge of the "crust." Sprinkle on the shredded mozzarella evenly all the way to the edge, then sprinkle the remaining tablespoon of parmesan cheese on top.

Place the baking sheet in the oven on the top rack (the rack 6 inches from the broiler element). Broil time will vary depending on how quickly your broiler element gets hot, and how hot it gets. Start with 2 minutes under the broiler, then increase in 1 minute increments until the cheese is fully melted and dotted with brown spots, which can take up to 5 minutes total. Remove from oven and let cool slightly before serving.
Nutrition Facts
Meatza
Amount Per Serving
Calories 308
Calories from Fat 135
% Daily Value*
Fat 15g23%
Cholesterol 95mg32%
Sodium 630mg27%
Potassium 600mg17%
Carbohydrates 5g2%
Protein 37g74%
Vitamin A 498IU10%
Vitamin C 3mg4%
Calcium 374mg37%
Iron 4mg22%
* Percent Daily Values are based on a 2000 calorie diet.