Chocolate chips are all you need for perfect chocolate covered strawberries! You'll adore this easy one-ingredient recipe.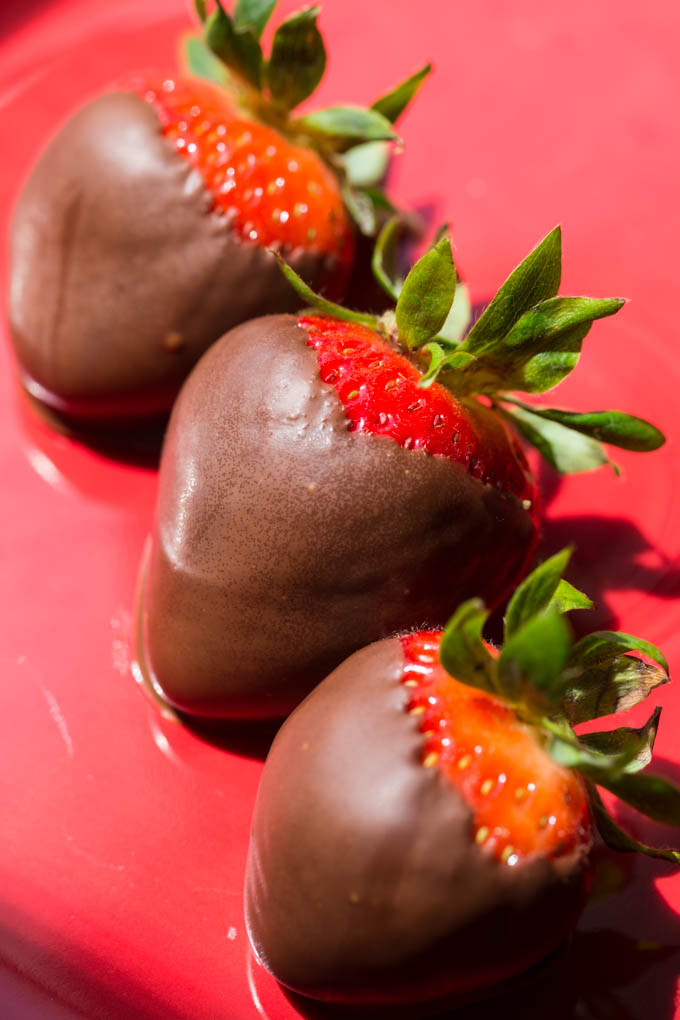 One-Ingredient Chocolate Covered Strawberries
Call them chocolate covered, call them chocolate dipped, call them whatever you want—strawberries and chocolate are the perfect pairing.
You might think of them as a fancy, fussy dessert, but they're truly not. They're very easy to make with just one ingredient: chocolate chips.
Microwave or Stove Top?
I use the microwave to melt the chocolate chips so I don't have to fiddle with a double boiler setup. Much simpler and less messy, with the added bonus of avoiding the steam and drips of water that can get into your chocolate when you use a double boiler.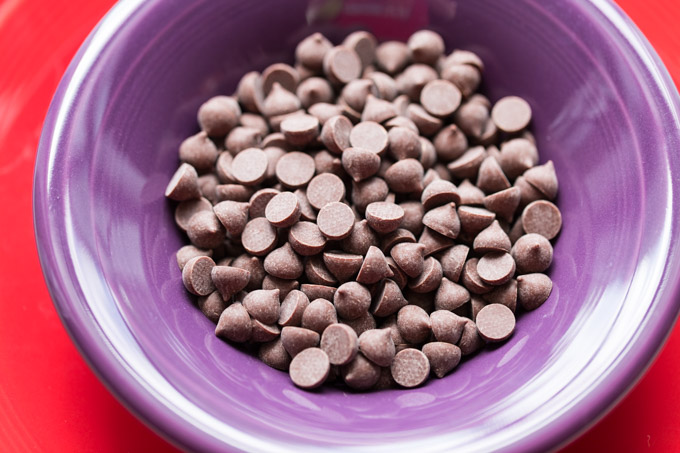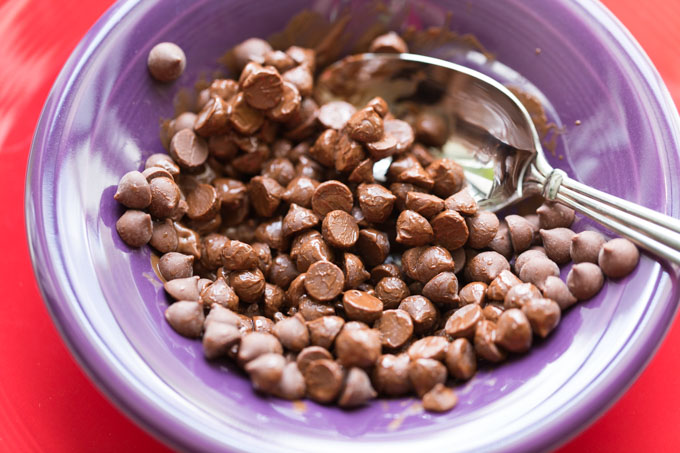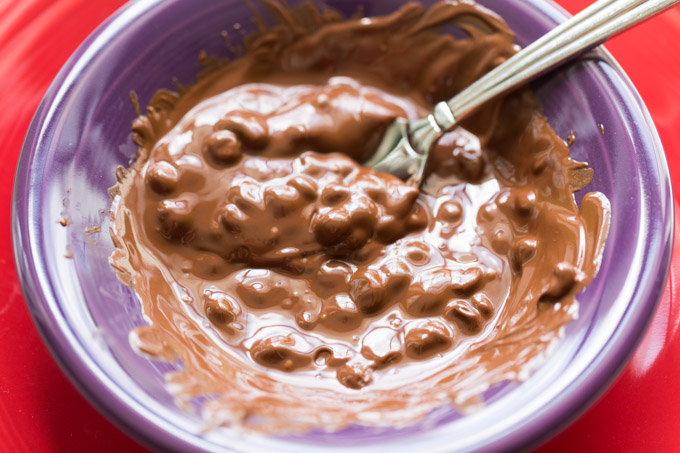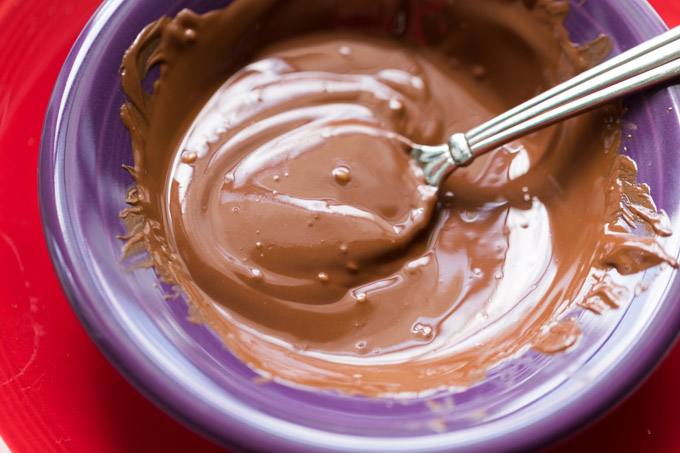 The microwave really is a far superior way to melt chocolate.
Do I Have to Temper Something?
Melting chocolate chips via microwave completes the process of tempering. No further effort required!
What Kind of Chocolate Chips Should I Use?
I use semi-sweet chocolate chips because they work reliably.
These chocolate covered strawberries can be mostly allergy-friendly (as long as you're not allergic to chocolate or strawberries, of course) if you use chocolate chips safe for your particular needs. I use Nestle Toll House Simply Delicious chocolate chips, which are free of the top 8 allergens.
And if you can't eat strawberries, you could dip banana chunks instead.
How to Serve
You can arrange them on a pretty tray, or if you want to go casual, simply set out the tray you chilled them on. One bonus of doing that is it helps keep the strawberries cooler for longer.
These tasty sweet treats are often thought of as a romantic dessert. I think they're wonderful for all purposes. Kids love to make and eat them. They make a gorgeous party tray dessert, too. So think outside the Valentine's Day box and make them year round.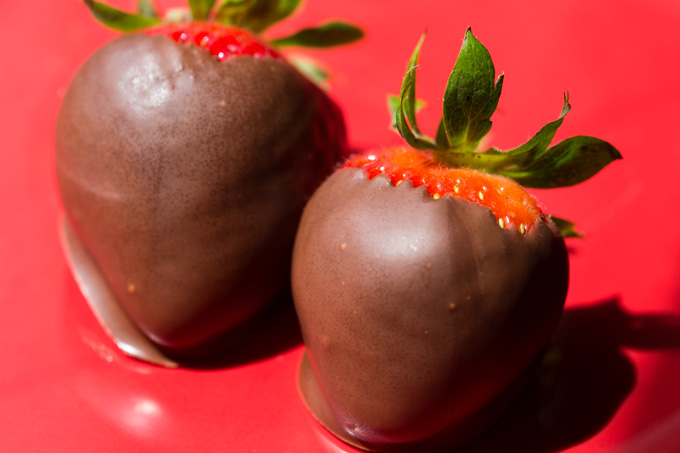 Tips for Making Chocolate Covered Strawberries
Wash and thoroughly dry the strawberries. Moisture on the berries can cause the chocolate to slide off or not stick on at all. The drier, the better! I keep a paper towel on hand to blot each strawberry right before I dip it, to catch any remaining moisture.
Dipping the strawberry in a bowl can be an awkward maneuver. Sometimes I scoop chocolate into a large spoon and roll the strawberry in the spoon instead.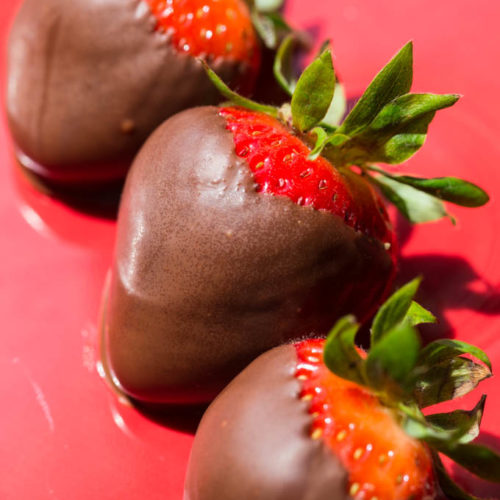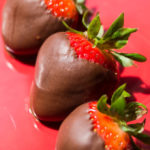 One-Ingredient Chocolate Covered Strawberries
Chocolate chips are all you need for perfect chocolate covered strawberries! You'll adore this easy one-ingredient recipe.
Ingredients
12

strawberries

rinsed and thoroughly dried

1

cup

semi-sweet chocolate chips
Instructions
Select a tray that will fit in the refrigerator. Line it with wax paper or parchment paper to prevent the strawberries from sticking.

Place the chocolate chips in a microwaveable bowl. Microwave on 30% power for 5 minutes, stirring halfway through the cook time, then stirring until completely smooth and melted.

Hold a strawberry by the green stem. Dip it until the red part of the berry is completely coated with a layer of chocolate. Let any excess fall into the bowl. Gently lay the strawberry on the paper and do not shift it again. Repeat until the strawberries are used up.

Refrigerate the chocolate covered strawberries until the coating is firm, about 30 minutes. Carefully remove the strawberries from the paper and enjoy!
Nutrition Facts
One-Ingredient Chocolate Covered Strawberries
Amount Per Serving
Calories 91
Calories from Fat 54
% Daily Value*
Fat 6g9%
Cholesterol 1mg0%
Sodium 2mg0%
Potassium 103mg3%
Carbohydrates 9g3%
Protein 1g2%
Vitamin A 8IU0%
Vitamin C 7mg8%
Calcium 11mg1%
Iron 1mg6%
* Percent Daily Values are based on a 2000 calorie diet.
Try this strawberry cream cheese made with just fresh strawberries and (you guessed it) cream cheese!