Brown Sugar Grilled Lemonade is made with fresh lemons lightly grilled with brown sugar. Perfect for summer cookouts and entertaining!
New Recipes
These flourless Mexican brownies are thick, rich, and flavored with real Mexican vanilla, Ceylon cinnamon, and a subtle hint of spiciness.
Most Popular
Crispy, crunchy tuna cakes made with albacore tuna are perfectly easy and made with just four ingredients! This recipe is great for appetizers or dinner.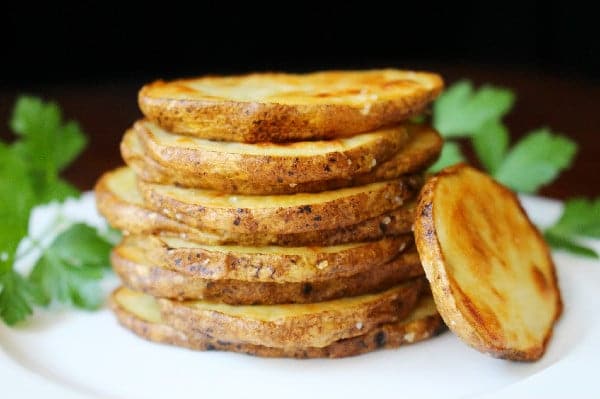 These olive oil and sea salt roasted crispy potato rounds are oven-baked but just as delicious as french fries! Try them dipped in ketchup or sour cream.
Whip up this easy cheese ball recipe in minutes, using cream cheese, cheddar, and pecans. You'll also get my handy trick for packing up cheese balls to go!
What is the secret that makes Chick-fil-A lemonade taste unique? Is it the lemons, the type of sugar, the water, the juicer, or something else? Get the recipe!
Want to learn how to cook a bone-in rib roast? It's easier than you think! Just follow these simple instructions to make the perfect bone-in rib roast.
You'll love this low fat healthy brownie recipe! Almost all of the fat is replaced by applesauce, yet it's still full of moist chocolate goodness!
On Food
Florida's winter produce is full of fresh, delicious choices! From tomatoes, blueberries, and peppers, to seafood and more, the Sunshine State has it all.
Do you can, jar, bottle, or otherwise package food and drink? Then you need to see how beautiful personalized labels can be on your packaging!
The new Juice Zing line of premium juices from Noble Juice enhances fresh-tasting, naturally pure juice with real green coffee extract for an energy boost.
Is The Ganachery at Disney Springs really "The Cure for the Common Chocolate"? I bought a box of nine pieces to find out. Read my review!
Restaurants
Fiorenzo, a gorgeous steakhouse located in the Hyatt Orlando, is known for its steaks, fresh pasta, and other dishes served with Mediterranean touches.
Fulton's Crab House, located in the heart of Disney Springs, serves fresh seafood inside a classic steamboat setting. Check out my experience!
Check out my experience with with the local food and hand crafted drink specialties at F & D Kitchen and Bar, a local gastropub in the Orlando area.
Lobster stuffed shrimp, chocolate creme brulee, and a Winter White Cosmopolitan are some of my favorites from the winter menu. Check out the photos!