Potato latkes should be nice and crispy on the outside with a pillowy soft inside. This recipe is easier than any other recipe and it makes perfect latkes!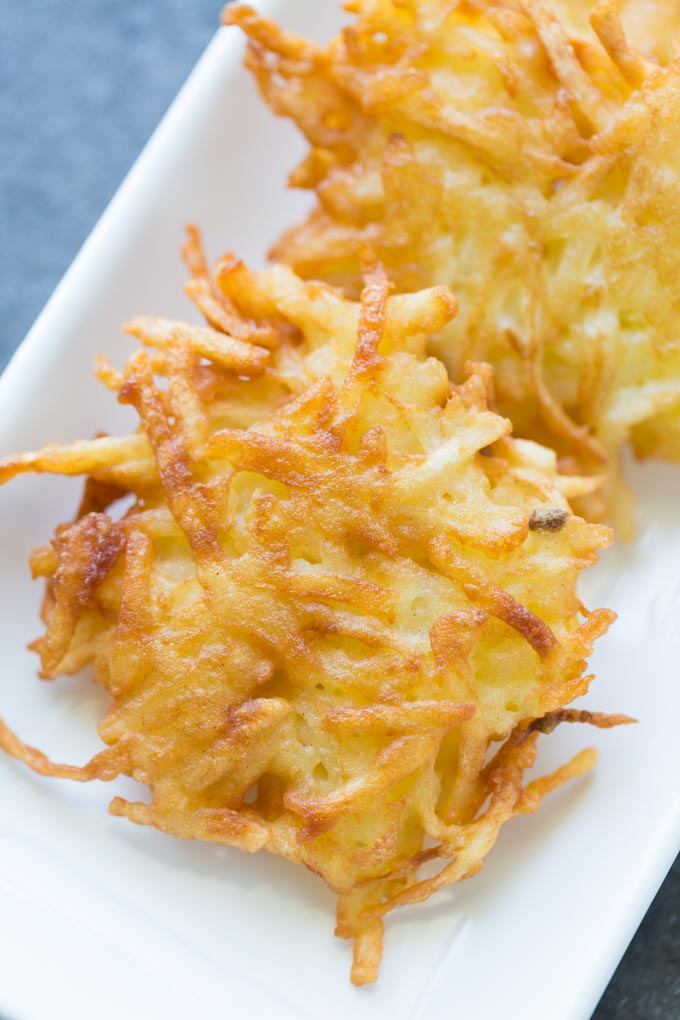 Potato Latkes
My husband's family introduced me to potato pancakes, and a stray bag of pre-shredded potatoes convinced me to try out a variety of potato pancakes called latkes.
In the taxonomy of all thing potato-y and fried, latkes are a flat pillow of potato shreds bound with eggs and a bit flour, and leavened with a touch of baking soda for fluffiness.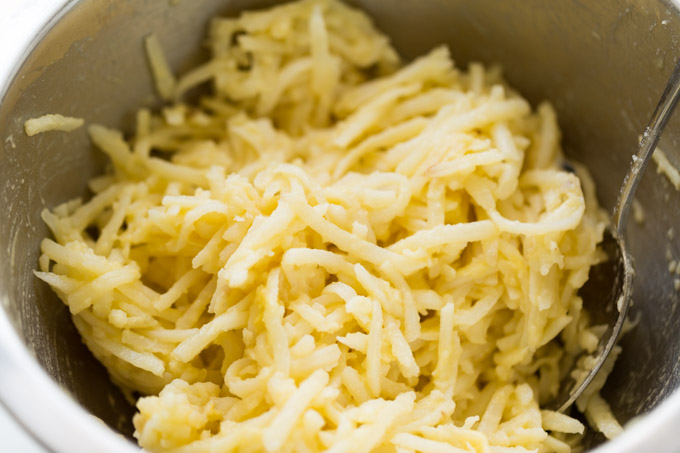 They get nice and crispy on the outside, but when you bite through the crispiness, you get into the fluffy, pillowy part. Pure heaven.
History of Latkes
I did not know, until I looked it up, that the original pancakes served at Hanukkah were actually made with cheese! Check out what PBS has to say.
Potato latkes are a more recent Ashkenazi invention that gained popularity in Eastern Europe during the mid 1800s. A series of crop failures in Poland and the Ukraine led to mass planting of potatoes, which were easy and cheap to grow. But before potatoes came on the scene, the latke of choice was cheese.
The full historical story of latkes is a fascinating journey of how an Andean tuber crossed the Atlantic and became incorporated in latkes, potato pancakes, and other cultural variations.
When to Serve Them
Traditionally, latkes are a side dish. However, that doesn't mean you can't get creative.
They make a delicious breakfast food or an appealing snack or appetizer. You can even make mini-latkes for a bite-sized treat.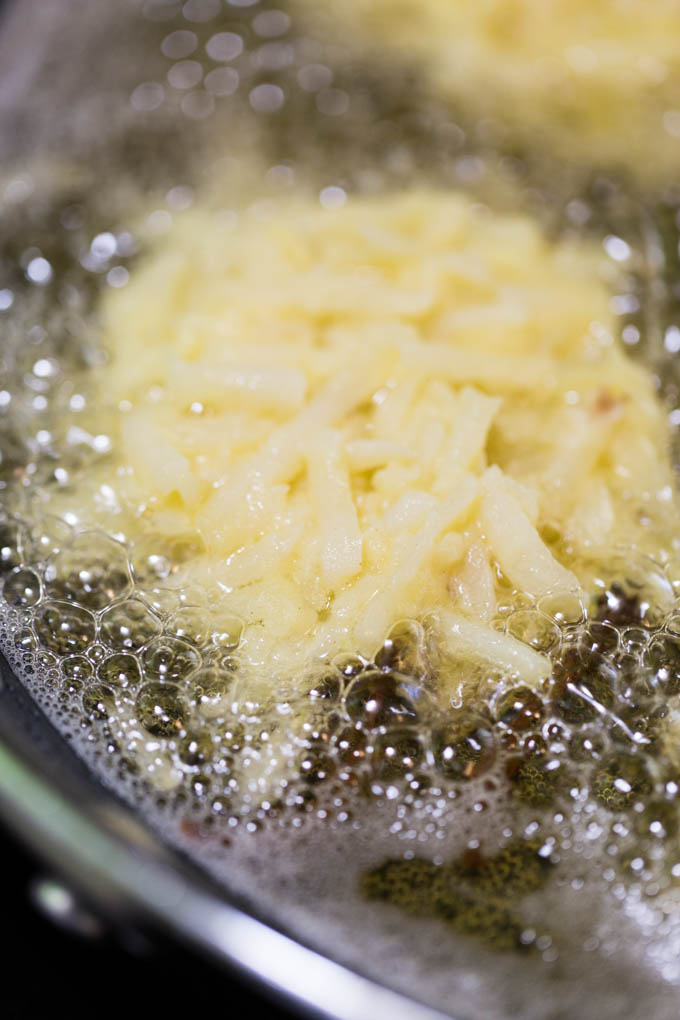 Tips for Making Potato Latkes
Prepare a platter lined with paper towels before you start cooking the latkes. You don't want to be fumbling for a place to put them when they're done.
I love using pre-shredded potatoes like Simply Potatoes. They taste fantastic and make the recipe a snap.
Use a neutrally flavored oil, like canola oil or pure vegetable oil, to keep the taste of the oil from overwhelming the flavor of the crispy potatoes.
Resist the urge to overheat the oil. Oil that's too hot will burn the outside of the latkes before it cooks the inside. Oil at medium to medium-high high will cook the inside and outside evenly.
The amount of salt in the recipe is a good starting place. If you like your potatoes extra salty, you can sprinkle extra salt on them when they're done. It adds a nice salty kick if the extra salt is only on the exterior.
Traditional toppings for latkes include sour cream, smoked salmon, and chives. Some folks dip them in applesauce. You can switch it up and top it with anything you like, or just dip them in ketchup like my kids do.
If you like this recipe, you'll love my collection of recipes from around the world: Gluten Free World Tour Cookbook!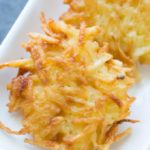 Potato Latkes
Potato latkes should be nice and crispy on the outside with a pillowy soft inside. This recipe is EASIER than any other recipe and it makes perfect latkes!
Ingredients
20

ounces

shredded potatoes

I use Simply Potatoes

2

large eggs

1/3

cup

all purpose flour

see note for gluten free substitution

1

teaspoon

baking powder

1/2

teaspoon

salt

canola oil

for shallow frying
Instructions
Line a large plate with paper towels and set it aside. Place a large skillet on a burner and add enough oil to reach a depth of about half an inch. Heat over medium to medium-high heat until the oil is shimmering.

Add the potatoes, eggs, flour, baking powder, and salt to a large mixing bowl. Mix thoroughly to ensure everything is distributed evenly.

Test the heat of the oil by putting a small amount of the mixture in the oil. If it sizzles and fries immediately, the oil is hot enough.

Use a large spoon to scoop up some of the mixture (about 1/3 cup). Press it into the spoon so everything will stick together. Gently slip it into the oil. Use the back of the spoon to press down lightly on top of the latke to flatten it out a little. Continue adding latkes to the skillet until you have 6 cooking.

Cook for about 7 to 10 minutes on one side. When golden brown, flip each latke over and cook for another 7 to 10 minutes until golden brown on that side as well. Remove to a plate lined with paper towels to soak up excess oil.

When the first batch is done, cook the rest of the latkes. There should be approximately 6 more. When done, remove the latkes to the plate. Serve immediately with your choice of toppings.
Recipe Notes
To make these potato latkes gluten free, substitute your favorite gluten free flour (I've used a gluten free all purpose mix and also sorghum flour successfully) and ensure that all your other ingredients are gluten free.
Nutrition Facts
Potato Latkes
Amount Per Serving
Calories 62
Calories from Fat 9
% Daily Value*
Fat 1g2%
Cholesterol 27mg9%
Sodium 118mg5%
Potassium 182mg5%
Carbohydrates 11g4%
Protein 2g4%
Vitamin A 40IU1%
Vitamin C 4mg5%
Calcium 23mg2%
Iron 1mg6%
* Percent Daily Values are based on a 2000 calorie diet.
Looking for something oven-baked rather than fried? Try these crispy oven potatoes!