What is the ratio of ingredients in a brownie? The ratio of a brownie is simple math and can be used to create your own brownie recipes.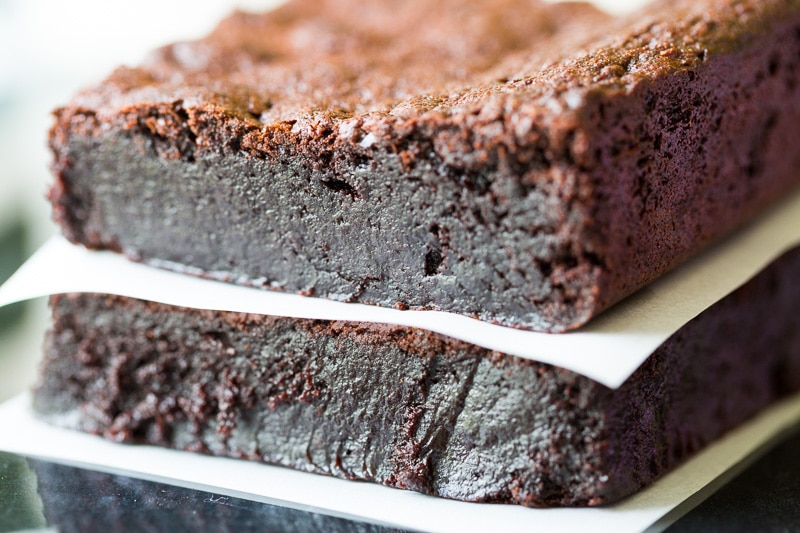 The Ratio of a Brownie
I'll never forget when I first read Michael Ruhlman's book, Ratio: The Simple Codes Behind the Craft of Everyday Cooking
.  For the first time, I realized that I could use ratios to create my own recipes.  I think it's what inspired me to start this blog-  I wanted to unlock the ratio of a brownie so that I could write brownie recipes in infinite permutations.
When I launched this blog, I even tweeted to Mr. Ruhlman to ask him, "What is the ratio for a brownie?"  He was kind enough to respond that he didn't know, but that he would be interested to find out.  He also recommended the make ahead brownie recipe from his book, Egg: A Culinary Exploration of the World's Most Versatile Ingredient
, which I promptly bought.  (I baked those make-ahead brownies and they turned out to be one of my favorite brownie recipes.)  As I've written more posts, with more brownie recipes, I've learned what it is that makes a brownie a brownie, and how each ingredient affects the finished product.
There really is one basic brownie recipe, from which all others branch out.  Oh, there are slight differences, such as baking powder, amount of vanilla or salt, etc., but the underlying ratio is pretty much the same.  In the measurements typically used for a recipe, the building blocks for a basic brownie recipe for a 13 by 9 inch pan are:
6 oz unsweetened chocolate
1 cup butter
2 cups sugar
4 large eggs
1 cup all purpose flour
Now, in order to get a proper ratio, these measurements must all be by weight, not volume:
6 oz unsweetened chocolate
8 oz butter
15 oz sugar
8 oz eggs
10 oz flour
Rounding up the sugar to 16 oz, we can reduce the ratio by a factor of two, yielding:
Brownies = 8 parts sugar : 5 parts flour : 4 parts butter : 4 parts egg : 3 parts unsweetened chocolate
Of course, the ratio changes a bit if you use bittersweet chocolate, semisweet chocolate, or unsweetened cocoa powder, because these have amounts of fat and/or sugar that are different from unsweetened chocolate.  To the basic ratio you add some vanilla and salt, and baking powder if you like.
Ready to bake some for yourself?  I recommend that you try this very easy Chocolate Brownie Recipe or this amazingly tasty Whole Wheat Brownie Recipe.