This roasted eggplant dip shop has been compensated by Collective Bias, Inc. and its advertiser. All opinions are mine alone. #TimelessPizza #CollectiveBias
Roasted Eggplant Dip with Roasted Red Peppers
I always have roasted red peppers in a jar in my pantry because I use them in everything from chili to hummus.  And I always have a vegetable of some kind lingering in the crisper drawer that I'm challenged to find something to do with before it reaches the end of its usable life.
Often, the guilty vegetable is an eggplant.  Someone buys it, but no one actually cooks it.  So I'm come up with this roasted eggplant dip recipe to solve that problem.
It's a great dip for pizza night, because you can dip your crust in it.  Pizza crusts are just more fun with a dip.  Plus, it's made with vegetables, and who can't get behind that?  And you can serve this dip warm or cold, depending on your mood or on the season.
For our pizza night, I picked up some Red Baron Pizza: one Red Baron Brick Oven Cheese, and one Red Baron Classic Special Deluxe.
Your family can come together over the timeless pizza that's been around for 40 years.
One bite, and everyone will want more.  I know I did, especially with that crispy, crunchy Classic crust.  You can pick up Red Baron pizza at Walmart in the pizza section of the frozen food aisle.
Tips for Making Roasted Eggplant Dip
If you don't have roasted red peppers in a jar, but you do have a red pepper, you can roast it at the same time.  Cut open the top and remove the stem and seeds, then rub with olive oil and put in the oven with the eggplant.  It will cook faster because it's smaller, so remove the pepper when it's easily pierced with a fork and let it cool.
You can add roasted or fresh garlic to this dip if you're a garlic lover.  Simply blend in a clove with the rest of the ingredients.
You can serve while warm, or chill in the refrigerator if you prefer.  Store airtight and use within a day.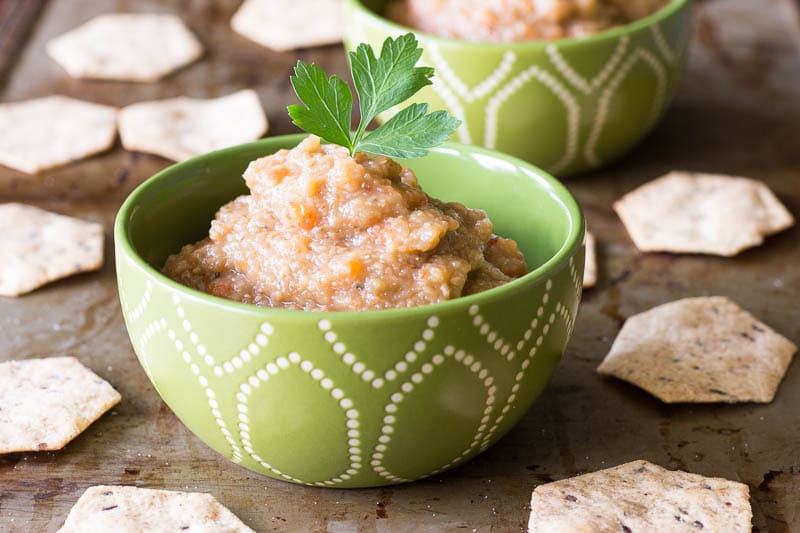 Roasted Eggplant Dip with Roasted Red Peppers
Make this simple roasted eggplant dip for dipping your favorite crackers, pizza crusts, chips, and more. It's very easy to do, and it's delicious!
Ingredients
1

eggplant

1/2

cup

roasted red pepper

can be found in jars

1

teaspoon

extra virgin olive oil

1/4

teaspoon

sea salt

1

tablespoon

balsamic vinegar

1

tablespoon

fresh lemon juice

Fresh ground black pepper
Instructions
Preheat the oven to 425 F. Line a baking sheet with foil or parchment. Pierce the eggplant a couple of times with a fork. Place it on the baking sheet and then into the oven.

Bake for 45 minutes, then let the eggplant cool until it is cool enough to handle.

Cut the top (stem) off the eggplant, then remove the peel by pulling down strips from the top to the bottom.

Place the eggplant plus all the other ingredients in a food processor. Pulse a few times, scrape down the sides with a spatula, then pulse again until it reaches the desired consistency. As pictured, it will be slightly chunky and it will hold its shape when scooped.

Serve warm or cold. Store airtight in the refrigerator and use within a day.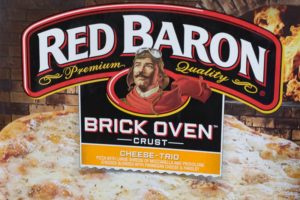 Check out Red Baron Pizza!