You'll love these incredibly fudgy pineapple brownies! Made with fresh pineapple and rum, they melt in your mouth with tropical chocolate flavors.
Fudgy Rum Pineapple Brownies
You might not know this, but Recipe for Perfection was originally called The Perfect Brownie.  My original idea for blogging was to test out brownie recipes to try to find the perfect brownie.
About six months after the blog began, I decided to rename my blog.  At that point, I had published more than three dozen different brownie recipes.  Renaming my blog allowed me to freely cook and publish any kind of food that interested me, not just brownies.
Even though my blog name has changed, I still love brownies.  When my husband suggested that I try making pineapple brownies, I couldn't resist the opportunity to experiment.
If At First You Don't Succeed…
In the past, I've used a butter infusion method I learned from this basil brownie recipe to infuse flavors, such as fresh mint, into brownies.   Hoping that it might work with fresh fruit as well as it did with fresh herbs, I chopped up some fresh pineapple, added it to a saucepan with melted butter, and let it sit for about twenty minutes.
It didn't work.  Unlike what had happened with the successful infusion of basil or mint, the butter did not pick up any pineapple flavor.
Many people would have reached for the pineapple flavoring at this point.  I didn't, because I wasn't ready to give up on getting that fresh, straight-from-the-pineapple flavor into a brownie.  I could also have simply added pineapple chunks to the brownie batter, but I wanted a luxuriously smooth texture- not a chunky one.
It was time to go back to the drawing board.
How to Add Fresh Fruit to Brownies… Without Turning Them Into a Cake
The problem with adding fresh fruit to brownies is water.  Fresh fruit contains a lot of water.  When you add water to a brownie recipe, you run the risk of turning it into cake.  And a cakey brownie, while delicious, is not what I was going for.
I decided to take the mixture of warm melted butter and fresh pineapple chunks and run it through a food processor until silky smooth.  My theory was that plain pineapple puree would add water, but a finely blended suspension of butter and pineapple might control the effect of the water on the brownies.
I watched closely as the brownies baked.  I was concerned because the top of the brownies puffed up quite a bit, which is usually a sign of cakiness.  They were still very puffy when I pulled them out of the oven, and I thought I'd probably treat myself to a cakey brownie snack and then go back to the drawing board again.
However, I left them alone to cool for about twenty minutes, and came back to a very pleasant surprise.  The puffiness had completely deflated.  I cut into a small corner to sample the texture, and- wonder of wonders!- there was not even the slightest hint of cake!
The Result
The pureed butter and fruit suspension worked beautifully.  The texture was dense, fudgy, and velvety smooth.  The pineapple flavor was subtle and refreshing, while the rum added an aromatic complexity to each bite.  Chocolate, pineapple, and rum make a delicious combination!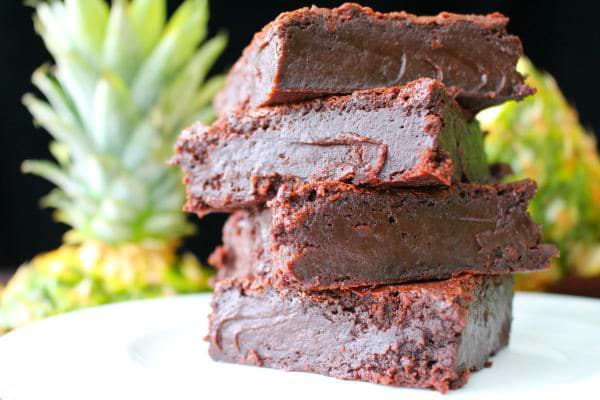 Bonus: How to Cut Fudge Brownies the Easy Way
One thing I've learned from baking all these brownies is that the absolute best way to cut brownies is to use a disposable plastic knife.  Even the fudgiest, most gooey brownies have trouble sticking to it.  You'll never use any other method again.
You're welcome!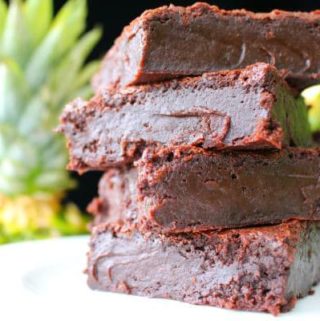 Fudgy Rum Pineapple Brownies
You'll love these incredibly fudgy pineapple brownies! Made with fresh pineapple and rum, they melt in your mouth with tropical chocolate flavors.
Ingredients
Equipment
Food processor or blender

8

inch

square pan

Wire rack for cooling
Ingredients
12

tablespoons

of unsalted butter

1

cup

chopped fresh pineapple

2

tablespoons

rum

1 3/4

cups

granulated sugar

1/4

teaspoon

salt

1/2

teaspoon

vanilla extract

3

large eggs

1

cup

unsweetened natural cocoa

1/3

cup

all purpose flour
Instructions
Preheat the oven to 350 F. Butter an 8 inch square pan and line it with parchment paper, letting the paper overhang the pan so that you can use the overhang as handles to lift out the slab of brownies when they're done.

Place the butter, pineapple, and rum in a small saucepan or pot. Warm on the stove on low heat until the butter has melted.

Pour the mixture into a food processor or blender and process until completely smooth.

In a large mixing bowl, whisk together the sugar, the butter mixture, salt, and vanilla. The mixture will be liquid and yellow in color.

Add the eggs one at a time, whisking after each, until fully incorporated. Add the cocoa and flour and stir until just combined.

Pour into the prepared pan and bake for 40 to 45 minutes, or until a toothpick inserted in the middle comes out with moist crumbs, but no wet batter. Let cool in the pan on a rack for 20 minutes, then use the parchment paper liner to lift out the brownies. Set on the rack to finish cooling.