Crispy crunchy salmon patties, or salmon cakes, are made with just three ingredients plus a little oil for the pan.  Everyone loves them!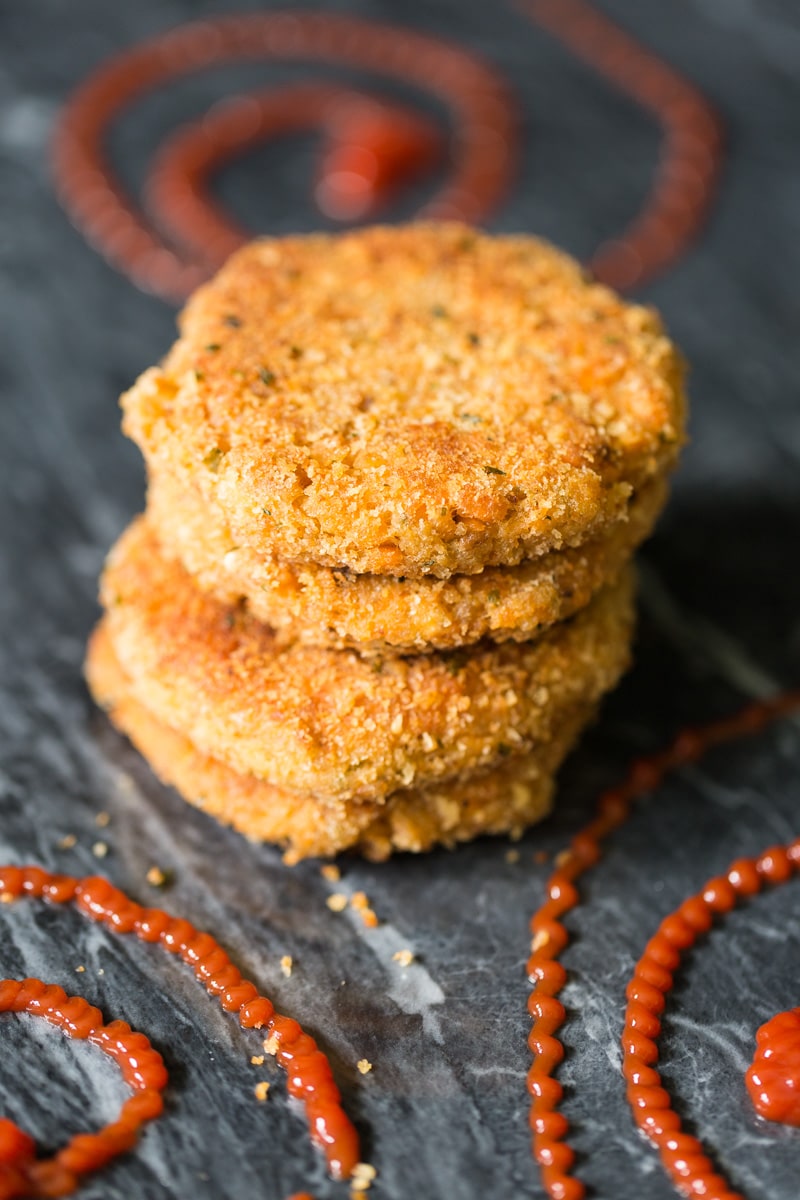 Crispy Crunchy Salmon Patties (Salmon Cakes)
My recipe for tuna cakes is famous.  No, really!  So I thought I'd give it a whirl with salmon instead.  Why?  Well, we all know we're supposed to eat more fish, of course; but my difficulty is that I'm not a huge fan of fish.  I have to come up with creative ways to sneak the swimmy little beasts into my diet.
That's why I'm so fond of tuna cakes, salmon patties, and the like.  Or tuna patties and salmon cakes, if you will.  It's all the same type of thing.
The nice thing about these salmon patties is that they are a hit with everyone.  I eat them.  Kids eat them.  Your mother-in-law will eat them.
Since they only have four ingredients, you just whip them up in a bowl in minutes and toss them in the saute pan with a little oil.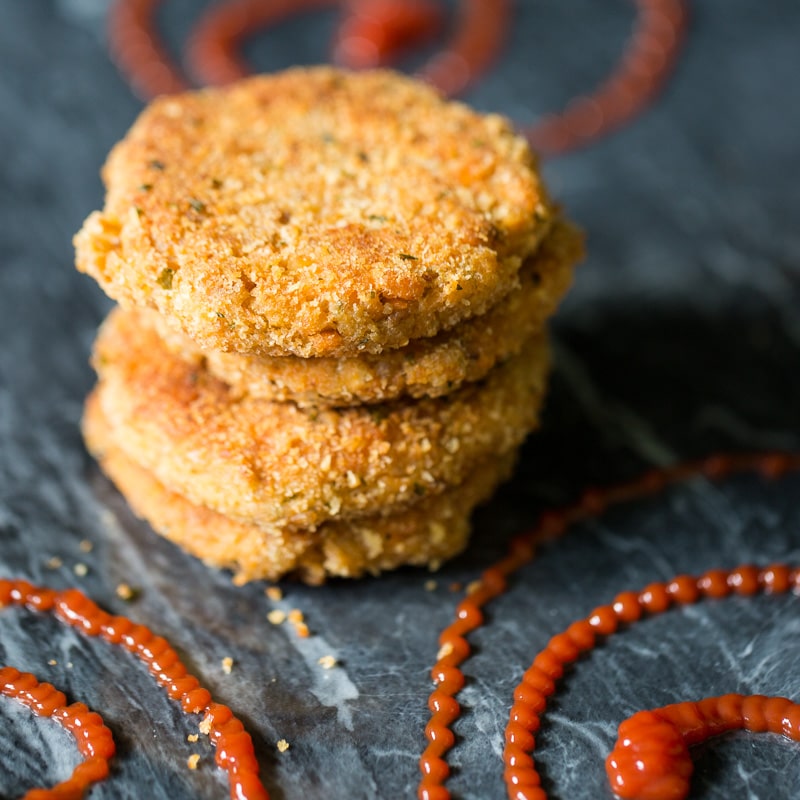 I'm a fan of dipping them in ketchup, as my children have carefully indoctrinated me to do.  (Have I mentioned that I've also started cutting the crusts off my own sandwiches?)  You are certainly welcome to gussy it up any way you like.  Perhaps bearnaise sauce or a horseradish cream?
If you're not convinced yet, here are some reasons to make these salmon cakes.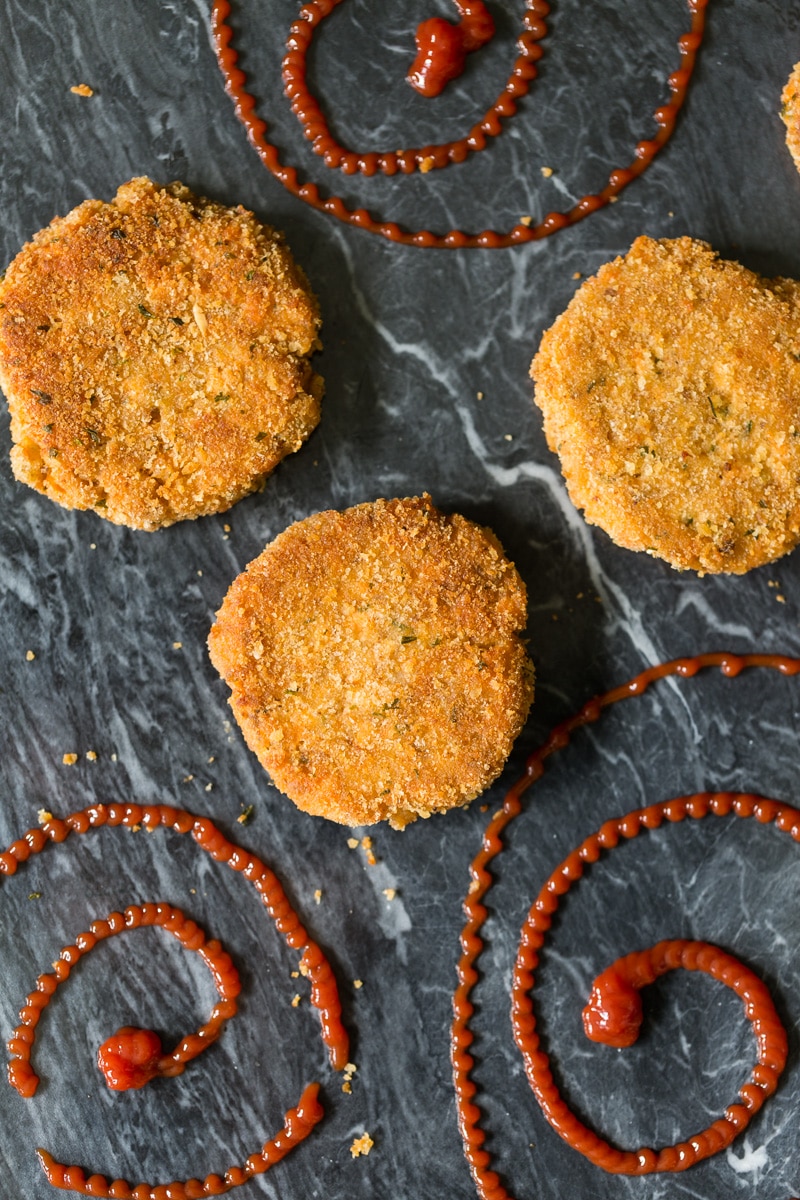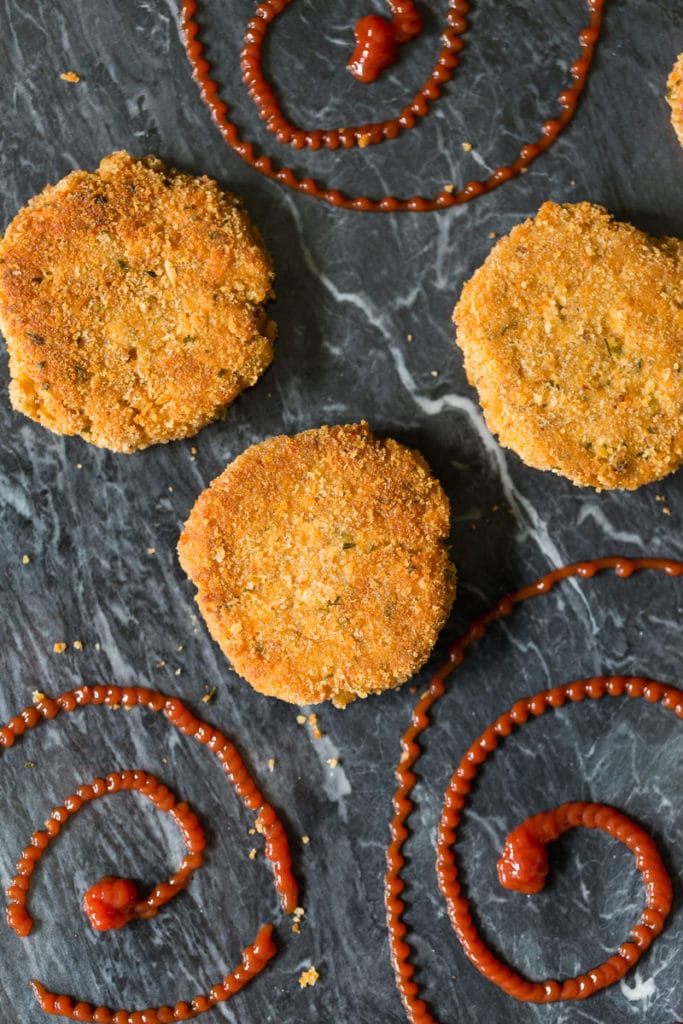 Why You Should Eat More Salmon
It contains omega-3 fatty acids, which are essential fatty acids that the body cannot produce by itself.
Eating salmon reduces the risk of heart disease and other chronic diseases.
Research has shown that the nutrients in salmon help maintain brain function, joints, and eyesight.
Don't take my word for it.  Read my sources at BBC Good Food and Men's Health.  Plus, it may give you the supernatural ability to leap into the air using only your fins.
Watch out for bears!
Tips for Making Perfect Salmon Patties
Preheat the skillet with the oil in it.  Don't pour cold oil into a hot skillet.
If you don't have Italian breadcrumbs, you can use plain breadcrumbs—but you'll need to add some salt and seasonings for flavor.
Wild caught salmon tastes better than farmed.  Buy it in cans for easy storage and preparation.  Make sure the label says boneless skinless salmon!  If it doesn't, there will be skin and lots of bones in it.
You can also used leftover cooked salmon to make these patties.  Flake the salmon into pieces and follow the recipe from there.
Dip these salmon patties in classic remoulade sauce.  So good!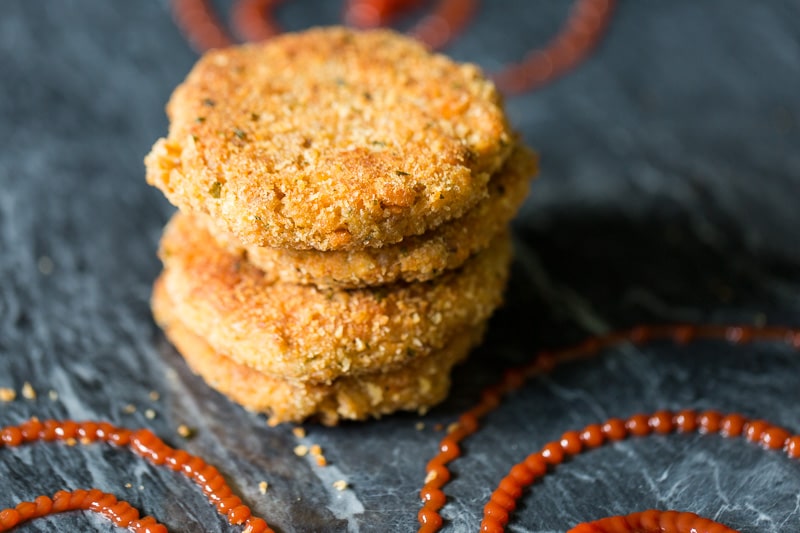 And don't miss my crispy tuna cakes, too!  You might also enjoy these tuna burgers.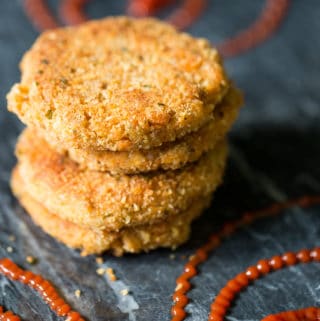 Crispy Crunchy Salmon Patties (Salmon Cakes)
Crispy crunchy salmon patties, or salmon cakes, are made with just three ingredients plus a little oil for the pan. Everyone loves them!
Ingredients
10

ounces

canned pink salmon

boneless and skinless, drained

2

large eggs

1

cup

Italian breadcrumbs

divided

olive oil

or your preferred oil for frying
Instructions
Add enough oil to cover the bottom of a large nonstick skillet to a depth of 1/4 inch. Preheat the pan with the oil on medium heat while you prepare the salmon.

Combine the salmon, the eggs, and 1/2 cup of Italian breadcrumbs. Stir thoroughly until the mixture is well combined. Pour the 1/2 cup of remaining breadcrumbs on a plate.

Form the mixture into round patties about the size of the center of your palm. Place the formed patty on the breadcrumbs on the plate; pat gently to make the breadcrumbs stick, then flip and pat the other side into the breadcrumbs.

Slip each patty gently into the pan. Fry on one side for 2 to 3 minutes, until the cooked side is golden brown. Flip the patty and fry the other side the same way.

When both sides are golden brown, remove to a plate lined with paper towels to absorb excess oil. Serve warm.
Nutrition Facts
Crispy Crunchy Salmon Patties (Salmon Cakes)
Amount Per Serving (66 g)
Calories 191
Calories from Fat 119
% Daily Value*
Fat 13.2g20%
Cholesterol 65mg22%
Sodium 131mg6%
Potassium 154mg4%
Carbohydrates 9.8g3%
Protein 9.1g18%
Vitamin A 100IU2%
Calcium 40mg4%
Iron 1.1mg6%
* Percent Daily Values are based on a 2000 calorie diet.
Also try my easy salmon tacos recipe!