This saffron shrimp recipe was sponsored by Veetee Rice.  All opinions are my own.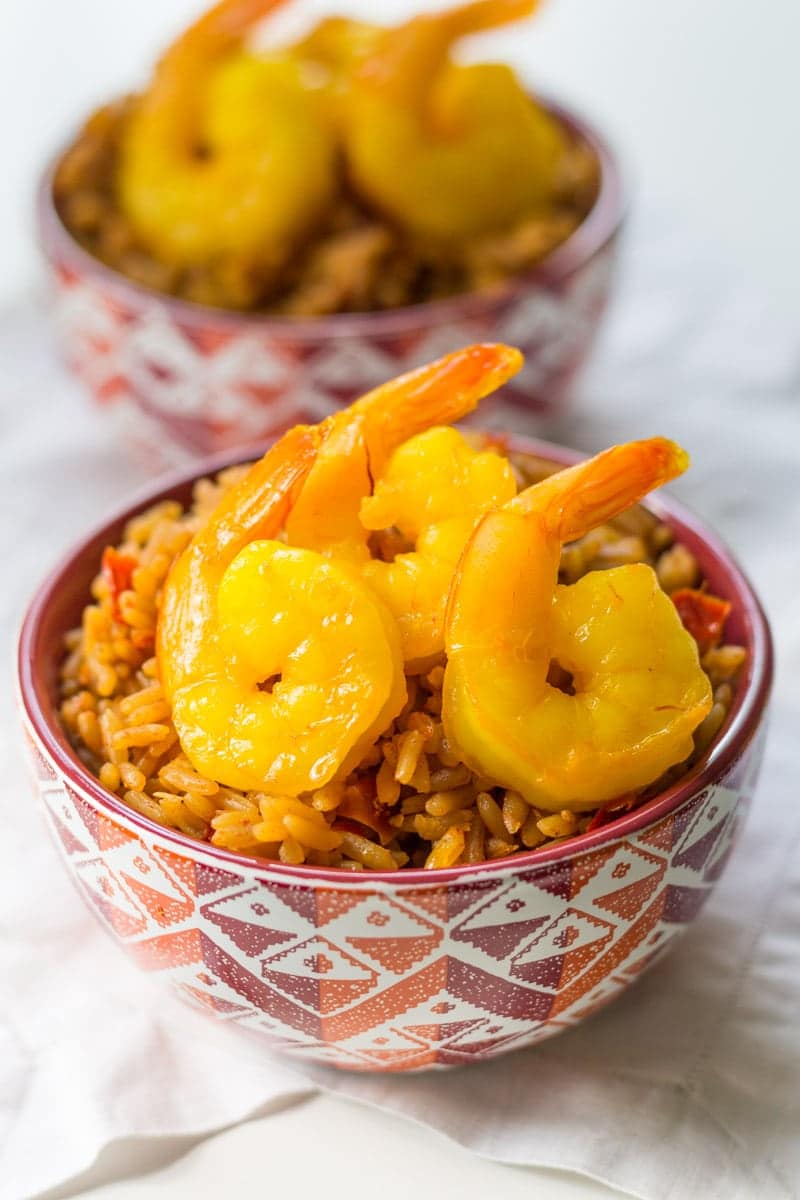 Sauteed Saffron Shrimp
Saffron is an amazing spice.  It takes only a few threads to flavor foods with its unique aroma and color.  If you've never cooked with saffron before, check out the saffron below tips to help you get started!
This sauteed saffron shrimp recipe is perfect for a fast dinner.  Shrimp cook lightning fast, which means that you can have dinner on the table within minutes.  It's easy to scale this recipe up or down to serve 2, 4, or even eight people.
I'm pairing the saffron shrimp with one of my favorite rice products, Veetee Spicy Spanish Style Rice.  Rather than wait for a pot of rice to cook, you can have this aromatic rice ready as fast as you can cook your shrimp.  It only takes 2 minutes in the microwave or skillet.
What I like about Veetee Rice is that not only is it a great convenience and time-saver, but it tastes as good or better than rice cooked from scratch.  I've used it to make dinner bowls like this one as well as desserts, like this Honey Coconut Lime Jasmine Rice Pudding using Veetee Jasmine Rice.  You can find Veetee Rice in the rice aisle of your favorite grocery store!
Tips for Using Saffron
Spend the extra dollars, if you can, to buy high quality saffron.  Sometimes, inexpensive "saffron" is not saffron at all, or is a poor quality type of saffron.
Soaking the saffron threads overnight brings out the flavor.  If you forget to soak them overnight, go ahead and soak them for a shorter time so that you get as much flavor as possible.
Don't go overboard.  Although it may be tempting to add more saffron, keep in mind that it's quite potent.  A few threads are generally sufficient.
Saffron works well in both savory and sweet dishes, so feel free to experiment with saffron in all sorts of recipes.
Sauteed Saffron Shrimp
Sauteed saffron shrimp are a beautiful yellow color with a delectable flavor. Ready in just minutes with a simple white wine and saffron marinade!
Ingredients
1/4

cup

white wine

1/2

teaspoon

saffron threads

2

tablespoons

extra virgin olive oil

1

pound

shrimp

cleaned, with shells removed

sea salt

to taste
Instructions
Soak the saffron threads in the white wine at room temperature overnight.

Toss the shrimp with the white wine, saffron, and olive oil. Set aside while you preheat a large nonstick skillet to medium heat. It's hot enough when few drops of water dropped in the pan immediately hiss into steam.

Saute the shrimp until firm and no longer translucent, about 3 or 4 minutes. Serve immediately. (I paired this shrimp with Veetee Spicy Spanish Style Rice.)
Nutrition Facts
Sauteed Saffron Shrimp
Amount Per Serving
Calories 167
* Percent Daily Values are based on a 2000 calorie diet.
Check out all the varieties of Veetee Rice!