Delicious gluten free sorghum cornbread from an original family recipe. Made with real buttermilk for authentic Southern flavor!
This post was sponsored by Bob's Red Mill.  All opinions are my own.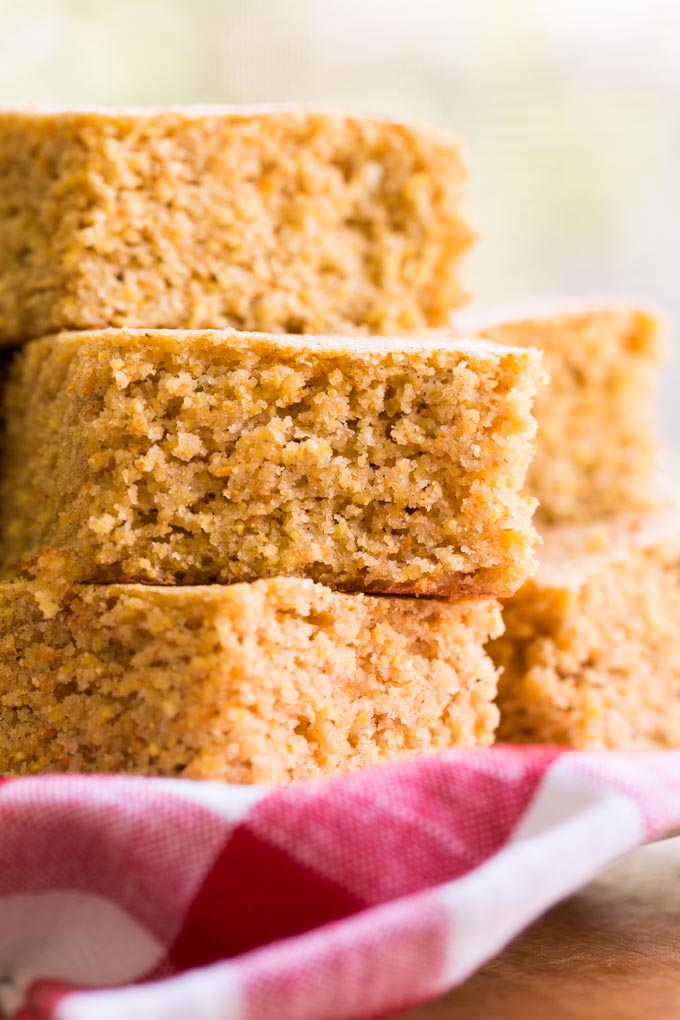 Sorghum Cornbread
Cornbread is a natural fit for making gluten free.  Cornbread batter doesn't need to be stretchy, like pizza or pastry dough, so it doesn't require the stretchy properties of gluten.  Most bakers are just accustomed to making it with wheat flour because they haven't tried anything else yet.
This Southern style gluten free cornbread is made with cornmeal and sorghum flour.  As crops, sorghum and corn are naturally gluten free; however, like any ingredient, they can be cross- contaminated with wheat or other gluten-containing grains while being processed and packaged.  That's why it's important to make sure your sorghum flour and cornmeal are gluten free.
I use Bob's Red Mill Gluten Free Medium Cornmeal and Gluten Free Sorghum Flour because they are gluten free and because they produce consistent baking and cooking results.  The medium grind cornmeal adds a slightly rustic crunch, and the sorghum flour makes the cornbread a deep gold color.  I also use the sorghum flour to make my favorite pancakes!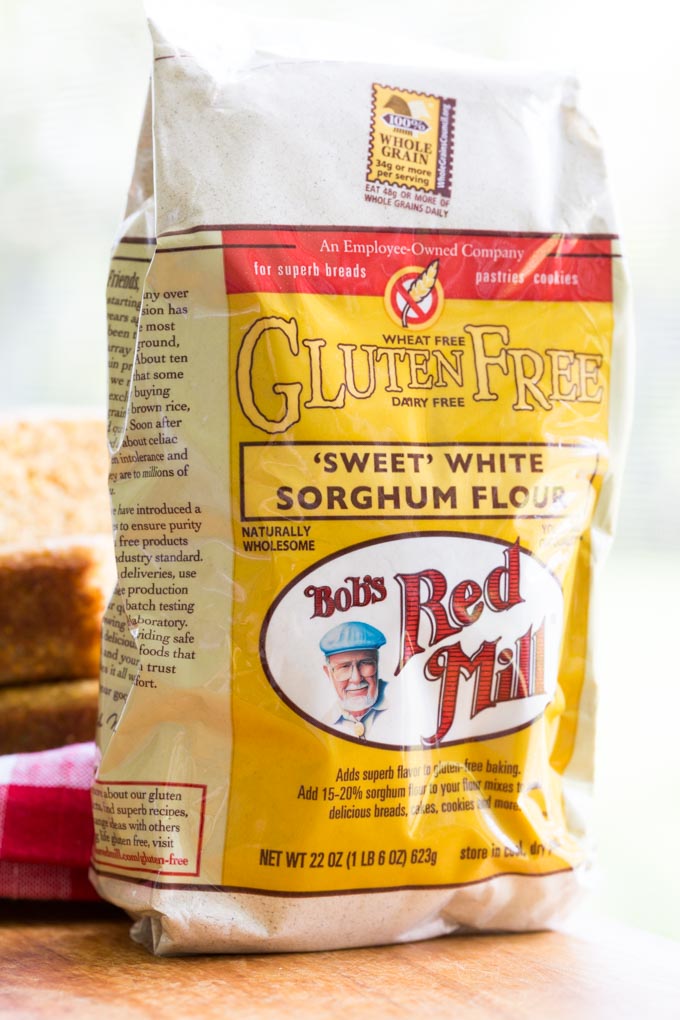 Speaking of ingredients, I've used whole fat and low fat buttermilk successfully in this sorghum cornbread recipe; either one works equally well, so feel free to use what you have on hand or what's available in your grocery store.
While you're checking your pantry for ingredients, think about when you bought your baking soda and baking powder.  If you can't remember when you bought it, throw it out and buy some that's fresh.  The reaction between the baking soda, baking powder, and acid (in this case, buttermilk) is crucial to produce the right texture, and without it, your baked goods will literally fall flat.
When you have your ingredients and are ready to begin, make sure you start preheating the oven right away.  A well-heated oven works in concert with fresh baking soda and baking powder to produce a nice, fast "spring," in which the batter puffs up quickly and evenly with air after you place the pan in the oven.  That means fluffy, tender cornbread for you!
If you enjoy this gluten free sorghum cornbread recipe, be sure to try out these other gluten free recipes:
Check out Bob's Red Mill products for all your gluten free baking needs.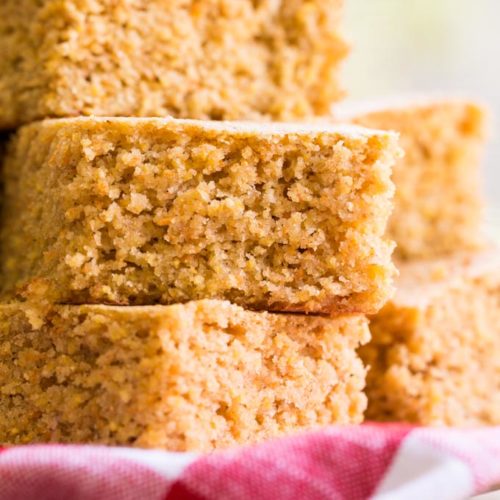 Sorghum Cornbread
Delicious gluten free sorghum cornbread from an original family recipe. Made with real buttermilk for authentic Southern flavor!
Ingredients
1/2

cup

unsalted butter

melted and slightly cooled, plus a little extra for buttering the pan

1

cup

gluten free cornmeal

1/4

cup

granulated sugar

1/2

teaspoon

salt

1/2

teaspoon

baking soda

1 1/2

teaspoons

baking powder

2

large eggs

1

cup

buttermilk
Instructions
Preheat the oven to 425 F. Prepare an 8-inch square pan by lightly buttering the inside of the pan.

Combine the cornmeal, sorghum flour, sugar, salt, baking powder, and baking soda in a large mixing bowl. Whisk together to a make a uniformly distributed mixture of the dry ingredients. Make a well in the middle of the mixture.

In a second bowl, beat the eggs with the buttermilk. Pour the liquid mixture into the dry mixture, then drizzle the melted butter over the liquid. Gently mix with a large spoon until just combined; don't over-mix. The batter will be thick and fluffy.

Scrape the batter into the prepared pan and smooth out the top evenly with a knife or the back of a spoon. Place in the oven immediately and bake for 15 to 20 minutes, or until a toothpick inserted in the middle comes out clean. Let cool slightly and serve warm, or let cool completely then cover airtight to store.
Nutrition Facts
Sorghum Cornbread
Amount Per Serving
Calories 259
Calories from Fat 117
% Daily Value*
Fat 13g20%
Cholesterol 66mg22%
Sodium 235mg10%
Potassium 215mg6%
Carbohydrates 30g10%
Protein 4g8%
Vitamin A 410IU8%
Calcium 70mg7%
Iron 1.2mg7%
* Percent Daily Values are based on a 2000 calorie diet.