Spicy shrimp tacos are even better on toasted corn tortillas!  Add your own toppings and finish it off with a fiery sour cream.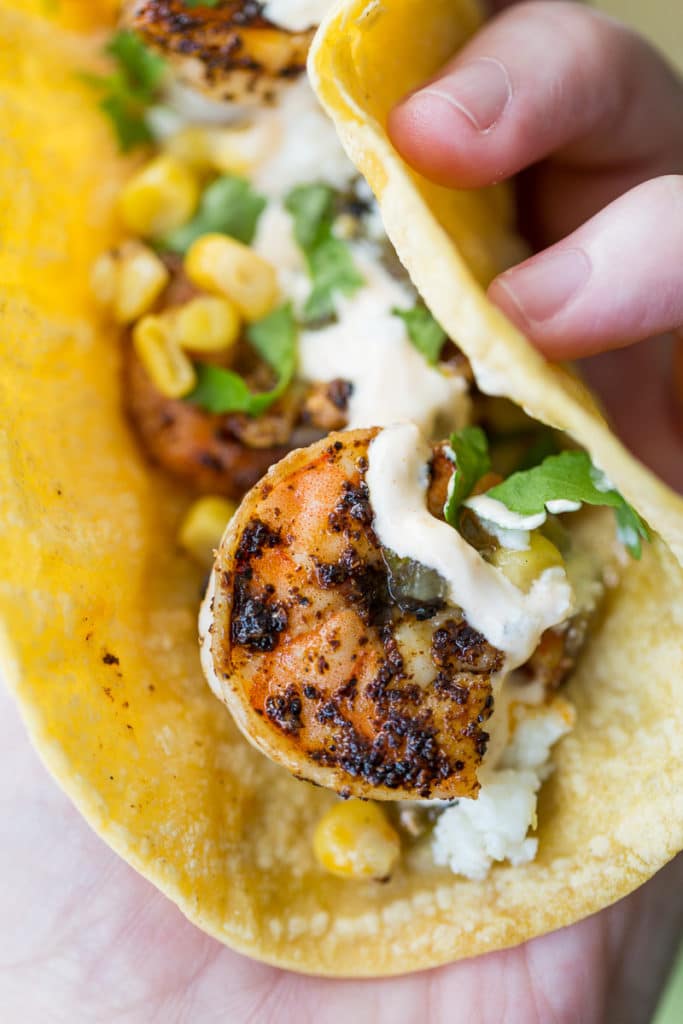 Spicy Shrimp Tacos on Toasted Corn Tortillas
I think that I could eat tacos every day.  I really do!  Something about the combination of flavors and textures just hits every happy button in my brain.
Shrimp tacos are ridiculously easy to make. I mean, all you have to do is throw the shrimp in the pan for a few minutes, and BOOM!  You're practically done.
While you're here, make sure you check out the Frontera Wines Game Day Sweepstakes!  Enter to win a 55-inch HD TV for a fantastic view of all your favorite sports games.  A giant TV makes shrimp tacos taste even better, I think.
Since this recipe is so quick to make, it makes these shrimp tacos particularly convenient for parties.  If you have a big game party coming up, you'll want to save this recipe.  You won't want to miss the action, and a recipe that's ready in a flash will get you out of the kitchen and back in front of the TV, pronto!
Another thing that's nice about using shrimp is that (because it's seafood) it pairs well with a good white wine.  Frontera Wines Sauvignon Blanc makes an excellent pairing.
You can make every moment tasty with Frontera Wines, because you can choose from Sauvignon Blanc (pictured), Chardonnay, Cabernet Sauvignon, and Cabernet Sauvignon Merlot.
This wine has notes of fruit and a citrus aroma, with a fresh coolness that complements seafood.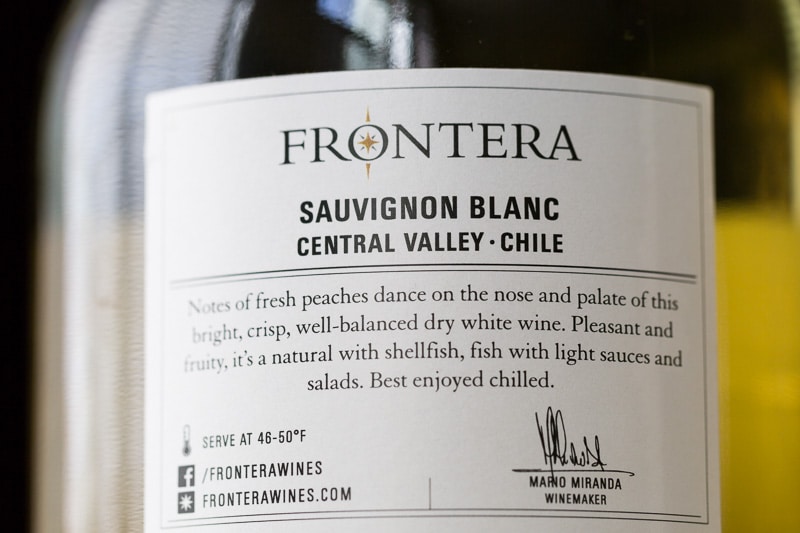 To make your preparation process streamlined, I recommend that you get your toppings ready to go first.  Pop them in the fridge to await the rapid arrival of the cooked shrimp.
You'll preheat the pan and toast the tortillas in the oven while the shrimp are cooking.  Then, it all comes together quite quickly.  You can top the tortillas yourself, or lay out the toppings and shrimp for people to make their own to their liking.  In fact, if you set up a table in the viewing area, no one has to miss a moment of the game.
Don't forget the wine glasses and the Frontera Wines!  Casual occasions like game-watching parties are suitable for the laid back look of stemless wine glasses, so feel free to use the vessel of your choice.
Tips for Making Spicy Shrimp Tacos
Seafood quality is important.  Go for wild-caught if you can, or look for sustainably farmed shrimp if wild-caught is unavailable or too pricey.
I love corn tortillas for their unique texture and flavor, but you can substitute flour tortillas if you like.  Flour tortillas can be toasted or they can simply be warmed; it's up to you.
Give your Frontera Wines Sauvignon Blance time to chill before serving.  A refreshingly chilled wine is a pleasant contrast to something warm and spicy like these shrimp tacos.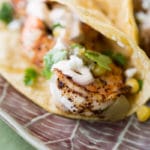 Spicy Shrimp Tacos with Toasted Corn Tortillas
Spicy shrimp tacos are even better on toasted corn tortillas! Add your own toppings and finish it off with a fiery sour cream.
Ingredients
1

pound

shrimp

peeled and deveined, tails removed

1

tablespoon

chili powder

2

tablespoons

olive oil

8

corn tortillas

the soft kind, not the crunchy
Spicy Sour Cream
1/2

cup

sour cream

2

tablespoons

hot sauce
Topping Suggestions
fresh cilantro

corn

salsa verde

cotija cheese

also known as Mexican crumbling cheese
Instructions
Make the spicy sour cream and get your choice of toppings ready to go.

Preheat a large nonstick frying pan over medium heat until a drop of water sizzles away when dropped in the pan.

Place the corn tortillas directly on the rack in a cold oven. Turn it on and set it to 400 F.

Put the raw shrimp in a bowl with the olive oil. Sprinkle on the chili powder. Toss to coat the shrimp evenly.

Put the shrimp in a single layer in the hot pan. Cook until firm and no longer translucent, about 2 or 3 minutes.

Remove the corn tortillas from the oven. They should be hot and slightly stiffened, but not crunchy. Distribute the shrimp on the tortillas and top with your preferred toppings. Serve immediately.
Nutrition Facts
Spicy Shrimp Tacos with Toasted Corn Tortillas
Amount Per Serving
Calories 175
Calories from Fat 72
% Daily Value*
Fat 8g12%
Cholesterol 150mg50%
Sodium 566mg25%
Potassium 138mg4%
Carbohydrates 12g4%
Protein 13g26%
Vitamin A 385IU8%
Vitamin C 4.9mg6%
Calcium 122mg12%
Iron 1.7mg9%
* Percent Daily Values are based on a 2000 calorie diet.
If you like tacos, try these recipes!