Why fire up the grill or fiddle with the broiler? Here's how to cook strip steak in a skillet! It's fast, easy, and tastes as good as a steakhouse.
Strip Steak in a Skillet
Sometimes, I don't have the patience to fire up the grill or fiddle with the broiler.  I want a fast, easy, juicy steak that tastes like it came from a steakhouse.  Did you know you can get that kind of flavor from a skillet?  You can!
Today I'll be using one of my favorite cuts of beef, the New York strip steak.  The New York strip cut can be found in precut steaks (like I'm using today), and also in a large New York Strip roast which I'm also quite fond of.
If you haven't tried the full-on roast, put it on your list of meats to try.  I promise you will very happy.
Anyway, this strip steak in a skillet recipe is a go-to weeknight meal for me.  Simply heat the skillet, throw in the steaks, set the timer, flip once, and then season & serve.  Couldn't be simpler.
Pair it with some oven roasted potato rounds for a real treat, or maybe a wedge salad.
Now that's good living!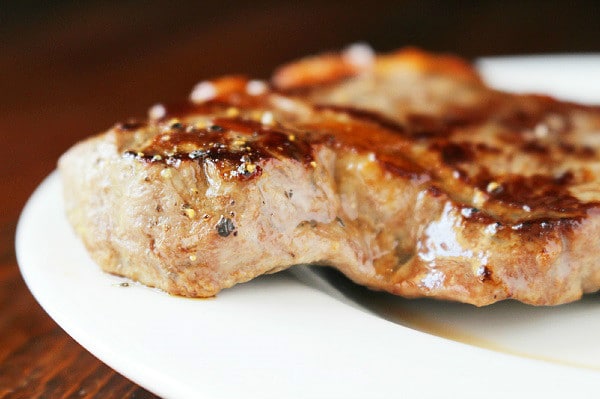 Tips for Cooking Steak in a Skillet
Make sure your skillet is preheated for several minutes before actually cooking.  Your steak should sizzle quite loudly when it touches the pan.  If it doesn't, your pan is not hot enough.
You can skip using oil and add more flavor by turning the steak sideways and sizzling the fatty edges first.  Then, your steak will cook in its own savory fat.  That's a good thing!
Resting the steak really does help.  It helps keep the juices from running out as much when you cut it, and the texture improves, too.  Loosely tenting the cooked steak with foil will keep it from losing too much heat.
A good steak doesn't need a complicated seasoning.  I prefer a bit of butter, a generous sprinkling of salt, and sometimes a few grinds of pepper.  You can season it however you like, just don't forget to let the flavor of the meat shine through.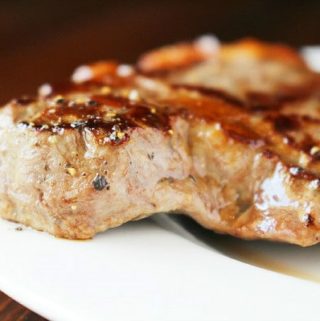 Strip Steak in a Skillet Recipe
Cook strip steak in a skillet fast and easy! You'll feel like a steak pro when you cut into this perfectly cooked steak.
Ingredients
2

strip steaks

about 3/4 inches thick

2

teaspoons

butter

Sea salt

Fresh ground black pepper

optional

Aluminum foil
Instructions
Place a large nonstick skillet on a burner and preheat over medium heat for 4 minutes. Test for proper heat by flicking a large drop of water into the skillet. It should sizzle away quickly and loudly.

Using tongs, hold the steak on its side so that the fattiest edge faces down into the skillet. Press the fatty edge into the skillet and let the fat cook for about 2 minutes until the fatty edge is browned and you can see some liquid fat in the pan.

Turn the steak and lay it flat in the pan. Do not touch it for 4 minutes. After 4 minutes, flip it. Again, don't move it at all for 4 minutes.

Using clean tongs (don't use anything that will pierce the steak, like a fork), remove the steak from the skillet and place it on a clean plate. Quickly rub a teaspoon of butter all over the top of each steak, leaving what doesn't melt right away to sit on top of the steak. Sprinkle generously with sea salt, and add a few grinds of black pepper if desired. Tent a piece of aluminum foil loosely over the steak and let sit for 4 minutes.

Serve and enjoy!
If you like steak, you'll love this bone-in rib roast, too.