Thanks to a local restaurant called "Thailicious," I fell in love with Thai food at first bite. 
Thailicious Started a Love Affair
As my family has reminded me on numerous occasions, I was a picky eater as a child,
I didn't like vegetables.  I didn't like salad.  I didn't like spicy food.
I once fled the dinner table with a mouthful of zucchini because the flavor and texture revolted me so much I thought I might be sick.
I was not proud of that moment and felt terribly guilty for making a scene.  I didn't want to be picky, but I couldn't help that some foods were simply unpalatable.
As an adult, I became less sensitive to strong flavors, which allowed me to slowly broaden my palate to the spicy, the green, and the unknown.
I became very fond of "Mexican" food in its late 90's incarnation of sizzling fajitas, bean dip, and chips with questionable salsa.  I developed a remarkable tolerance for spicy food and would happily consume chicken wings doused in so-called "nuclear" sauce.
Salad, my old enemy, became something of a friend.  OK, maybe it was the kind of friend you meet for lunch a couple of times per year, but still—we had reached a détente.
My aversion to fish without breading swam quietly away.
The more foods I tried, the more foods I wanted to try.  I sought out everything I hadn't tasted before.
Within a couple of years, I sampled "new American", Vietnamese, Polish, Puerto Rican, Latin BBQ, Cuban, Chinese, and Moroccan cuisine.
However, there was one cuisine that I hadn't tried.  In fact, it was one of the more widely available cuisines in my area, but I hadn't ventured to sample it yet.
Thai food.
Thai food was a complete mystery.  Whereas most of us have a vague idea of certain cuisines (such as Chinese food), I had absolutely zero background knowledge of Thai food.  I'd never seen it, never smelled it, and certainly I hadn't tasted it.
Since this would be my first time trying Thai food, I wanted it to be the best.  I gleefully cross-referenced Thai restaurant menus and online reviews like I was decoding the Rosetta Stone before finding my target.
I chose Thailicious, a small Thai restaurant in Longwood, FL, just outside of Orlando.
When I pulled up for an early lunch on a weekday, I was not too surprised by the humble exterior.  Many of the non-chain restaurants around Orlando are not fancy.
However, when I walked through the door, I was totally surprised by the interior.  Sleek, modern, and elegantly lit, Thailicious had me wishing I'd worn something nicer than my usual jeans and t-shirt.
Thankfully, the host/waiter didn't bat an eyelash and showed me to my table with smooth panache that would put a much more expensive restaurant to shame.
I had read that the chicken basil rolls were good, so I placed my appetizer order right away.
My meal began with a small but lovely side salad.  It worked well as a palate cleanser.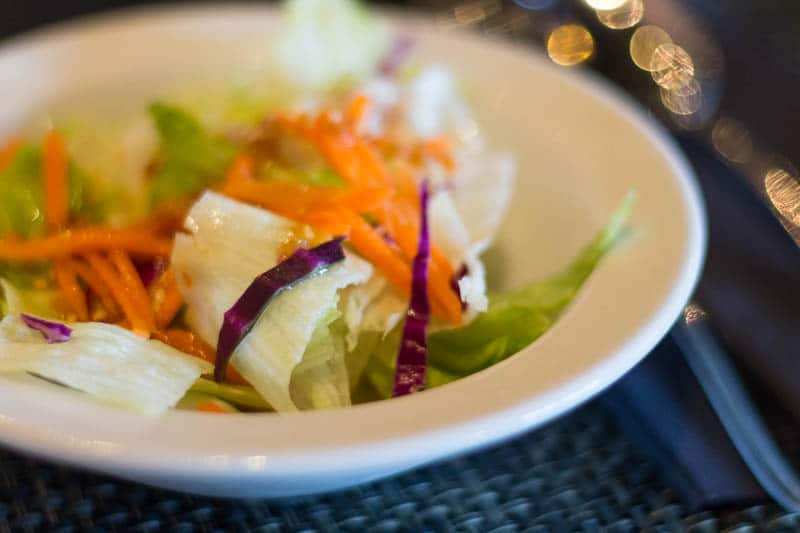 In a few minutes, my plate of chicken basil rolls was placed on the table.  The rolls were served with a side of peanut sauce.
They were extremely fresh and savory, a perfect contrast to the sweet peanut dipping sauce.
When my entree arrived, I could smell the scent of the curry as the large white bowl was placed in front of me.
The duck was crispy on the outside, delectably tender and richly flavored throughout.  The pineapple curry sauce was studded with peeled grapes, red pepper strips, and whole leaves of Thai basil (similar to sweet basil, but with a spicier kick).
I don't think I've ever tasted anything that nearly blew all my synapses like this pineapple curry did.
My visit to Thailicious sent me headlong into an instant love affair with Thai food.  Since then, I've visited as many local Thai restaurants (and food trucks) as I can get to.  This restaurant, in fact, is just around the corner from another Thai restaurant, Thai Delight, that I've also written about.
Next time you're in the Orlando area, stop by Thailicious and treat yourself to a feast.  I'll never forgive you if you don't try the pineapple curry.
What's your favorite Thai food?