Is The Ganachery at Disney Springs really "The Cure for the Common Chocolate"?  I bought a box of nine pieces to find out.  Read my review!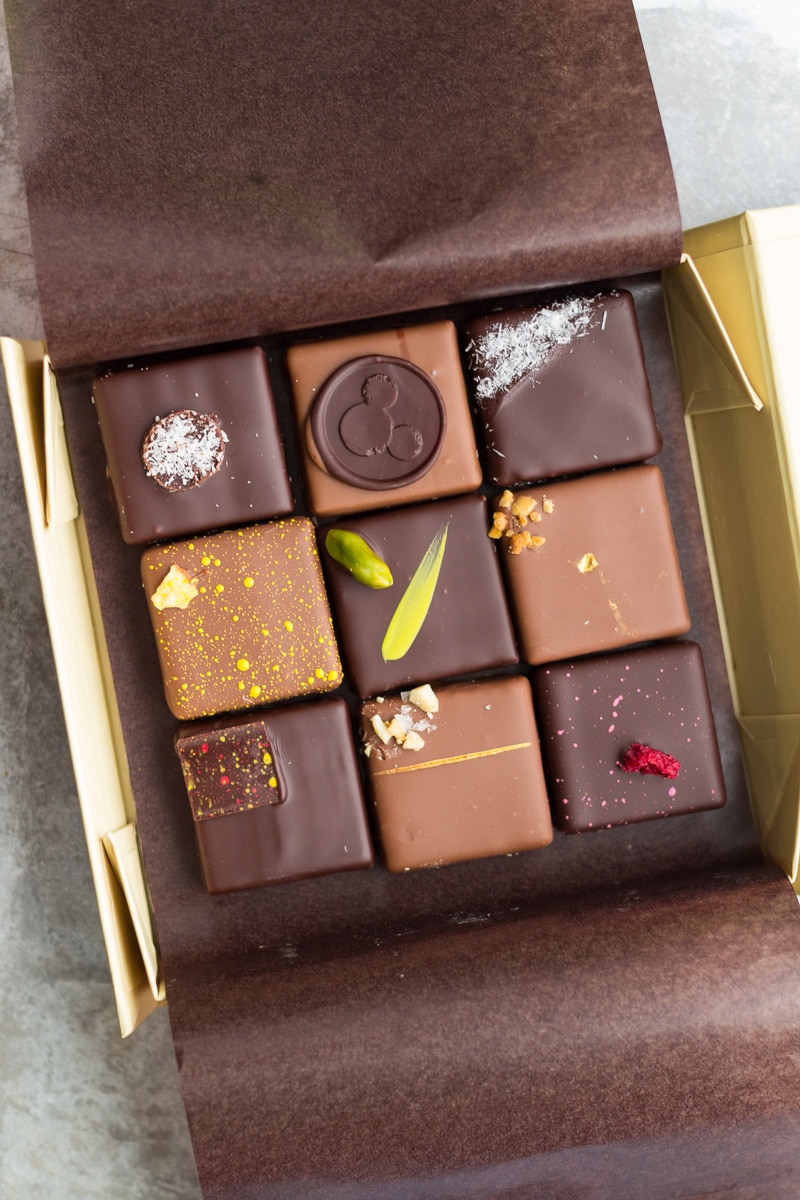 My Review of The Ganachery at Disney Springs
I, like many people, have a weakness for chocolate.  Not just any chocolate, mind you.
Fine chocolate.  Gourmet chocolate.  Which, sadly, tends to be expensive chocolate.
Since I have a limited budget, I have to choose my chocolate carefully.  Heaven forbid that I should waste my dollars upon subpar chocolate!
Not too long ago, I reviewed every piece in a box of chocolate from La Maison du Chocolat, one of the premier chocolate makers.  Their standards are high, but so are mine—and I pulled no punches.
As a frequent visitor to Walt Disney World, it was only a matter of time until I sampled the chocolate from the new shop at Disney Springs, The Ganachery.
I bought a box of nine pieces and took notes on each piece.
The Chocolate at The Ganachery
Each chocolate piece is filled with ganache, a filling traditionally made of chocolate and cream.  I typically enjoy ganache fillings.  However, the consistency of the ganache at The Ganachery was a little unusual.  It was a bit waxy on the palate, which is not my favorite texture.
In some pieces, the flavor successfully distracted from the texture.  In others, it did not.
Here's the rundown from my box of chocolate.
Passion Fruit
The light and fruity flavor of the passion fruit piece was pleasant and balanced well with the milk chocolate exterior.
Egyptian
This dark chocolate piece tasted like Hershey's Special Dark with too much salt on top.  I love salt with chocolate, but this was overwhelming.
Coconut
With more ganache than coconut, this was less like a Mounds and more like a coconut cream.  I liked the flavor balance between the coconut and the dark chocolate.
Raspberry
I'll be honest; I spit this one out.  The weirdly pasty filling was bland and unappetizing.
Pistachio
A fun piece that tasted like pistachio chocolate chip ice cream.
Hazelnut
Very sweet, very smooth, very mild.  I prefer a little nuttier kick, or a little crunch, from my hazelnut flavored chocolates.
Peanut Butter
Again, the slight waxiness of the ganache threw me off.  This might have been better with some crunch.
Chipotle Pepper
This piece was sufficiently spicy to maintain interest, but not too spicy.
Milk Chocolate
This mild milk chocolate ganache was pleasingly simple.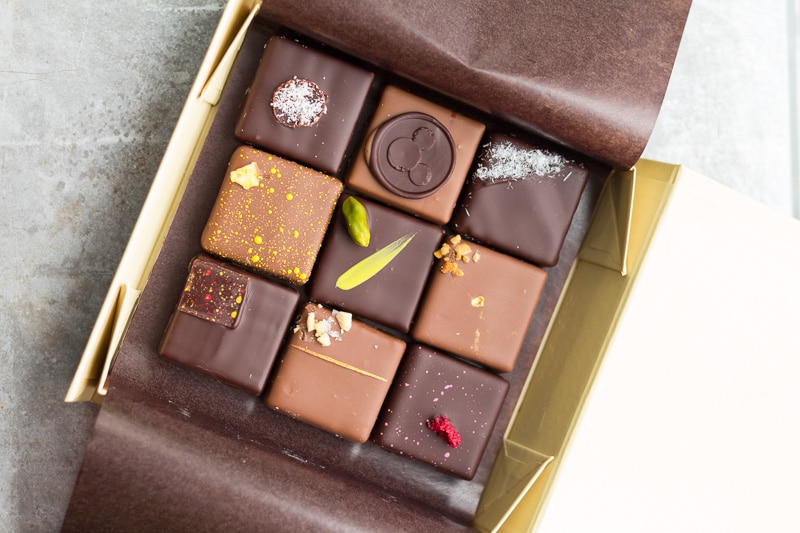 Was The Ganachery "The Cure for the Common Chocolate"?
The store itself is adorably decorated like an old-fashioned pharmacy crossed with a Harry Potter candy emporium.  There's not much space to move around in, and they could use some sort of queue to prevent a scrum at the chocolate case, but it's a lovely little space.
As for the chocolate, I was disappointed.  I've had better from other Orlando area chocolatiers at similar prices.  The Ganachery isn't my cure for the common chocolate, but I'm glad that I visited and got to sample a box.
If you go, let me know which pieces you try, and what you think of them.  Be sure to check out my review of La Maison du Chocolate!