Make thick and fluffy flour tortillas with this easy to follow recipe. Requires no special equipment! Enjoy restaurant style tortillas in your own home! This post contains affiliate shopping links which help support this site.

Thick and Fluffy Flour Tortillas
I used to live for trips to Mexican restaurants that made thick, fresh tortillas from scratch. I'd hardly care what I ordered, so long as I could receive a steady supply of stacks upon stacks of tortillas.
Thick, restaurant style tortillas are so very different from the thin, tasteless packaged tortillas you get in the grocery store. That's hardly a tortilla at all in my book.
Some Mexican restaurants are even switching to corn tortillas, like Frontera Cocina down here at Disney Springs in Orlando.
Don't get me wrong; I adore corn tortillas, but there will always be a place in my heart for the fluffiest, thickest flour tortillas.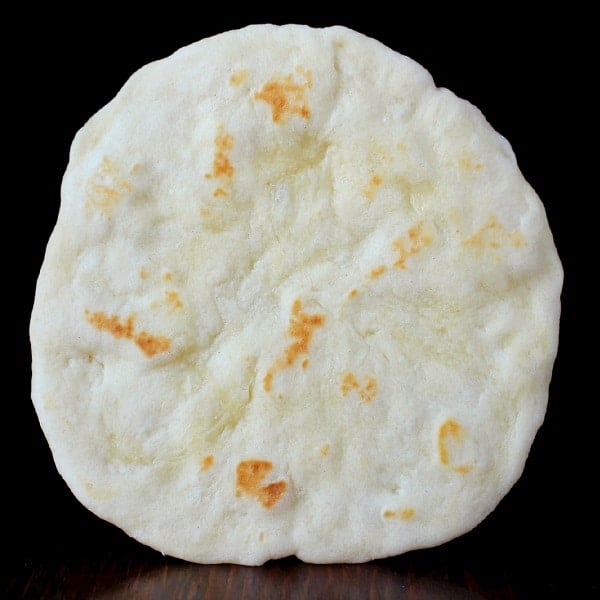 So, years ago, I looked up a recipe for tortillas made without lard. This was literally almost a decade ago. I jotted down the basics of the recipe and have been working to master it ever since. I wish I knew the original source, but, alas, it's been lost to time.
So although I'm usually very good about citing my sources, I'll have to let this one go. If you happen to recognize it, let me know and I'll give credit. (UPDATE 1/25/2016: A savvy reader recognized this from Homesick Texan! Mystery solved!)
If you like Mexican food, I must also encourage you to seek out one of the great gems of Mexico: Mexican Coca-Cola. Our local grocery stores carry it in 6-packs of glass bottles. It's made with sugar instead of corn syrup, and yes it tastes totally different. It's the champagne of cola!
Please do yourself the favor of finding it, chilling it, and sipping it straight (no dilution with ice, please).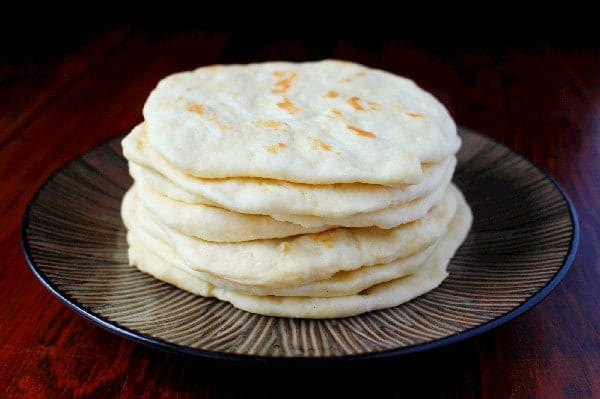 Tips for Making Tortillas
There are a few tricks that will make your tortilla efforts a lot easier. These tips will help keep you from making all the mistakes I've made over the years!
Measure carefully. It is far better to start with too little flour than too much, because too much flour cannot be corrected once mixed. Too much flour equals tough, hard-to-roll-out tortillas.
Rest the tortillas for the full period of time suggested in the recipe. Too little rest = too tough to roll out.
Let your skillet preheat for 5 minutes before cooking. A pan that's not hot enough will not cook the tortilla properly, leaving it pale and gummy.
Don't leave the balls of dough exposed, or they will quickly begin to dry and become harder to roll out.
As you cook the tortillas, put the finished ones in a stack on a plate and cover loosely with a sheet of foil. That will keep them warm and moist. Or get yourself a handy tortilla keeper—this one is made in the USA and is BPA-free, melamine-free, and microwaveable (for reheating tortillas as needed).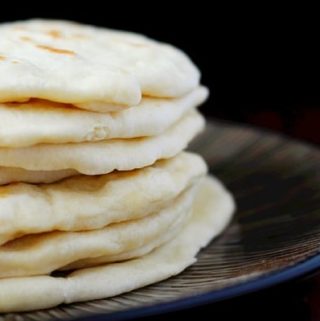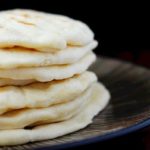 Thick and Fluffy Flour Tortillas Recipe
Thick, fluffy restaurant style tortillas can be made at home with this easy recipe!
Ingredients
2

cups

all purpose flour

(for gluten free see note)

1 1/2

teaspoon

baking powder

3/4

teaspoon

sea salt

2

teaspoons

extra virgin olive oil

or your preferred vegetable oil

3/4

cup

warm milk
Instructions
Stir together the flour, baking powder, and salt. Drizzle with the olive oil and stir again. Add the milk and stir, scraping down the sides and bottom of the bowl, until dough comes together. It should be a little sticky, but not extremely sticky. If it is extremely sticky, sprinkle on a tiny bit of flour until it is just a little sticky.

Knead dough for 2 minutes, then form it into a large ball. Place in a clean bowl and cover the bowl tightly with plastic wrap. Let the dough rest for 20 minutes.

Cut the dough into 8 equal sections and roll each section into a ball. Place the dough balls back in the bowl, cover tightly with plastic wrap, and let it rest for 15 minutes.

Heat a nonstick skillet on medium low for 5 minutes. While you are preheating the skillet, roll out a dough ball into a round shape, as thin as you can manage without making it so thin it will tear.

Place the tortilla in the skillet. Wait 30 seconds or so until the tortilla puffs up, and the side facing down has little golden brown spots. Flip it. Cook another 30 seconds or so until a few golden brown spots appear. Put on a plate and cover loosely with foil (add your cooked tortillas to this stack as you go, so they stay warm and moist until ready to serve).
Recipe Notes
To make these tortillas gluten free (yes, I've done it many times and it works perfectly), substitute Cup4Cup Multipurpose flour for the all purpose flour.
Nutrition Facts
Thick and Fluffy Flour Tortillas Recipe
Amount Per Serving
Calories 137
Calories from Fat 18
% Daily Value*
Fat 2g3%
Cholesterol 2mg1%
Sodium 229mg10%
Potassium 139mg4%
Carbohydrates 25g8%
Protein 3g6%
Vitamin A 35IU1%
Calcium 63mg6%
Iron 1.5mg8%
* Percent Daily Values are based on a 2000 calorie diet.
If you like Mexican food, also try these recipes from my collection: