These Vegetarian Buffalo Chicken Sliders are the perfect way to get that buffalo chicken flavor without the meat. Topped with wing sauce and blue cheese!
Vegetarian Buffalo Chicken Sliders
Grilling is a great American pastime, especially during the summer.  This summer, I've made grilled vegetables and grilled ribs, both of which were fun to make and very tasty.  That's how I choose the recipes that I like best; I choose the ones that are enjoyable both to make and eat.  When making food for a family get together, you want the focus to be on conviviality, not drudgery.
Plus, part of sharing your hospitality is making sure that everyone at the party can enjoy something delicious.  I've shared food with vegans, vegetarians, diabetics, and people who are lactose intolerant.  Each different dietary requirement requires a plan so that everyone feels welcome- and satisfied!
That's why I love using a little "Veggie Cuisine" to make sure that everyone is taken care of at our grill-outs.  MorningStar Farms makes great veggie Buffalo Chicken Wings that are perfect for offering a meatless option.  You can easily cook them in the oven while you've got other things cooking on the grill.  I've been enjoying these veggie Buffalo Wings for years, so I know you're going to enjoy these Vegetarian Buffalo Chicken Sliders that I've put together.
These veggie buffalo chicken sliders are an excellent addition to your "veggie cuisine" repertoire.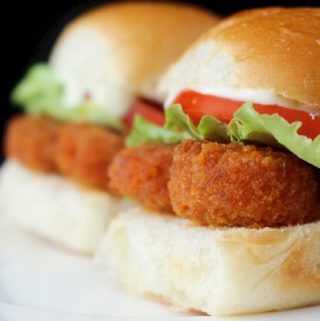 Vegetarian Buffalo Chicken Sliders
These Veggie Buffalo Chicken Sliders are the perfect way to get that tasty buffalo chicken flavor without the meat. They're topped with wing sauce, blue cheese, lettuce, and tomato!
Ingredients
2

packages

MorningStar Farms Buffalo Chicken Nuggets

1

dozen

dinner rolls

Blue cheese dressing

Wing sauce

Iceberg lettuce

2

ripe tomatoes for slicing
Instructions
Prepare 24 nuggets according to package instructions. While the nuggets are cooking, slice the rolls to create little sandwich buns. Slice the tomatoes so that you have 12 slices.

When the nuggets are done cooking, remove them from the oven and set them aside momentarily while you finish prepping the buns.

Baste the inside of the bottom halves of the buns with buffalo sauce. Spread blue cheese dressing on the inside of the top halves. Then, place 2 nuggets on each bottom half. Top with a slice of tomato and a piece of iceberg lettuce. Place the top half of the buns back on and serve immediately.
Looking for buffalo flavor that carnivores will appreciate?  Try my Frank's Red Hot Buffalo Chicken Dip!