I am so excited to be working with Litehouse salad dressings today to bring you this crisp and delicious wedge salad recipe!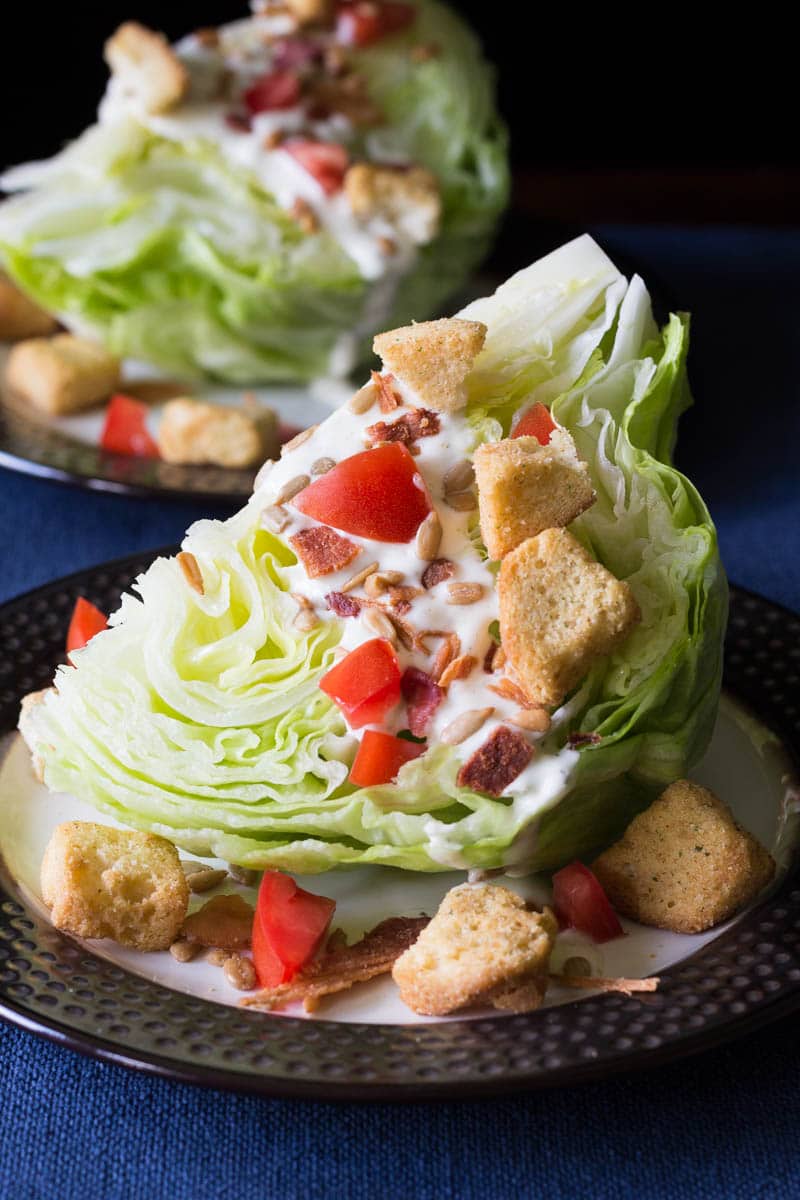 Wedge Salad Recipe
True confession time.
Once upon a time, long, long ago, I did not like salad at all.  In fact, I would eat just about anything else to get my veggies than salad.
Over the years, however, I began experimenting in an attempt to learn to like salad.  My mom, for example, loves salad and is an ideal salad-eating role model.  She loads her salads up with all sorts of interesting fixings.
I've taken a page from her book, so to speak, and have made lots of different salads that appeal to salad-lovers and salad-avoiders alike.
Today's wedge salad recipe combines classic salad flavors and textures to make an appealing dish that catches the eye and pleases the palate.
I think one of the things that helped me enjoy salad more was to shop for refrigerated dressings.  Using Litehouse Homestyle Ranch elevates the flavor of this salad.  It's fresher tasting and has plenty of piquancy.  Plus, since an iceberg wedge salad should be very well chilled, you'll definitely want a chilled dressing on top!
Summer is a great time to try new salads.  The contrast between the hot sun and the crunchy coolness of salad makes a salad taste perfect.  You can try all the flavors of Litehouse this summer and see which ones you like best.
Here are some of my favorite varieties to get you started.
Litehouse Homestyle Ranch Dressing (used in this recipe)
Litehouse Bleu Cheese Dressing
Litehouse Pear Gorgonzola Dressing
Opa by Litehouse Kalamata Feta Greek Yogurt Dressing
Litehouse Organic Ginger with Honey Dressing
Keep an eye out in the produce section for all of these and more.  You'll find them conveniently located right near the salad.  Litehouse dressings are packed with wholesome ingredients like buttermilk and real bleu cheese, so remember that "Cold is where it's sold" and pick up a bottle or two.
Tips for Making Iceberg Wedge Salads
Although you can prepare some of the ingredients ahead, you'll want to save splitting the lettuce heads until the last minute.  That will guarantee that you'll have nice, fresh, crispy lettuce.
Don't be afraid to substitute.  I do it all the time!  No sunflower seeds?  Try roasted cashew pieces!  No tomatoes?  Slice up an avocado instead!  The sky's the limit, so experiment, taste, and adjust to your liking.
Chill your salad plates just like a fancy restaurant.
These salads are easy to make, yet look impressive.  Try them at a dinner party or backyard BBQ to impress your guests.
Got salad forks?  They're the shorter forks, often with indentations at the bottom of the tines.  Use 'em if you got 'em!
Wedge Salad Recipe
This classic wedge salad recipe is made with crisp iceberg lettuce, crumbly bacon, creamy dressing, and more. You'll love the delicious flavor and texture!
Ingredients
1

head

iceberg lettuce

1

tomato

2

pieces

crisp bacon

crumbled

2

tablespoons

pepitas

sunflower seeds without hulls

1

cup

croutons

1/2

cup

ranch dressing

I used Litehouse Homestyle Ranch
Instructions
Chop the tomato and set aside.

Wash the head of lettuce in cool water. Pull off any limp or discolored leaves. Cut the lettuce in half from top to stem, then cut each half into two wedges. Rinse the wedges in ice water. You will have four wedges total.

Place the each wedge on a chilled plate. Drizzle each wedge with about two tablespoons of ranch dressing. Top with chopped tomatoes, bacon crumbles, pepitas, and croutons. Serve immediately.
Check out Litehouse Dressings!
This is a sponsored post written by me on behalf of Litehouse.