Print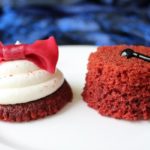 Doctor Who Red Velvet Cupcake Bowtie and Fez
This quick Doctor Who dessert is so easy, anyone can do it! Serve them at your next Doctor Who party or enjoy them as a special TV watching snack.
Carefully peel the paper off the cupcakes. Using a serrated knife, gently cut the top section off the cupcakes. Set aside the tops. Flip the cupcake bottoms over.

Put a dab of black icing on a black candy. Press gently into the center of the bottom of the cupcake to make the fez button. Draw a line of icing from the candy down the side of the cupcake to create the fez tassel. Repeat for all cupcake bottoms.

To make the bow tie, cut a strip of fruit leather about five inches long and a little over an inch wide. Press the ends of the fruit leather together to make a loop. Pinch the center of the loop to form the bow tie and set aside. Cut a small piece of fruit leather and wrap it around the center of the bowtie and press to seal in the back. Place the completed bow tie on the top of the icing.