This post is sponsored by FAGE; however, all thoughts and opinions are my own.
Yogurt marinated chicken uses just 2 magic ingredients to make chicken tender, flavorful, and juicy.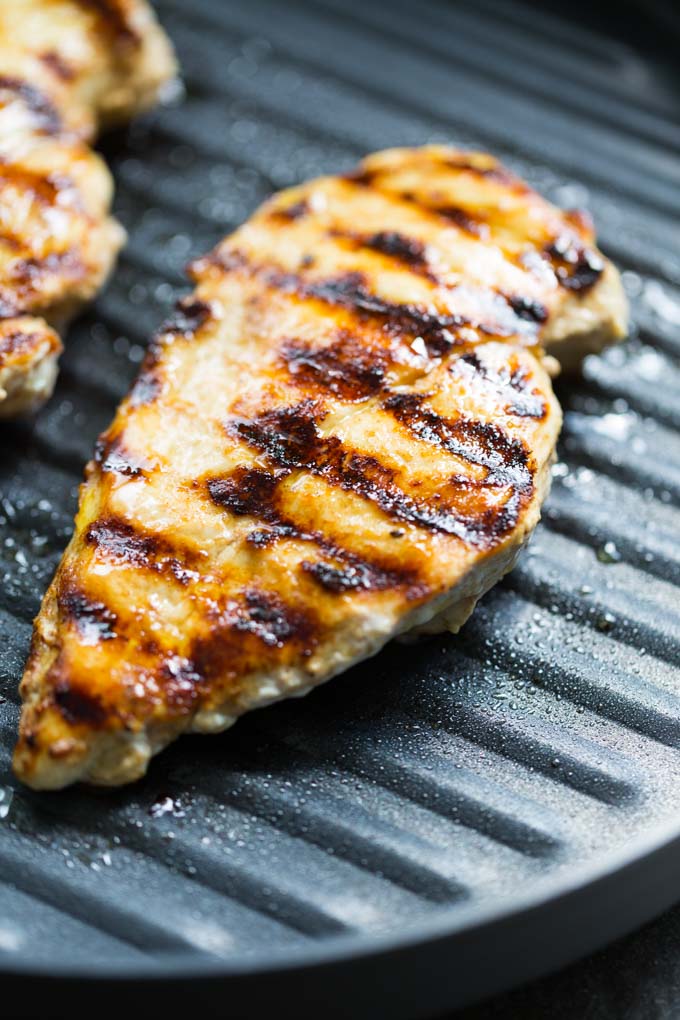 Yogurt Marinated Chicken
Are you tired of asking yourself "What's for dinner?" and drawing a blank? Would you like for someone to hand you a ridiculously simple solution? When I say this yogurt marinade for chicken has just 2 magic ingredients (plus some olive oil for cooking), I'm not kidding. Let's break it down.
---
Yogurt Marinated Chicken Ingredients
1. Yogurt
Yogurt is the key! Yogurt is the powerful magic maker that gently transforms tough protein (i.e. chicken) into tender, juicy perfection. I used FAGE Total 2% Greek Yogurt for this marinade.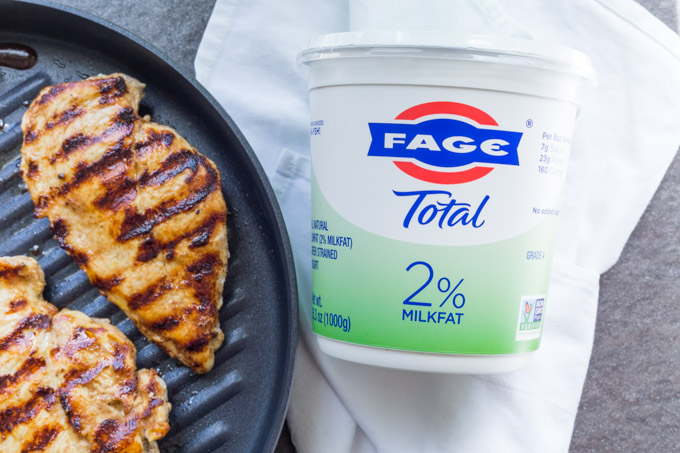 In fact, I use it all day long, from breakfast to dessert, because FAGE Total 2% Greek Yogurt is all-natural with a distinctive rich, creamy and delicious taste that works great in meals, snacks, and beverages.
I start my day with a strawberry lassi (a light Indian drink similar to a smoothie, made with milk, yogurt, frozen strawberries, and a touch of honey to sweeten). FAGE Total 2% Greek Yogurt is so protein-rich that adding it into beverages helps me meet my protein goal every day.
Of course, there's yogurt marinated chicken for lunch or dinner… and dessert is a breeze when you build a yogurt bowl from FAGE Total 2% Greek Yogurt—which is made with only milk and live active yogurt cultures, and has no added sugar—then top it with mango, cardamom, pistachios, and honey.
Let's take a look at the other magic ingredient in yogurt marinated chicken.
2. Garam Masala
If you don't already have garam masala in your pantry, it's time to get you some. Garam means "hot" and masala means "spice mix." Garam masala is not spicy hot like a chili pepper; it's warm, like cinnamon.
This spice mix originates from northern India, where it varies in content from region to region, but often includes black pepper, cardamom, cinnamon, cloves, coriander, nutmeg, and cumin. With its rich blend of flavors, garam masala adds warm complexity of flavor like no other spice blend. Plus, it's easy to buy pre-mixed in most grocery stores; if you can't find it, I've included a simple garam masala recipe in the main recipe below.
I recommend that you use thin sliced chicken breasts (or "butterflied" chicken breasts), so the surface area of the chicken will absorb maximum flavor from the spiced FAGE Total 2% Greek Yogurt marinade. If you don't have thin sliced chicken breasts, you can butterfly them yourself by slicing through the middle to make two thinner pieces of chicken.
---
Be sure to stock up on FAGE Total 2% Greek Yogurt and make healthier living enjoyable. You'll be surprised by just how versatile it is as an ingredient for all kinds of recipes made with yogurt.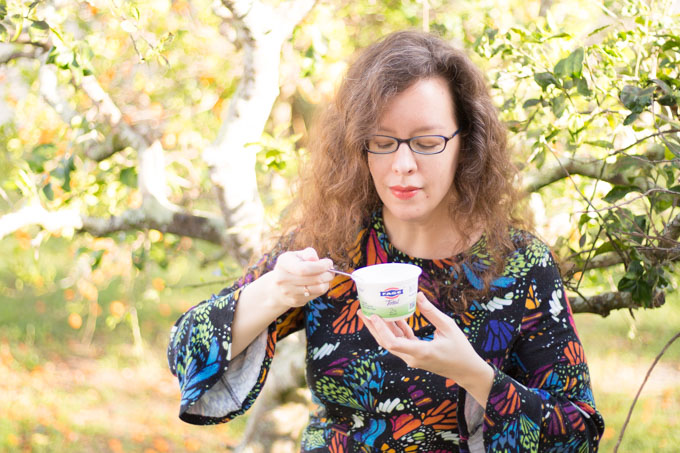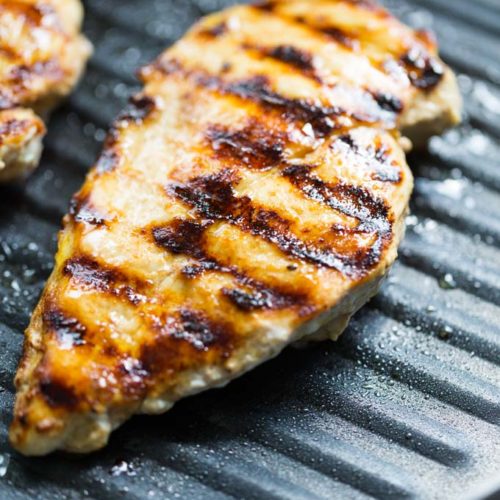 Yogurt Marinated Chicken
Yogurt marinated chicken uses just 2 magic ingredients to make chicken tender, flavorful, and juicy.
Ingredients
3

tablespoons

garam masala

see note

1 1/2

pounds

chicken breasts

butterflied or thin sliced

1/4

cup

olive oil
Instructions
Stir the garam masala into the yogurt until smooth and well combined. Coat the chicken all over with the spiced yogurt (it is easy to spread it on the chicken with the back of a spoon) and place it in a covered pan in the refrigerator. Discard any remaining spiced yogurt. Marinate for at least one hour, or overnight if possible.

Scrape excess yogurt off the chicken. Brush olive oil all over each piece of chicken. Preheat a skillet or grill pan over medium heat. Cook the chicken on one side for 5 to 6 minutes, then turn and cook on the other side for another 5 to 6 minutes.
Recipe Notes
If you can't find pre-made garam masala, make your own.  Combine 1 1/2 tablespoons ground cumin, 1 1/2 tablespoon ground coriander, 1 teaspoon ground cinnamon, 1/2 teaspoon ground cloves, 1/2 teaspoon ground nutmeg, 1/4 teaspoon ground black pepper, and 1/4 teaspoon ground cardamom.
Nutrition Facts
Yogurt Marinated Chicken
Amount Per Serving
Calories 384
Calories from Fat 180
% Daily Value*
Fat 20g31%
Cholesterol 112mg37%
Sodium 220mg10%
Potassium 629mg18%
Carbohydrates 4g1%
Protein 42g84%
Vitamin A 85IU2%
Vitamin C 2.1mg3%
Calcium 75mg8%
Iron 0.7mg4%
* Percent Daily Values are based on a 2000 calorie diet.