This spicy guacamole recipe shop has been compensated by Collective Bias, Inc. and its advertiser. All opinions are mine alone. #20MinutesToTasty #CollectiveBias
This spicy guacamole recipe is made with fresh avocados, jalapenos, lime juice, and sea salt.  It's perfect for guacamole lovers who love a little heat!
Spicy Guacamole Recipe
I wasn't going to tell you this story, but then I decided on full disclosure.
Here's what really happens behind the scenes at my house.
I had planned to make my spicy guacamole recipe to go with some Farm Rich Jalapeno Peppers.  I even picked up some Farm Rich Potato Skins to round it all out.
I brought my spicy guacamole ingredients and snacks home, carefully tucking them away in their appointed storage areas.
Since wanted to make the guacamole and the jalapeno pepper snacks together, I told everyone to resist the temptation to eat the good stuff until I was ready to take photos.
Famous last words.
Fast forward to Monday night.  The cupboard was a little bit bare.  My stomach was rumbling.  I stared into the freezer at the Farm Rich boxes.
I quietly slid the box of Farm Rich Potato Skins out, preheated the oven, and placed just a few potato skins and jalapeno peppers on the baking sheet.
Soon, a lovely cheese and bacon scent began wafting around the kitchen, prompting my eldest daughter to come in to investigate.  What's that smell, Mom? she asked.  I told her about the potato skins.
She's not usually a baked potato kid, so I wasn't worried that she would eat them all up.
Right.
So when they were cool, I let her have a taste.  Of course, she loved them, so I gave up and tossed the rest of the potato skins on a baking sheet.  The rest of the family took care of them in short order.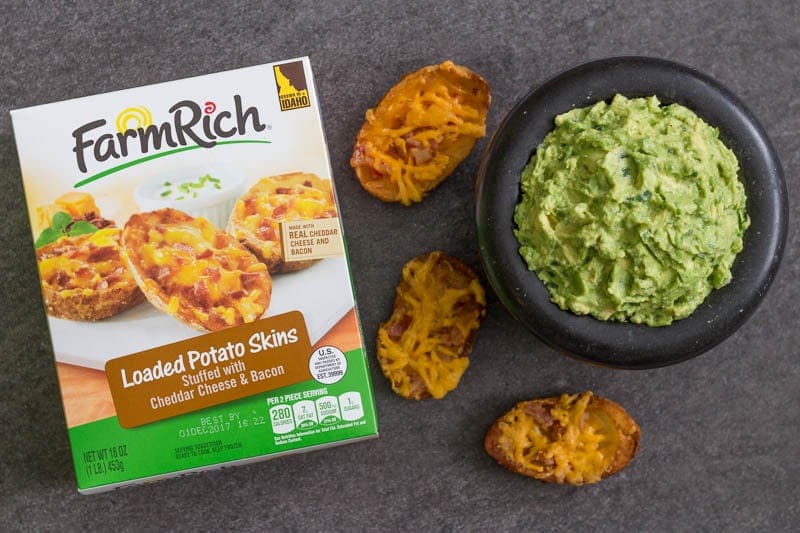 Adios, potato skins.  Hello, shopping trip.
But I didn't really mind picking up some more, because they were just so darn good.  Plus, I couldn't let the rest of my Farm Rich Jalapeno Peppers get lonely.  Having some of these products hanging around the freezer makes it easy to be just 20 minutes away from something tasty.
Clearly, it's great food the whole family can enjoy!
Once I had my replacement boxes of Farm Rich Jalapeno Peppers and Farm Rich Loaded Potato Skins, I was able to make them alongside the guacamole.  I'm a guacamole fanatic and a lover of spicy foods, so it only made sense to double down on the spiciness by combining jalapeno guacamole with jalapeno poppers.
I love how Farm Rich Jalapeno Peppers are made with wholesome ingredients and are easy and fast to make.  If you enjoy them as much as I do, you'll want to join the Farm Rich Loyalty Club to get exclusive offers, news, and recipes.

Tips for Making Spicy Guacamole
Guacamole texture is really a thing of personal preference.  Some people practically whip it smooth, while others (like me) just barely smash the guacamole.  It's up to you, and there's no wrong way to enjoy guacamole.
I like to use sea salt, but you can use whatever kind you like.  Season to taste.
Watch out for jalapeno seeds!  They might add a little more heat than you bargained for.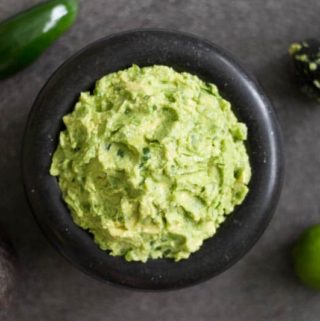 Spicy Guacamole Recipe with Jalapeños
This spicy guacamole recipe is made with fresh avocados, jalapenos, lime juice, and sea salt. It's perfect for guacamole lovers who love a little heat!
Ingredients
2

jalapeno peppers

2

avocados

1-2

tablespoons

lime juice

fresh is best

Sea salt

to taste
Instructions
Remove the seeds and stems from the jalapenos. Chop them very fine, until they resemble relish.

Halve the avocados and scoop the flesh into a bowl. Add a tablespoon of lime juice and all of the chopped jalapeno. Sprinkle on a pinch of sea salt.

Smash the ingredients together until combined. Taste and add more lime juice or salt if desired. Serve immediately.
Find Farm Rich Products at Walmart
You can find these Farm Rich products at Walmart in the Snacks & Appetizers section of the frozen food aisle.
Get more inspiring ideas from Farm Rich!