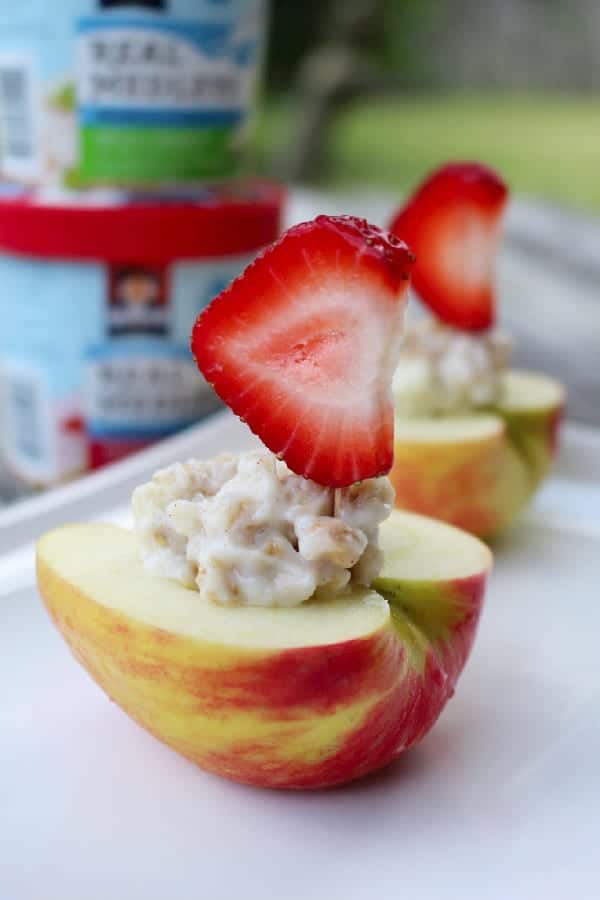 Apple Boats with Strawberry Sails and Yogurt
I always love to try new things, so when I got the chance to sample new Quaker® Real Medleys® Yogurt Cups, I was both excited and intrigued.
In the world of yogurt, there's been nothing like this before.  Not only is it filled with real ingredients that offer quality and convenience for breakfast, but it's the first shelf-stable convergence of granola, fruit and yogurt – all in a single serve cup!
Since it's shelf-stable, you can keep it in your pantry- just add cold milk, stir, and wait 2 minutes, and it transforms into yogurt right in the cup.  Perfect for taking with you on the go, and adding milk when you get where you're going.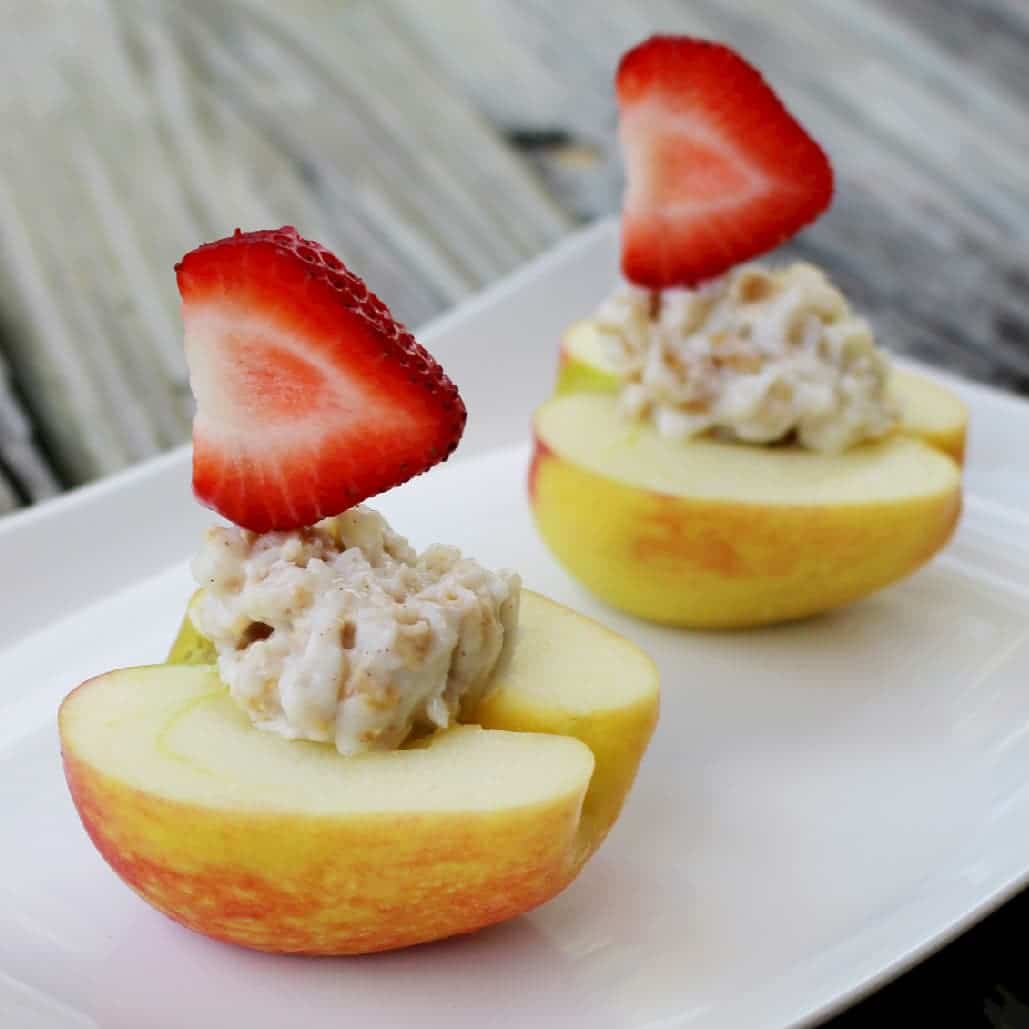 Crunchy.  Cool.  Yum!
I was surprised by the taste and texture of the yogurt itself.  If you hadn't told me that it was just stirred up from combination of shelf-stable Quaker Real Medleys Yogurt Cup and some cold milk, I'd have thought you just pulled it out of the fridge.  It was so filled with granola, fruit, and nuts, that it was really delicious and satisfying.  Plus, it has 25 grams of whole grains and 10 grams of protein once cold milk is added.
So what do you do with a new product like this?  Here's a few ideas:
Start your day with it!
Bring it to work as a better-for-you snack.
Take it on the road and add milk when you get there.
Of course, my idea was to carve apples into boats, fill them with yogurt, and decorate them with strawberry sails.  That's just the way my mind works.  Something about this yogurt just feels playful!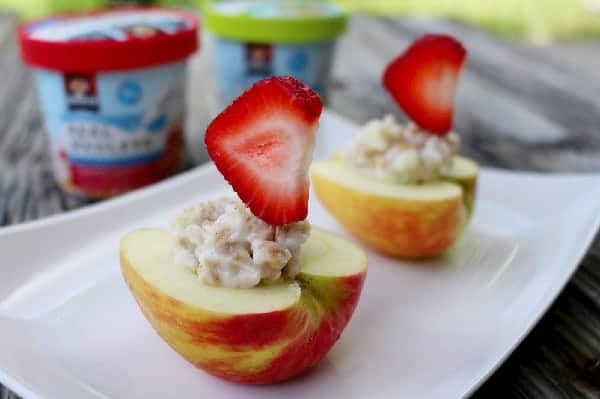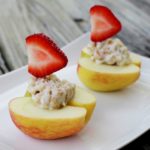 Apple Boats with Strawberry Sails and Yogurt
Apple boats are filled with a crunchy yogurt mixture and topped with strawberry slices for sails. These apple boats are the perfectly playful snack!
Ingredients
2

Apples

Lemon juice

Cold milk

for the Quaker Real Medleys Yogurt Cup, about half a cup

1

Quaker Real Medleys Yogurt Cup

or substitute 3/4 cup of yogurt and 1/3 cup granola of your choice, and omit the milk

2

Strawberries

Toothpicks
Instructions
Slice the apples in half from the top to the bottom. Cut a very thin, flat slice off the uncut side of the apple, to make a small flat base that will keep the apples from wiggling or tipping. Use a sharp edged spoon or melon baller to scoop out the center part of the apple. Baste the cut parts of the apple with lemon juice to prevent browning.

Make the Quaker Real Medleys Yogurt Cup with cold milk according to the package directions. If you are not using this product, mix your chosen yogurt and granola together.

Scoop the yogurt/granola mixture into the center of the apples. Cut a slice from the center of a strawberry, slide it onto a toothpick, and stick it in an apple as shown. Repeat for all other servings. Serve immediately.