This baked artichoke dip recipe is a sponsored post written by me on behalf of Classico Riserva.  All opinions are 100% mine.
Creamy Rosa Baked Artichoke Dip
Everyone's always looking for the perfect baked artichoke dip.  Well, I am, at any rate.  And I'd bet quite a few of you out there are searching as well!
Over the years, I've had many a different version at various restaurants.  After a while, they all start to blend together, and I wish for an artichoke dip with a little more flair.  Something to kick up the flavor and make it extra memorable.
I tested many different ideas and kept a notebook to record my thoughts.
All that thinking led to coming up with a delicious new version to share with you.  I'm using pasta sauce to make a "pasta rosa" version of baked artichoke dip.  Typically, pasta rosa sauce is alfredo sauce flavored with Italian tomato sauce, but in this case, we're going to make it even creamier by flavoring cream cheese with tomato sauce.
I was inspired by the new Classico Riserva Pasta Sauce.  This new product has exceptional taste that will really take your meals to the next level.
Classico Riserva Pasta Sauce comes in several flavors.
Marinara
Eggplant & Artichoke
Roasted Garlic
Arrabbiata and Puttanesca
Each one is made with vine-ripened tomatoes, herbs, spices, extra virgin olive oil, and sea salt.  They have no artificial ingredients or added sugar, so you can rest assured that you're opening up a bottle of the good stuff.
One of my lucky readers will win a package of two VIP coupons for Classico Riserva Pasta Sauce, so be sure to enter for your chance to win.
Classico Riserva Pasta Sauce Coupon Giveaway

You can use your leftover Classico Riserva sauce in all kinds of dishes.  From lasagna, to spaghetti, to pizza, and more, you're sure to find a way to liven up the taste of all your favorite foods with some Classico Riserva sauce.
What to Serve with Baked Artichoke Dip
If it's baked artichoke dip, I'll scoop it up with just about anything.  However, there are a few favorite "dippers" I return to time and time again.  Here are some of my favorite things to dip.
Bagel chips
Toasted French bread rounds
Baked pita points
Hot naan bread
Fresh Italian bread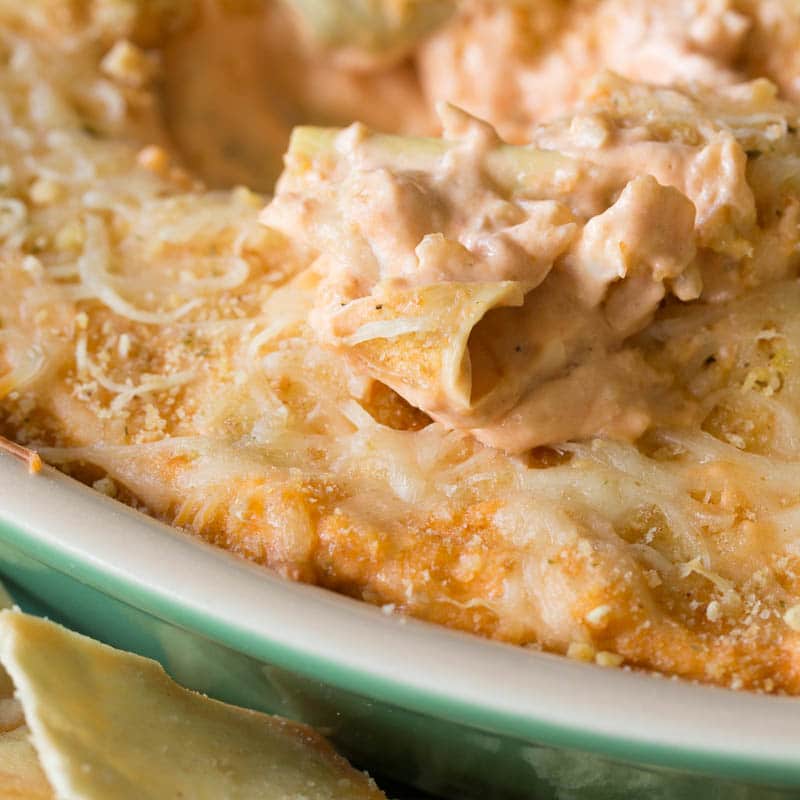 Tips for Making Baked Artichoke Dip
If you will be serving this directly to your table, choose a cute baking dish.  Somehow, that makes it mroe festive.  I like to fix it for myself and pretend I'm dining at a restaurant!
Use any kind of breadcrumbs, such as Italian seasoned bread crumbs or panko, to add a little extra flavor and texture.  Panko breadcrumbs are crunchy, and seasoned breadcrumbs add a nice flavor and a pleasant crust on top.  You can also get the best of both worlds by using a little of both.
If you have leftovers, let cool before covering.  If you cover the dish too soon, it will trap steam, which will condense and leave water sitting in the dip.  To reheat, simply bake again until hot and slightly bubbly.
Creamy Rosa Baked Artichoke Dip
This creamy rosa baked artichoke dip is full of rich, cheesy goodness with just the perfect tang of tomato flavor. Bake it today and enjoy!
Ingredients
8

ounces

cream cheese

1/2

cup

tomato pasta sauce

I used Classico Riserva

1

pinch

sea salt

Fresh ground pepper

1/2

cup

Italian shredded cheese blend

2

tablespoons

mayonnaise

1/2

cup

drained canned artichoke quarters
Optional
Seasoned Italian breadcrumbs

or panko breadcrumbs

Extra shredded cheese
Instructions
Preheat the oven to 350 F.

In a food processor, combine the cream cheese, tomato sauce, salt, pepper, shredded cheese, and mayonnaise. Process until well combined, then remove the blade.

Use a spatula to fold in the artichoke quarters, breaking up the artichoke pieces as you go.

Scrape the dip into a baking dish. Top with additional shredded cheese and breadcrumbs if desired. Bake for 20 to 30 minutes, or until the dip is puffy, browned, and very hot. Let cool slightly, then serve.
Look for all the flavors of Classico Riserva Pasta Sauce available at your favorite grocery store!