This cinnamon roll apple galette is a fun twist on the traditional French galette, using cinnamon roll dough wrapped around apples.  This recipe was sponsored by Pillsbury.
Cinnamon Roll Apple Galette
Galettes are one of those aspirational food items that frequently grace the pages of fancier food magazines.
"Look at me," the galette seems to say, "The person who made me is clearly a cook of taste and skill who inhabits an expensively renovated French farmhouse."
In that sense, the galette in question may appear to be slightly intimidating.  Too much je ne cais quoi, I suppose.
But the truth is that galettes are actually one of the easier desserts to pull off.  Don't believe me?  Watch the video.
Less complicated than a pie, yet still maintaining all the benefits of a pie, the galette is attainable by all.
In essence, a galette is simply a crust that is partially wrapped around a filling.  In many cases, it's a fruit filling, but savory galettes do exist.
For today's recipe, I'm swapping out the traditional pie crust of the galette with a crust made of cinnamon roll dough. I may get arrested by the food police for assault on culinary tradition with intention to bake, but I'm willing to take that risk.
To keep things quite simple, I'll be using Pillsbury Cinnamon Rolls that I picked up at Walmart.
Using Pillsbury Cinnamon Rolls makes it easy to throw together this galette for any gathering.  In springtime, that might mean an Easter party, a brunch, or a even a spring birthday.
Saving time means having more time to spend how you want.  Kick back with the family, or grab a good book and plop yourself down on the couch.  Or run around in the fresh spring air.  The sky's the limit.
Over the years, I've put a lot of thought into which type of apples to use for the cinnamon roll apple galette filling.  In fact, I tested a dozen kinds of apples to figure what was the best apple for apple crumble.
Yes, I can get a bit crazy over recipes.  (It's my job!)
My conclusion was that the absolute best apples for baking are Honeycrisps, followed by Pink Lady and Fuji.  These varieties are pretty widely available, but if you have a tried and true local apple that you want to use, by all means, do so.
Be sure to bookmark and share this cinnamon roll apple galette recipe for all your upcoming good times and gatherings!
Cinnamon Roll Apple Galette
This cinnamon roll apple galette is a fun twist on the traditional French galette, using cinnamon roll dough wrapped around apples.
Ingredients
1

package

Pillsbury Cinnamon Rolls

8 count

1/2

apple

cut in 8 slices
Instructions
Preheat the oven to 375 F and line a baking sheet with parchment paper.

On the parchment paper, lay out the 8 cinnamon roll dough pieces. Start with one in the center, then arrange the rest around it. Squish the dough down with your fingertips until all the pieces are joined together in a flower-like shape. Make sure the seams are sealed.

Arrange the apple slices. Put 4 in a row across the center, then put 1 slice with the rounded edge facing outward at the top, bottom, and both sides of the 4 central slices. Fold the edges of the cinnamon roll dough over the outer ring of apples and pinch the edges together to seal the seams.

Bake for 15 minutes, or until the crust is golden brown. Let cool slightly, then warm the icing included with the rolls and drizzle it over the galette. Serve immediately.
Nutrition Facts
Cinnamon Roll Apple Galette
Amount Per Serving
Calories 331
Calories from Fat 126
% Daily Value*
Fat 14g22%
Sodium 660mg29%
Potassium 24mg1%
Carbohydrates 49g16%
Protein 4g8%
Vitamin C 1.1mg1%
Iron 1.4mg8%
* Percent Daily Values are based on a 2000 calorie diet.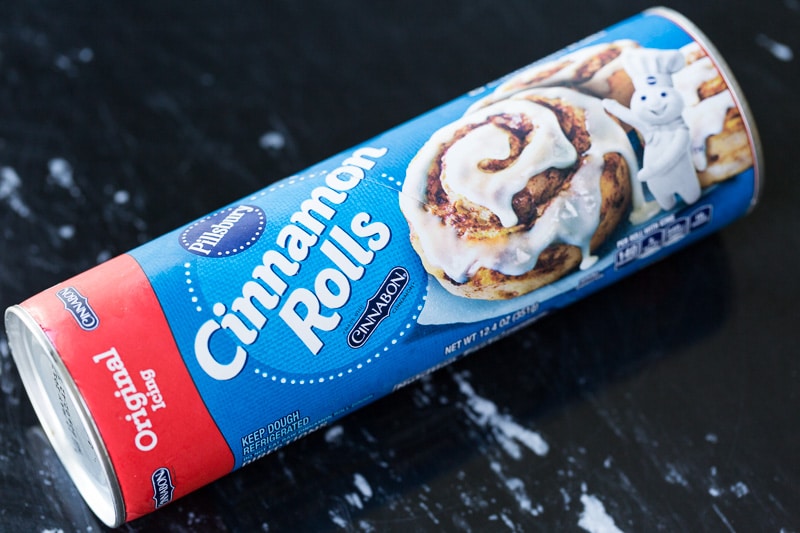 Get more inspiration from #EasterwithPillsbury and Walmart!