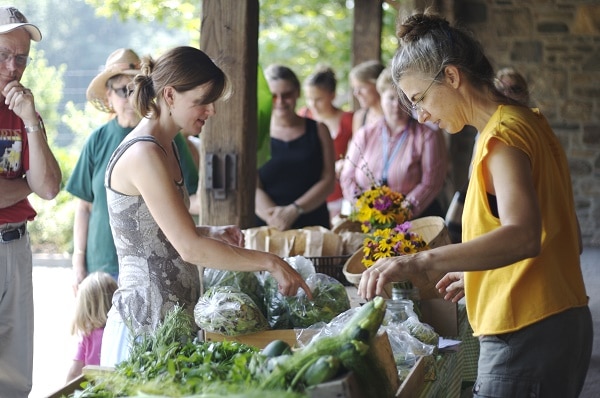 Every October 24, thousands of events all around the country bring Americans together to celebrate and enjoy real food and to push for improved food policies. This year Food Day is partnering with award-winning filmmaker, designer and philanthropist Susan Rockefeller to release her acclaimed new documentary Food For Thought, Food For Life for free online and in conjunction with thousands of events nationwide.
What inspired you to make Food for Thought, Food for Life?
I was trying to get at root cause of obesity and other health issues. I began by examining gluten intolerance, high cholesterol, things like that, which eventually led to agriculture and climate change. Agriculture plays a large part in climate issues. The chemicals fertilizers and pesticides we use are wreaking havoc on our planet.
I questioned how to make a healthier food system and empower people to be a part of it. At its heart, Food for Thought, Food for Life is educational; it reveals the mysteries and beauty of soil; it exposes where our food comes from. I wanted people to feel empowered three times a day with their choices. I believe people can get overwhelmed by the enormity of the problems that face us. BUT we can start with simple actions like asking where our food comes from. This is profound and also rewarding.
Tell me about the artists featured in the film, such as Cloud Cult.
I wanted to integrate the wisdom of science with the beauty and mystery of our earth. Most artists paint landscapes of some sort. Art elevates us; it's a universal language so combining it with science delivers a powerful message. Cloud Cult makes cool and amazing music. They live off the grid and grow their own food, so it just felt right to work with them.
How did you determine who you wanted to interview for the film?
I thought of influencers in space and asked people who know a lot about the food space – Dan Barber is amazing. Fred Kirchemann is a genius. Ron Finley also. There are so many important voices to be heard. On our film website, you can learn about all the people included in the film.
Tell me about Food Day and how this film is a part of it. How & when did Food Day get started?
The film is being released with Food Day, as a free film for everyone to watch and enjoy. There are over 8,000 Food Day events across the country, so look up an event near you an join! Here is an article about the launching of Food Day, and also the Food Day website.
What do you most want people to remember after they watch Food for Thought, Food for Life?
We all have to eat, so why not make this both pleasurable and empowering. Through our food choices we can influence our own health and the health of our planet. So much environmental messaging is about giving up on things. This film is a celebration of eating well! Food is delicious and the earth's bounty is amazing. But we must take proper care of her. We need better soil health and biodiversity. I would encourage people to get to know their local farmers, ask important questions, support their efforts. If you're able, support NGOs working like Stone Barns Center for Food and Agriculture to make agriculture a healthier system for all. People say this approach costs more but better a little more cost upfront and a healthier life than the costs of medical care ranging from heart disease to obesity on the backend. We can all be a part of this change. Not for future generations but for right now!
Many of my readers are busy moms who are short on time (so am I, for that matter). What are some actions we can take today that will make a difference?
Eat as many fresh vegetables and fruits as you can. Refrain from meat—one of the easiest ways to start is with a meatless Monday. It's okay to start small. Check out Instagram as well as food blogs for inspiration (in particular vegan)! It's often as simple as drizzling olive oil over a platter of salted tomatoes and basil. Kids will love it. I tell my kids cherry tomatoes are nature's candy. Start small and grow it from there.
Where can people see this film?
Oct 24 on www.foodforthoughtfilm.com and on Food Day's website http://www.foodday.org/.
I want this film to go to as many festivals, schools, community centers and universities as possible. It will be available on The Tribeca Film Festival's short list streaming service in December with a food related package of films. Most importantly, people can host their own film screenings with our screening kit.
I also have a jewelry collection made largely from recycled sterling silver that celebrates agriculture: bees, honeycombs, pitch forks, all available as bracelets, necklaces and more! This will launch on my website www.protectwhatisprecious.com to help start the conversation, and also at the shop at Stone Barns Center for Food and Agriculture.
Photos courtesy of Food for Thought, Food for Life.