This jasmine rice pudding recipe was sponsored by Veetee Rice USA.  All opinions are my own.
It's so easy to make rice pudding with fragrant jasmine rice!  This jasmine rice pudding is flavored with coconut milk, fresh lime, honey, and spices.
Honey Coconut Lime Jasmine Rice Pudding
Rice pudding is one of the most comforting foods out there.  Soft and sweet, served warm or cold, it's a classic dessert that's surprisingly easy to prepare.
I love jasmine rice for its floral fragrance, so I thought it would be perfect to use for a delicately flavored rice pudding.
This jasmine rice pudding gets its bouquet of scent from a unique combination of ingredients.  Honey provides its own aromatics, while lime juice brightens with a citrus twist.  Coconut milk adds a tropical touch, while the warm spices of cardamom and cinnamon bring an earthy tone.
All together, they make a lovely rice pudding.  I make my rice pudding the easy way, without eggs, so there's no worry about curdling or getting too firm or dry.
To make this jasmine rice pudding, I'm using a wonderful new product called Veetee Dine In Rice.  Veetee Dine In Rice delivers the taste and flavor of fluffy, aromatic home-cooked rice in just 2 minutes from your microwave or wok.
It's remarkably convenient, and I was very impressed with how good it was.  If I hadn't put it in the microwave myself, I would have thought someone had picked it up fresh from a local restaurant.
Veetee Dine In Rice comes in a variety of flavors suitable for many meal applications.
Thai Jasmine Rice
Basmati Rice
Basmati & Wild Rice
Wholegrain Brown Rice
Long Grain Rice
Whole Grain Brown Rice and Quinoa
Red Beans & Rice New Orleans Style
Chicken Flavor Rice
Golden Vegetable Rice
Pilaf Rice
Spanish Rice
I used Thai Jasmine Rice for today's recipe.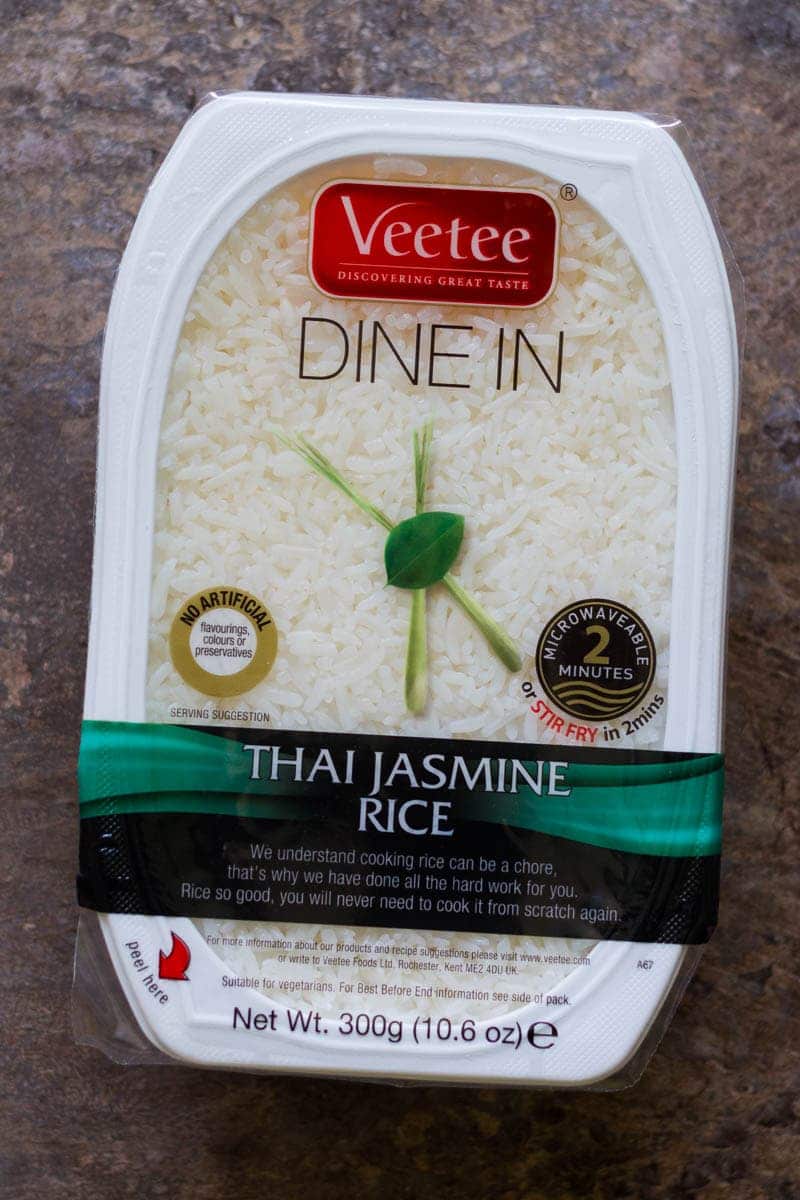 In addition to great taste and texture, all of their rice varieties have a 12 month shelf life, making it easy to stock up your pantry.
You can win two 6-packs of Veetee Dine In Rice in the flavors of your choice (a total of 12 containers of rice)!
Tips for Making Jasmine Rice Pudding
I usually use whole milk, because it reduces nicely and lends a satisfying mouth feel.
Coconut milk is sold in cans and is different from coconut water or coconut cream.  Check the label to make sure you have the right thing.  Leftover coconut milk makes a wonderful curry base!
Green cardamom comes in two forms: preground (expensive), and pods (affordable).  Buy the pods and grind the seeds yourself for the best flavor and best price.
Rice pudding can be served slightly warm, or chilled.  Either way, wait until the last second to garnish with honey.
The higher quality the honey, the better.  The honey flavor really shines in this recipe, so pick a good one.
Honey Coconut Lime Jasmine Rice Pudding
It's so easy to make rice pudding with fragrant jasmine rice! This jasmine rice pudding is flavored with coconut milk, fresh lime, honey, and spices.
Ingredients
2

cups

cooked jasmine rice

such as Veetee Dine In Thai Jasmine Rice

2

cups

milk

2

tablespoons

coconut milk

Squeeze of fresh lime juice

2

tablespoons

honey

plus more to garnish

1/4

teaspoon

cinnamon

Seeds of 1 green cardomom pod

finely ground
Instructions
Combine the rice, milk, coconut milk, lime juice, and honey in a pot. Stir together. Taste the mixture; it should be slightly sweet, but not too sweet, because you'll be garnishing with honey later.

Bring to a gentle boil uncovered. Reduce the heat until the mixture just barely bubbles.

Simmer for about 15 to 20 minutes, or until the mixture has thickened enough to sit on a fork without dripping liquid. Keep in mind that the pudding will thicken even more once it cools.

Let cool slightly. Prepare portions, then garnish generously with more honey and serve immediately.
Find Veetee Dine In Rice near you, or shop on Amazon!