This "How to Make French Press Coffee" shop has been compensated by Collective Bias, Inc. and its advertiser. All opinions are mine alone. #SilkSipToSpoon #CollectiveBias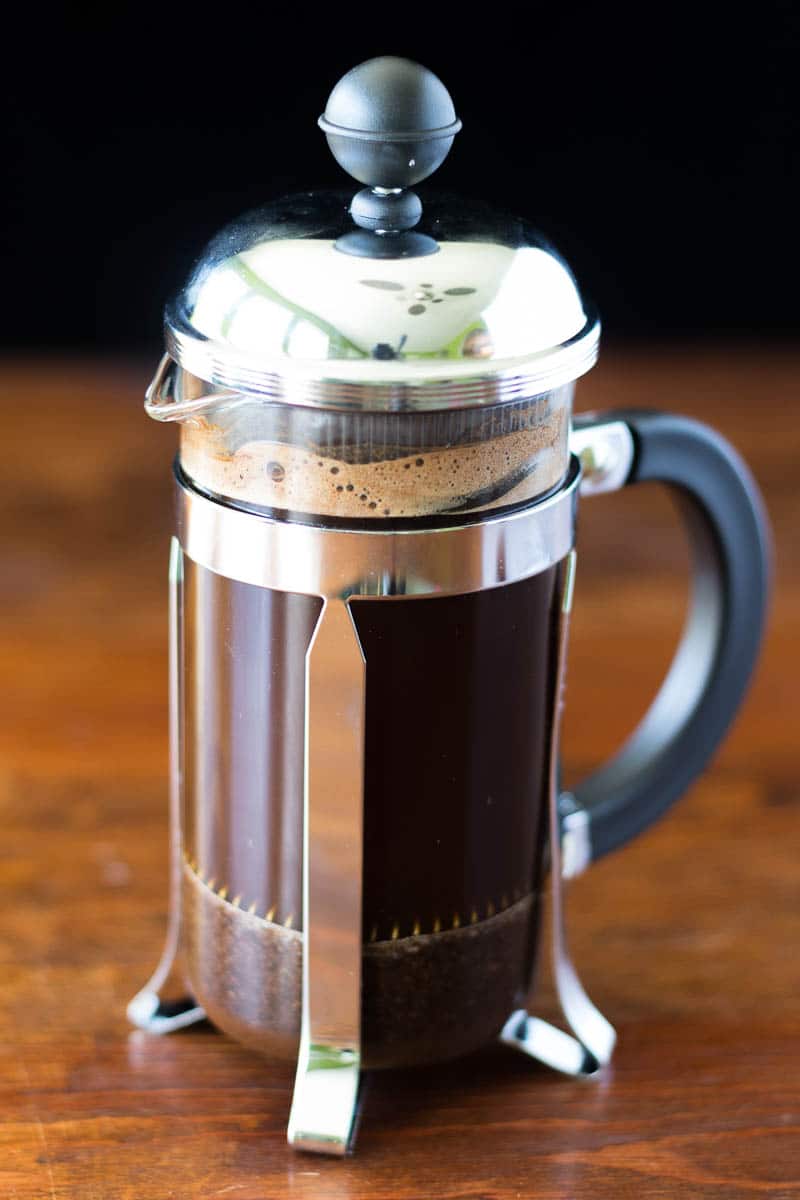 How to Make French Press Coffee
Please tell me why I didn't learn to do this years ago.  Making French press coffee is so simple that I found myself literally slapping my own forehead at how I had missed out on this.
The truth is that coffee has become a driving force in my life relatively recently, so (thankfully) I can't regret too much lost time.  However, the discovery of how to make French press coffee is something I must share with any of you who have not tried it yet.
Since learning how to make French press coffee, I have made it part of my daily routine.  I have the most adorable mini French press, and just looking at it sitting on the counter brings a smile to my face.
Today, I'm using a new creamer from Silk.  Silk Almond Creamers are non-dairy, non-GMO, gluten free, and lactose free.  Did I mention they come in lovely flavors?  There's Vanilla, Caramel, and Hazelnut to choose from!
I picked up my Silk Almond Creamer in the dairy case at Walmart.
All three flavors have no artificial flavors or colors, no cholesterol, and no saturated fat.  The subtle nutty flavor, combined with Vanilla, Caramel, or Hazelnut, can transform your coffee into a real coffeehouse style flavored coffee.
They're a perfect addition to your daily cup of coffee.  Plus, Silk Almond Creamers are an excellent option for when you have company that prefers dairy-free creamer.  Try adding it to your French press coffee!
You'll find that using the French press coffee method will add a richness and depth of flavor to a cup of coffee that drip coffee just can't math.  Plus, it's grand fun.  Enjoy!
How to Make French Press Coffee
If you've never learned how to make French press coffee, you're missing out! It's easy as pie and produces the most perfectly brewed coffee.
Ingredients
2

tablespoons

coarsely ground coffee

French press grind

6

ounces

Water
Instructions
Remove the lid and plunger assembly from the French press coffee pot.

Add 2 tablespoons of ground coffee for every 6 ounces of water you plan to use. To make more than one serving, multiply the measurements above by the number of servings you wish to make.

Add very hot (between 195 and 205 F) water (6 ounces per serving).

Stir gently to swirl the coffee through the water.

Place the lid on with the plunger all the way up. Steep for about 4 minutes.

Gently and slowly press the plunger all the way down.

Serve immediately. Don't let the coffee sit in the pot, or it may get too strong.
Nutrition Facts
How to Make French Press Coffee
Amount Per Serving
Calories 1
% Daily Value*
Sodium 3mg0%
Potassium 83mg2%
* Percent Daily Values are based on a 2000 calorie diet.
Get more Silk Almond Creamer inspiration!