This Kentucky Hot Brown Ham Sliders shop has been compensated by Collective Bias, Inc. and its advertiser.  All opinions are mine alone. #ForTheLoveOfHam #CollectiveBias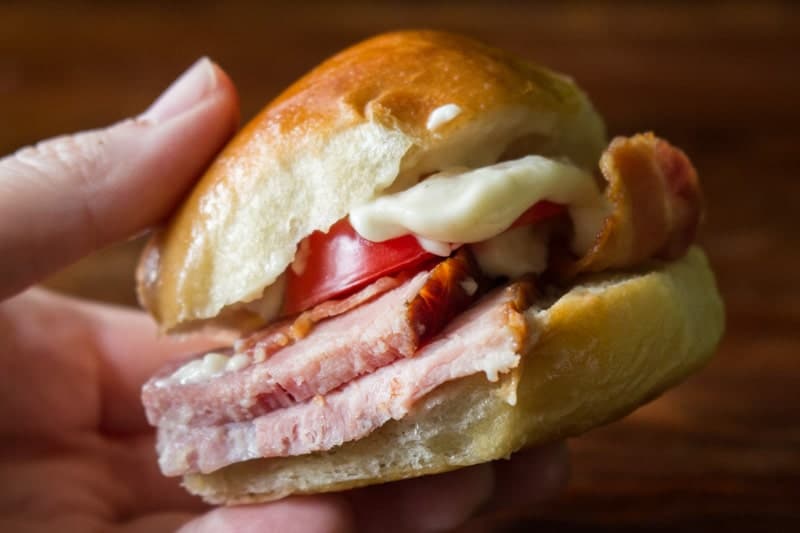 Kentucky Hot Brown Ham Sliders
At this time of year, we make plans for all kinds of gatherings.  Some are traditional holiday gatherings with recipes passed down for generations.  Some are off-the-cuff parties that make up in jollity what they lack in formality.  Each get-together requires a different approach.
Although I love a good formal gathering as much as the next person (especially when I'm not the one hosting it), my heart belongs to the parties where everyone, including the host, can just relax.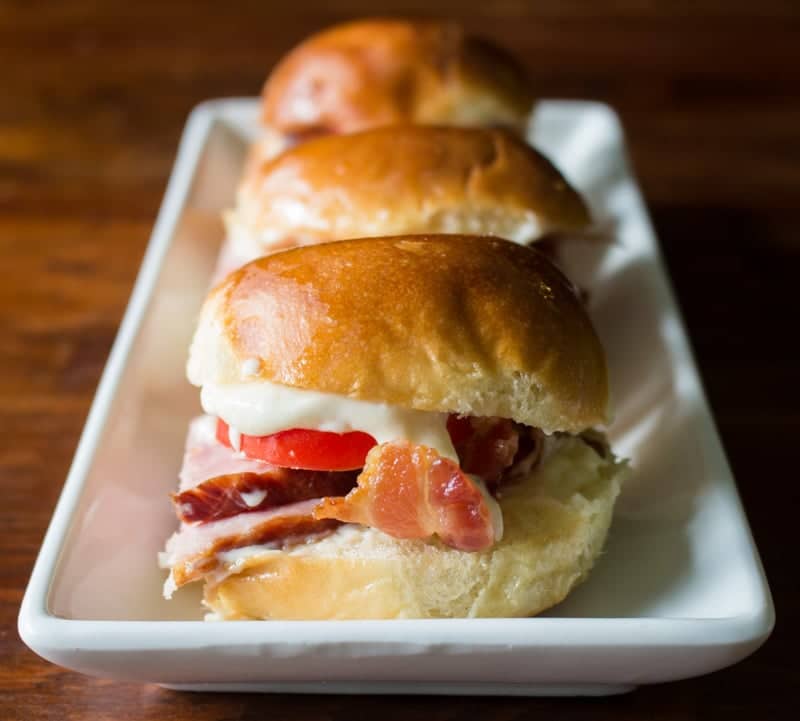 That's why I'm bringing you a recipe that's a little unconventional.  If you're reading this, you might just be the kind of person who enjoys a little informality.  If you are, you're going to love this.
Let's start with the ham.  I picked up a beautiful Hormel Cure 81 Bone-In Ham at Walmart in the refrigerated meat case in the center of the meat aisle.
The inspiration for these Kentucky Hot Brown Ham Sliders is, of course, the classic Kentucky Hot Brown.  Originally created at the Brown Hotel, this sandwich was traditionally served open-faced, and featured toasted bread, turkey, Mornay sauce, bacon, and tomatoes.  It was intended to be eaten with a knife and fork.
We're going to change things up a bit.  First, we're going to swap out the turkey, and swap in some ham.  Second, we're going to dispense with silverware and turn this sandwich into a smaller, handheld masterpiece.
Once you have your nice, warm sliders, you can relax on the couch and nosh alongside friends and family, in a totally casual way.  No forks and knives required.  Isn't that wonderful?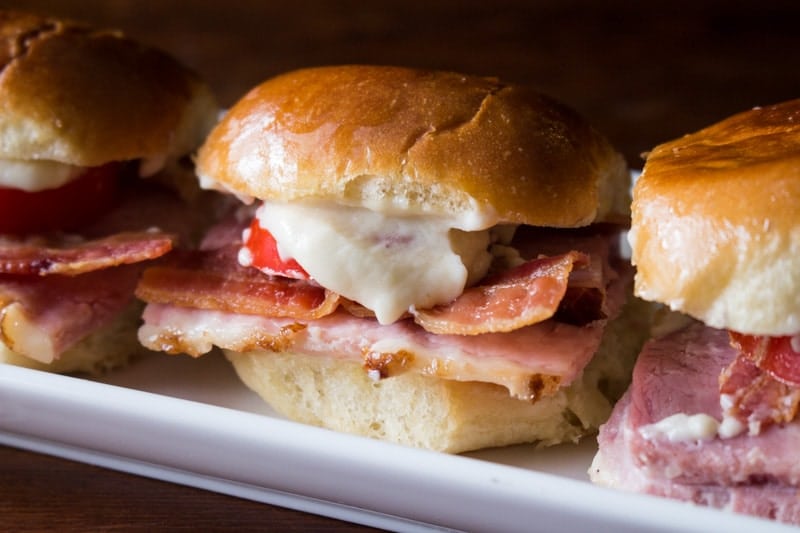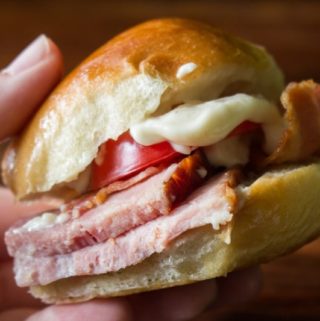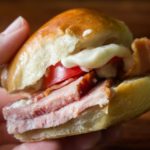 Kentucky Hot Brown Ham Sliders
These Kentucky Hot Brown Sliders with Ham are great for parties. No knife and fork required for eating these tasty little sandwiches!
Ingredients
For the Mornay sauce
1 1/2

tablespoons

unsalted butter

1 1/2

tablespoons

all purpose flour

1 1/2

cups

heavy cream

1/4

cup

Romano cheese

Pinch of nutmeg

Salt and pepper
For the Sliders
12

soft dinner rolls

do not pull apart

1

tablespoon

unsalted butter

softened

Mornay sauce

see above

1

pound

sliced ham

4

slices

of crisp cooked bacon

4

Roma tomatoes
Instructions
For the Mornay Sauce
In a pot, heat the butter over medium heat until it melts. Add the flour and whisk to make a roux, or paste, and continue to cook for two minutes. Add the cream and whisk until smooth. Bring to a bubble and let simmer for 3 minutes. Remove from heat and whisk in the Romano cheese. Add the nutmeg and salt and pepper to taste.
For the Sliders
Preheat the oven to 400. Lay out two sheets of foil; each should be larger than one group of 6 rolls.

Using a serrated knife, horizontally cut through each group of rolls, creating a top and a bottom.

Carefully turn each group of buns so that the bottom is facing upwards. Gently rub the softened butter all over the bottom of the buns and down the sides. Once the bottom is buttered, flip each group of sliders directly onto its own piece of foil. Then rub the butter over the tops of the sliders and down the sides.

Open up both groups of rolls and spread Mornay sauce generously all over the inside of the top and the inside of the bottom. On each bottom, layer half of the ham, half of the bacon, and half of the sliced Roma tomatoes. Replace the top halves of the rolls.

Place another piece of foil over the top of each group, then pinch or roll the edges of the top and bottom foil to seal the sliders inside, making two packets of sliders.

Place both foil packets on a baking sheet. Bake for 7 minutes, then flip both packets over and bake for 5 more minutes. Remove from oven and let cool for 2 minutes before using your serrated knife to slice into individual sliders.